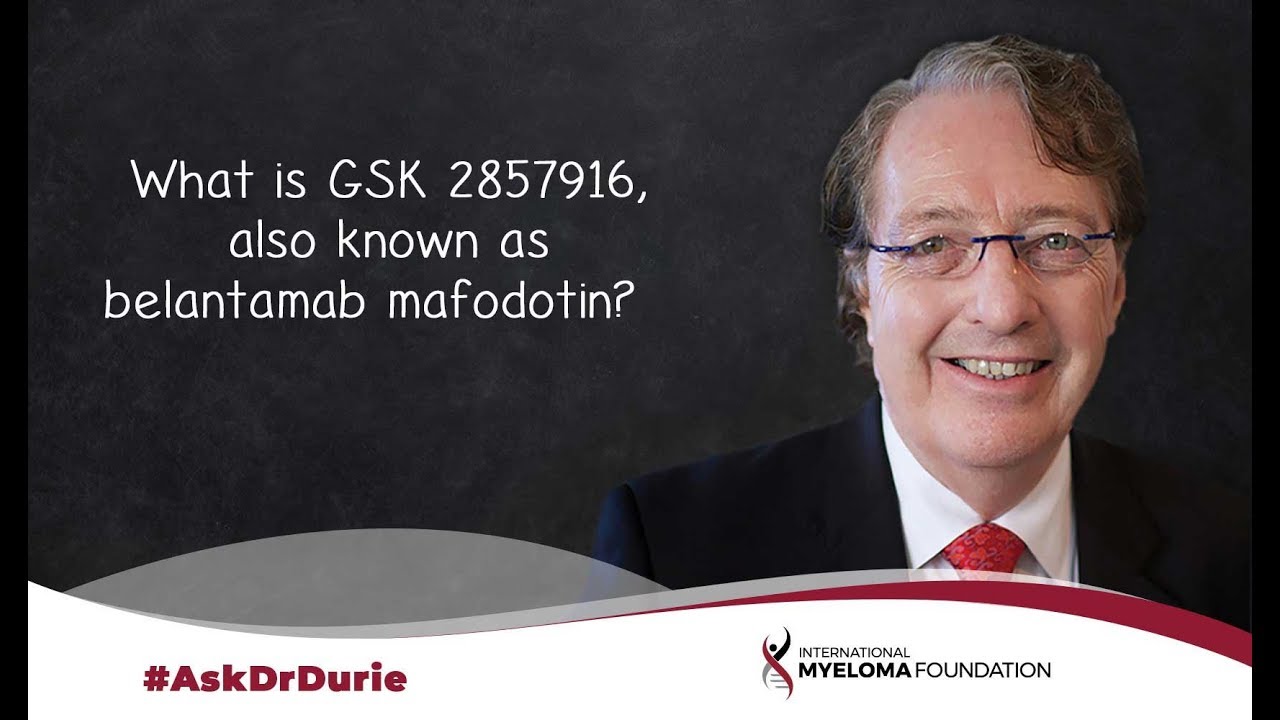 What is GSK 2857916, also known as belantamab mafodotin?
In this weeks' video, Dr. Durie discusses how belantamab mafodotin, targets multiple myeloma cells and why this new drug is important for relapsed/refractory myeloma patients.
BOTTOM LINE:
GSK 2857916 is a monoclonal antibody drug conjugate, also known as belantamab mafodotin. It should be approved by next year.
If you have a question that you'd like to suggest for a future episode of Ask Dr. Durie, please submit it to [email protected]. 
To reach the IMF InfoLine Coordinators, please call 800.452.2873 or email them at [email protected].  
Transcript:
This weeks' "Ask Dr. Durie" comes from a patient who has seen reports about a new agent from GlaxoSmithKline, GSK285- with lots of additional numbers, and the question is: "What is this agent? And how important is that?"
Well, this agent, the GSK product is an important monoclonal antibody which targets BCMA, which is the B-cell maturation antigen on the surface of myeloma cells. It is a unique product; however, in that it is combined with a drug, it is called a drug conjugate. And, this is very important because when the antibody binds, the drug conjugate is imported into the myeloma cell and leads to more complete destruction of the myeloma. And so, this agent has now been given a name, a very long name, belantamab mafodotin, and the GSK folks have decided to abbreviate this name to "Bela", very similar to "Dara" for daratumumab. And so, you're going to be hearing this agent referred to as "Bela."
The important news with regard to benefit is that the results, the initial results of the DREAMM protocol were reported at ASH, and have been published, and were recently updated. And these results show that this monoclonal drug conjugate has a 60 percent overall response rate in patients with relapsed/refractory myeloma. And this is incredibly important because this is an off the shelf product against this BCMA target, which is what is the target for CAR-T cells, BiTEs, and other much more complicated and expensive therapies.
And so, the fact that there is a 60 percent response rate with this particular agent is very good news. There has been a rapid approval designation from the FDA as well as a prime designation by the EMA. And so, with any good luck, the results of the ongoing DREAMM II, part II study, will lead to submission to the FDA, and hopefully, approval later this year or early next year.
And so, BOTTOM LINE for this GSK product is that it's important as a monoclonal antibody drug conjugate, and will be an important target, targeted therapy against BCMA, and will be an off the shelf new agent with very promising results.
 
---
Dr. Brian G.M. Durie serves as Chairman of the International Myeloma Foundation and serves on its Scientific Advisory Board. Additionally, he is Chairman of the IMF's International Myeloma Working Group, a consortium of nearly 200 myeloma experts from around the world. Dr. Durie also leads the IMF's Black Swan Research Initiative®.
Next Post
What does it mean to be refractory to Revlimid?