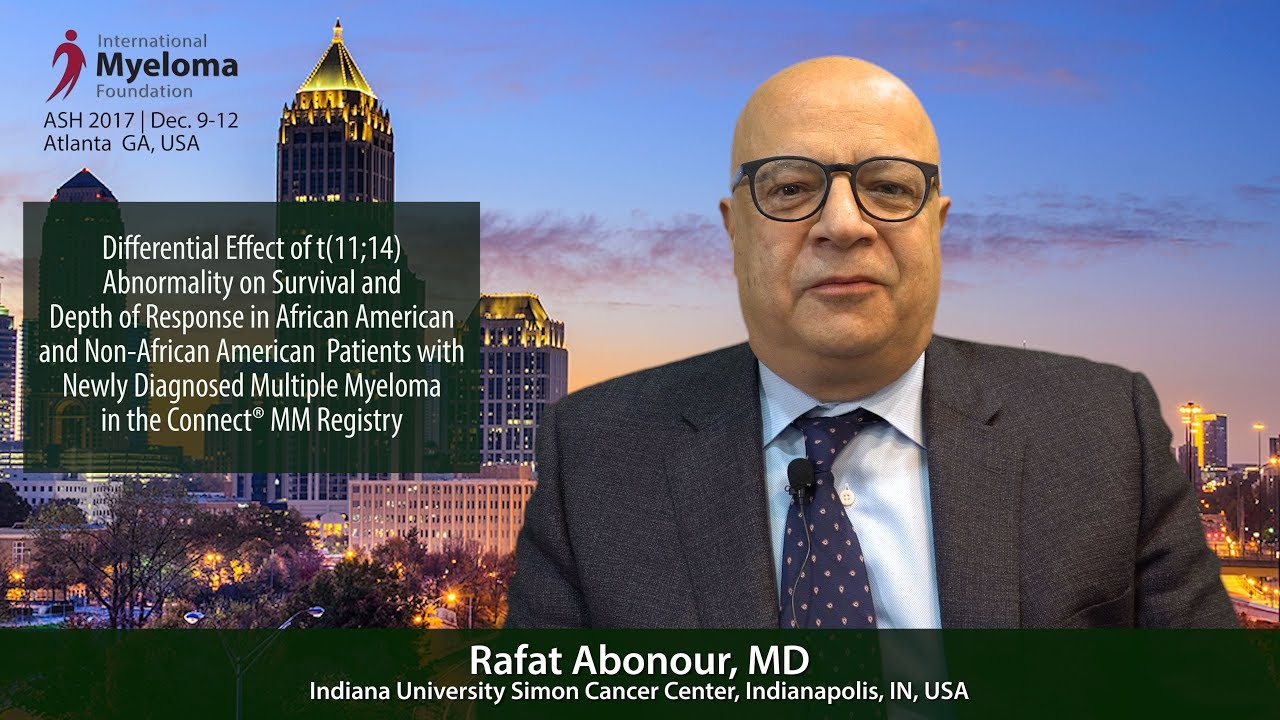 Differential Effect of t(11;14) Abnormality on Survival and Depth of Response in African American (AA) and Non-AA Patients with NDMM in the Connect® MM Registry
Rafat Abonour, MD
Simon Cancer Center
Indiana University School of Medicine
Indianapolis, IN, USA
Introduction: t(11;14) is a common cytogenetic abnormality found in ~15% of patients (pts) with MM. Although t(11;14) is historically associated with favorable or neutral outcomes in MM (Sawyer 2011; Moreau 2007), it has been associated with poor prognosis in retrospective analyses (Leiba 2016; Fonseca 1998). A recent matched cohort study suggested that pts with t(11;14) may have inferior outcomes (Lakshman 2017). Previous reports show higher incidences of MM and a disparity in treatment outcomes for AA vs NAA pts (Bhatnagar 2015; Waxman 2010). Connect MM is the first and largest US-based prospective, observational, multicenter registry that collects data on management and natural history of NDMM pts in clinical practice. Here, we compared the baseline characteristics, type and duration of induction, and response and survival outcomes in AA and NAA NDMM pts with and without the t(11;14) abnormality enrolled in Connect MM.
Conclusions: In Connect MM, t(11;14) appears to be an independent, negative prognostic factor for OS in AA pts compared with NAA. These differences were seen despite these pts having similar induction regimens, SCT rates, and overall length of treatment. This observation could, in part, be attributed to differences in baseline characteristics between the two race groups. Although certain baseline features were noted to be different between AA and NAA, the analysis was adjusted for these factors. A trend toward shorter PFS was observed in AA vs NAA pts with t(11;14). There was no association between t(11;14) and survival outcomes in NAA pts.
Authors: Cristina J. Gasparetto, MD, Rafat Abonour, MD, Sundar Jagannath, MD, Brian G. M. Durie, MD, Mohit Narang, MD, Howard R. Terebelo, DO, Kathleen Toomey, MD, James W. Hardin, PhD, Lynne Wagner, PhD, Shankar Srinivasan, PhD, Amani Kitali, MBA, MPH, E. Dawn Flick, MPH, Faiza Zafar, MPAS, Amit Agarwal, MD, PhD and Robert M Rifkin, MD
---
ABOUT RAFAT ABONOUR, MD
Dr. Rafat Abonour holds the title of Professor of Medicine; Professor of Pathology & Laboratory Medicine; Medical Director, Bone Marrow Transplant Program; and Medical Director, Stem Cell Laboratory at the Simon Cancer Center at Indiana University in Indianapolis. His work has been published in the medical journal Nature and New England Journal of Medicine, among others. He focuses on changing research using immunomodulatory drugs (IMiDs) and proteasome inhibitors for the treatment of multiple myeloma. He is active with the International Myeloma Foundation and the American Society of Hematology (ASH). Visit Dr. Rafat Abonour's full biography.
Previous Post
Impact of Next-Generation Flow MRD Monitoring in Multiple Myeloma: Results from the Pethema/GEM2012 Trial
Next Post
Daratumumab, Bortezomib, and Dexamethasone VS Bortezomib and Dexamethasone for RRMM Patients: An Update of Overall Survival in Castor