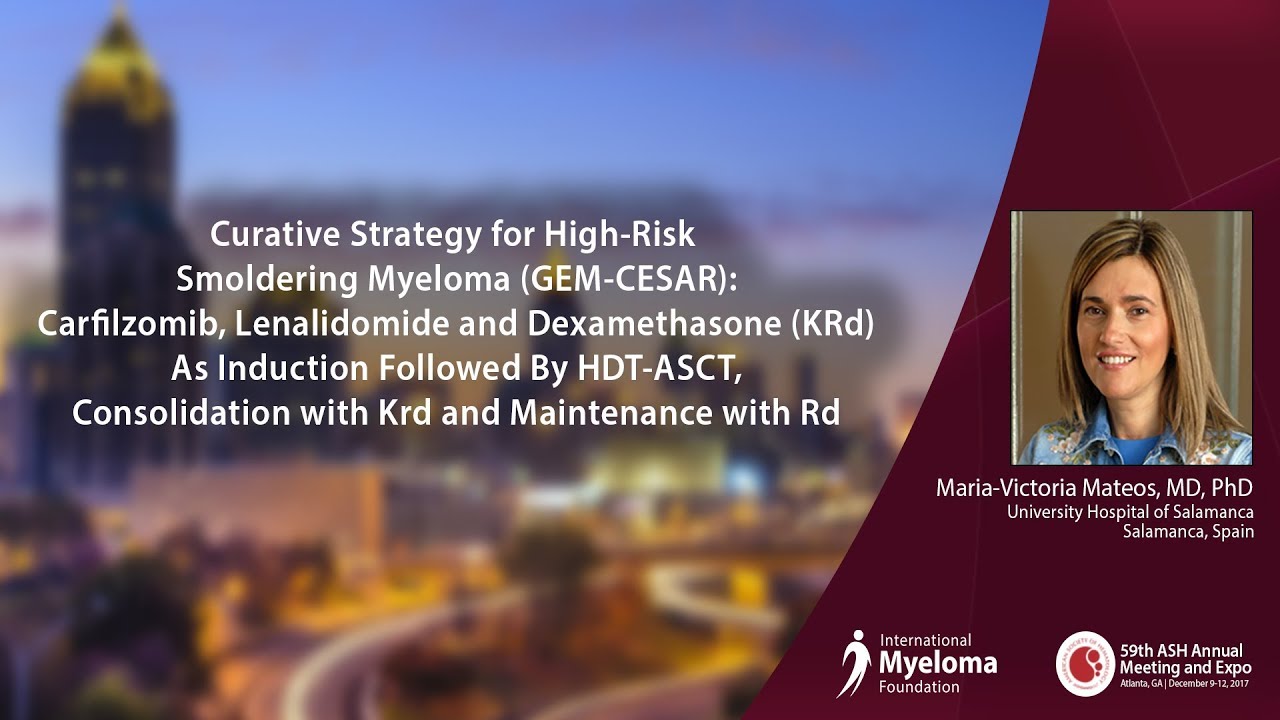 Curative Strategy for High-Risk Smoldering Myeloma (GEM-CESAR)
Maria-Victoria Mateos, MD, PhD
University Hospital of Salamanca
Salamanca, Spain
Introduction: Smoldering Multiple Myeloma (SMM) is an asymptomatic plasma cell disorder that includes patients with different risk of progression to Multiple Myeloma (MM). The Spanish Myeloma Group demonstrated that early treatment with Rd versus observation in SMM at high risk (HR) of progression resulted into a significant benefit in terms of progression to MM and overall survival. Our next step was to design this phase 2 trial with the potential goal of cure, defined by a sustained minimal residual disease (MRD) negativity for at least 5 years (yr).
Conclusions: Although longer follow-up is required, this "curative strategy for high-risk SMM" seems to be encouraging. The depth of response improved along with the duration of treatment, achieving up to 85% of ≥CR in patients who completed induction, ASCT and consolidation, with an acceptable safety profile. Interestingly, novel imaging techniques at screening allowed us to identify up to 17% of MM that would have been considered SMM with the conventional criteria.
Authors:  Maria-Victoria Mateos, MD, PhD, Joaquin Martinez Lopez, Paula Rodriguez-Otero, MD, PhD, Enrique M Ocio, MD, Marta Sonia Gonzalez, MD, Albert Oriol, MD, Norma Gutierrez, MD, PhD, Bruno Paiva, PhD, Rafael Rios, Laura Rosinol, MD, PhD, Miguel Angel Alvarez, MD, Maria Jose Calasanz, BSc, PhD, Joan Bargay, MD, PhD, Ana Pilar Gonzalez, PhD, Fernando Escalante, Rafael Martínez, Noemi Puig, MD, PhD, Javier de la Rubia, MD, Ana Isabel Teruel, MD, Maria Teresa Teresa Cedena Romero, Felipe De Arriba, PhD, Luis Palomera, Miguel T Hernández, Javier Lopez Jimenez, Jesús Martín, Esther Piensa, Aránzazu García-Mateo, Veronica González, Joan Blade, MD, Juan Jose Lahuerta and Jesus F. San Miguel, MD
---
ABOUT MARIA V. MATEOS, MD, PhD
Dr. María-Victoria Mateos is an Associate Professor of Hematology and Consultant Physician in the Haematology Department at the University of Salamanca and Director of the Myeloma Unit, where she is responsible for coordinating the Clinical Trials Unit in Salamanca University Hospital's Hematology Department. She currently serves on the European Hematology Association (EHA) as the Chair of the Scientific Program Committee for the 2019 Congress.
Previous Post
Daratumumab Plus Bortezomib, Melphalan, and Prednisone (D-VMP) Vs VMP in NDMM Pts Ineligible for Transplant (ALCYONE)
Next Post
Should myeloma patients be tested further if they have excellent responses to initial treatment?