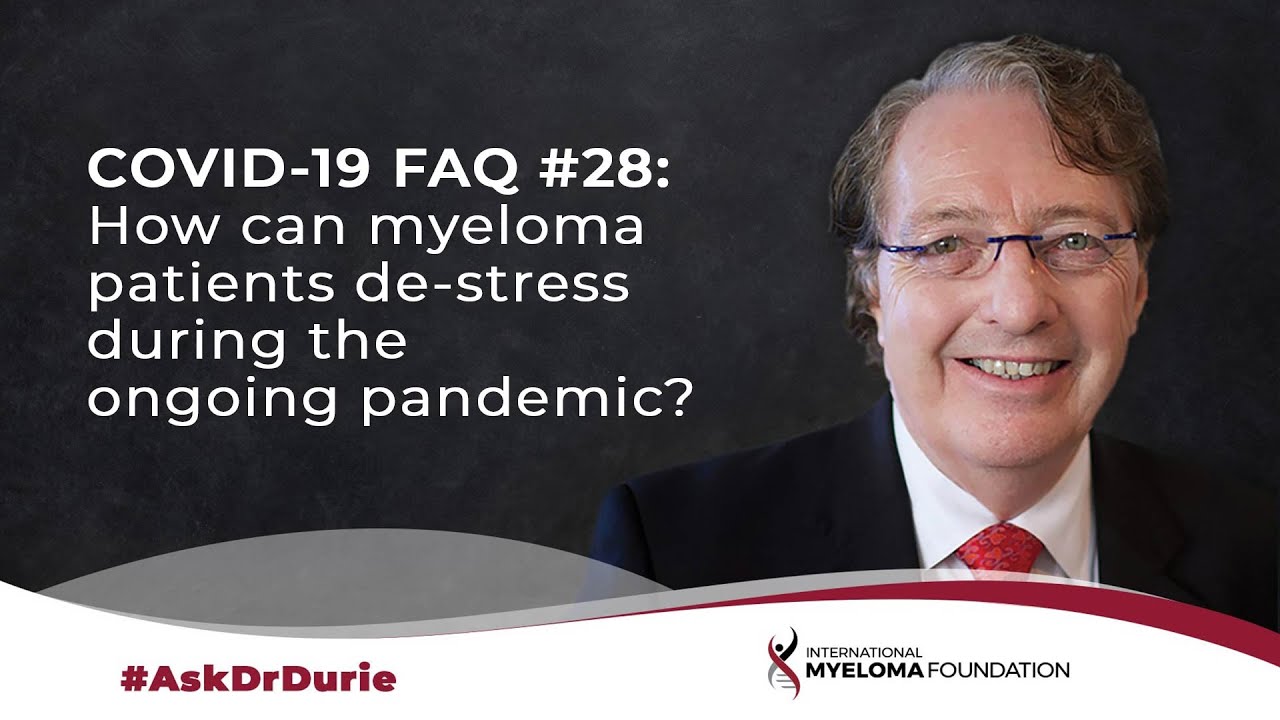 COVID-19 FAQ #28: How can myeloma patients de-stress during the ongoing pandemic?
What myeloma patients can do to de-stress and nurture resilience.
Continuing his COVID-19 FAQ, myeloma expert Dr. Brian G.M. Durie discusses the importance of staying connected and boosting resilience while staying safe during the pandemic.
The BOTTOM LINE: 
Stay connected with friends and family virtually or within your bubble. Reach out for support.
Online Resources to Help De-stress:
If you have a question that you'd like to suggest for a future episode of Ask Dr. Durie, please submit it to [email protected]. 
To reach the IMF InfoLine Coordinators, please call 800.452.2873 or email them at [email protected].  
Transcript:
This week's "Ask Dr. Durie" is a common question these days. "How can I de-stress during this prolonged pandemic?" It's a year, and more, now. And, people are getting stressed with lockdowns and being – staying at home. And so, this is particularly a problem for people living alone. And, if you have myeloma and are living alone, this is particularly a concern.   
And so, it is extremely important to reach out and try to connect with others. And so, making calls, connecting with friends and family is so important, working out your bubble, where you can connect with family and friends with masks or known to test positive – or, known to be testing negative, I should say.   
And, you can meet in an outdoor setting. And obviously, good to connect virtually by telephone. If you are active online, there are quite a lot of resources online. The IMF has support group virtual meetings – monthly meetings right now. Most of the groups are having these virtual meetings. And so, please try to connect with one of those groups, that can be a big, big help.   
There are a lot of other resources to access. For example, many museums and art galleries are conducting virtual museum tours. Those can be quite, quite interesting. One that is quite fun that came to my attention recently is the Shedd Aquarium in Chicago, where they have allowed the penguins out. The penguins became very stressed and bored because there were no guests at the aquarium. 
And so, they let the penguins out to explore and it is so cute to see the videos of the penguins touring not just inside the Shedd aquarium in Chicago, but also out and about, going to the art museum, looking at pictures, even going into the gift shop, check out the books. And so, this is a fun online thing to try to boost your morale somewhat. 
Obviously, in the day-to-day, it is important to maintain your health with your diet, always try to get a little bit of exercise if there's an area where you can go to walk about in the park, very, very important, and try to maintain a good sleep pattern. So, these day-to-day things. 
But, beyond that, it is focusing on making sure that your myeloma is staying in a good response or remission. So, don't skip on your check-ups or your treatments. So, it's really important to go into the clinic, check in with the doctor if you do – like telemedicine or the like. Please don't skip on those, get that done.   
And so, in the bigger picture, there are other things that you can do. Recently, we had a living call, the IMF a Living [Well with Myeloma] call with Dr. Sue Dunnett, from the University of Edinburgh, in Scotland, talking about how you could boost your resilience, which we all need to do these days. And so, what Sue Dunnett did, is she provided a series of methods to boost different types of resilience – that you stay strong physically, as well as mentally. And so, I encourage you to check this out online. There's a slide deck available and some recommendations on how to work on it.   
So, BOTTOM LINE: If you're feeling stressed, please don't stay alone. Reach out to your family and friends, support groups, to try to reconnect as best you can despite this ongoing pandemic. 
---
Dr. Brian G.M. Durie serves as Chairman of the International Myeloma Foundation and serves on its Scientific Advisory Board. Additionally, he is Chairman of the IMF's International Myeloma Working Group, a consortium of nearly 200 myeloma experts from around the world. Dr. Durie also leads the IMF's Black Swan Research Initiative®.
Previous Post
COVID-19 FAQ #27: What should myeloma patients know about the COVID-19 variants?
Next Post
Using the Immune System to Fight Multiple Myeloma