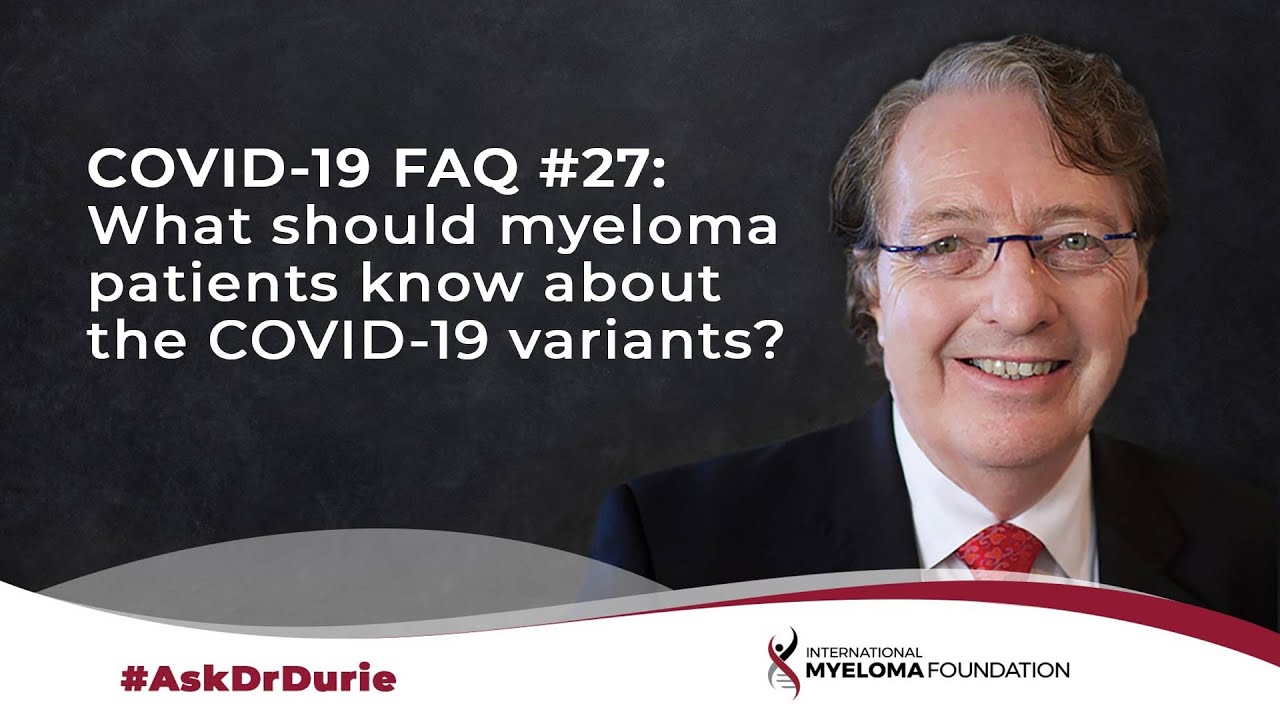 COVID-19 FAQ #27: What should myeloma patients know about the COVID-19 variants?
How Do The COVID-19 Variants Impact Myeloma Patients?
Continuing his COVID-19 FAQ, myeloma expert Dr. Brian G.M. Durie discusses how the emerging COVID-19 variants impact myeloma patients and how to stay safe.
The BOTTOM LINE: 
It is recommended to get vaccinated against COVID-19. The available vaccines offer some protection against the new COVID-19 variants. Continue protective measures including distancing and wearing masks.
If you have a question that you'd like to suggest for a future episode of Ask Dr. Durie, please submit it to [email protected]. 
To reach the IMF InfoLine Coordinators, please call 800.452.2873 or email them at [email protected].  
Transcript:
This week's "Ask Dr. Durie" is a common question right now, and it involves the new COVID-19 variants. And so, this particular patient asks: "Should I be concerned about these new COVID-19 variants?" 
Well, I think the answer is that we need to be alert about these variants. And so, all patients should pay attention to what is the situation in their community. And, in different parts of the country, these different variants have been emerging at different times and in different ways. But the main thing to be aware of is that there are these variants that are more infectious and, potentially, more dangerous. 
And so, the key question has been, how do the various vaccines work against these new variants? And, the answer seems to be that they do seem to work quite well. Although, maybe at a slightly lesser level. Strangely enough, the most recently approved vaccine, the J&J vaccine, was tested both in South America and in Latin America and did show benefit against the new variants. And so, we do have data for that. So, that is good news. And so, in that particular vaccine trial, there were no hospitalizations and no deaths related to COVID-19 with their vaccine. 
Despite the presence of the variants. And so, this is all really good news, that we do have a degree of protection against the variants. 
Now, there have been infections or reinfections in patients that have been vaccinated. And, this was first reported from Germany, from a nursing home there where they did see some patients who got reinfected. However, the very, very good news is that if patients were vaccinated, all reinfections or new infections were very, very mild. No, medically important problems.  
So, there is a lot of enthusiasm about this therapy. There's a lot of interest in; "what can we expect if this therapy could be introduced earlier in the disease course?" And so, a new trial, KarMMa-4 is getting started. And patients with high-risk myeloma, where the therapy will, in fact, be introduced much earlier.   
And so, the BOTTOM LINE for this is: Please go ahead and get vaccinated with whichever of the vaccines that you have access to. All three will provide protection and that is the really important news. Now, moving forward into the future, I do expect - and these newer vaccines are already in development. There will be booster shots available, probably by later this year, that will work specifically against these new variants. And so, that is an important part of the new technologies that are being used to produce these new vaccines right now, is that you can take them and tweak them, and very quickly, come up with modified vaccines that will work well against whichever variant might be popping up. So, this is the way that we should be expecting things to move forward. In the meantime, to reduce the spread, it is always important to wear your mask. The best type of mask that you could get, n-95 masks are now available. You can even use a double mask to have excellent protection if you're in a situation where you might be concerned. So, be alert about the status in your community, and get vaccinated, and continue with protections for the time being. 
---
Dr. Brian G.M. Durie serves as Chairman of the International Myeloma Foundation and serves on its Scientific Advisory Board. Additionally, he is Chairman of the IMF's International Myeloma Working Group, a consortium of nearly 200 myeloma experts from around the world. Dr. Durie also leads the IMF's Black Swan Research Initiative®.
Next Post
COVID-19 FAQ #28: How can myeloma patients de-stress during the ongoing pandemic?