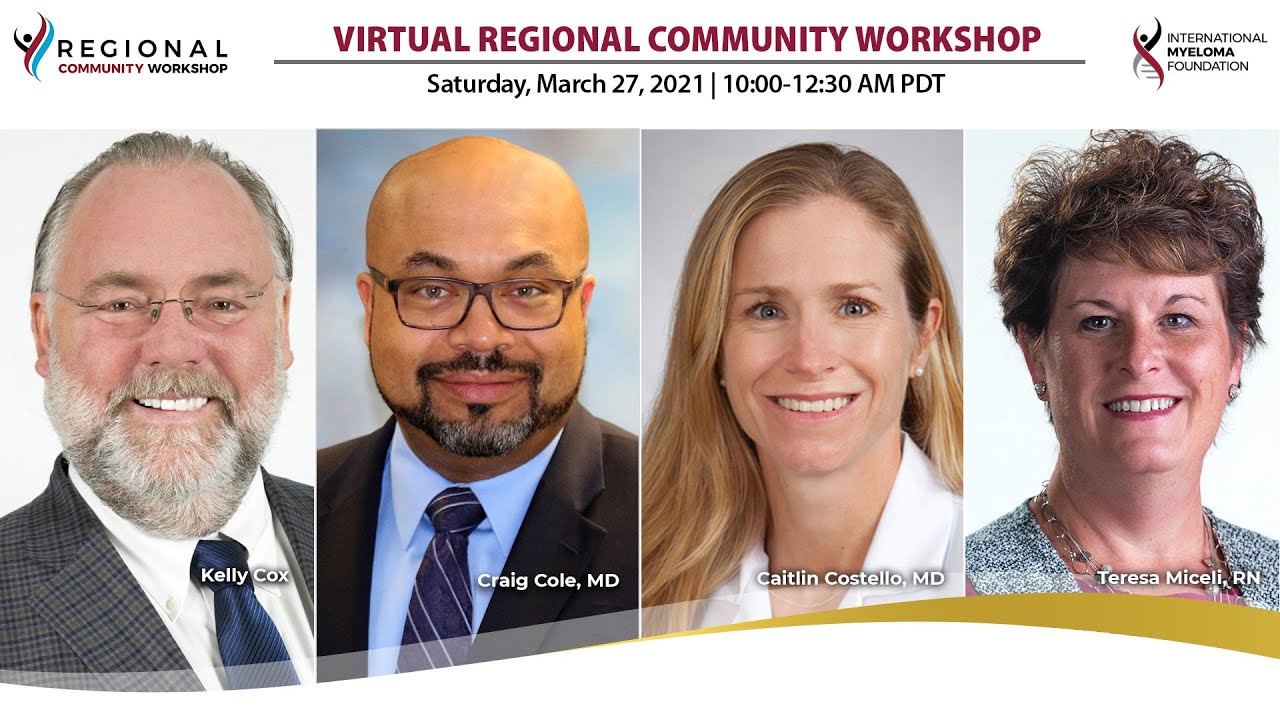 San Diego Area Virtual Myeloma Workshop
(click on the image above to view the video)
Virtual Multiple Myeloma Workshop Focusing on Communities in San Diego, CA
What Is Included in This Virtual Myeloma Workshop?
This International Myeloma Foundation Regional Community Workshop offers myeloma patients and caregivers up-to-the-minute information about multiple myeloma. Topics include an introduction to myeloma (Myeloma 101), upfront treatments at diagnosis, maintenance therapy, relapse information, and an update on clinical trials. Also, a member of the IMF Nurse Leadership Board will talk about managing side effects and symptoms of myeloma and treatments.
Addressing the Needs of Communities Located in Southern California
The panelists address specific questions posed by multiple myeloma patients and caregivers from support groups in the San Diego area.
Speakers and Topics:
Workshop Topic Details:
Myeloma 101 and Frontline Therapy
Dr. Craig Cole (Michigan State University, Breslin Cancer Center) reviews multiple myeloma basics in his myeloma 101 overview which includes: The diagnosis of multiple myeloma, the spectrum of plasma cell disorders, staging and risk stratification.
Also included in this segment, Dr. Cole discusses the latest frontline therapy options, treatment sequence and regimens, and upfront therapy strategies including induction, transplant, and maintenance therapies. He also shares his perspective on the advancement of myeloma science and patient survival.
Relapsed Therapy and Clinical Trials
Dr. Caitlin Costello (University of California at San Diego, Moores Cancer Center) discusses the treatment of relapsed and refractory multiple myeloma, the classifications of available therapies, and new therapies on the horizon, including ide-cel, a B-cell maturation antigen (BCMA) targeted CAR T-cell therapy. 
Dr. Castello outlines the importance of patient participation in clinical trials, and a brief overview of how clinical trials work.
Managing Myeloma Treatment Symptoms and Side Effects
Teresa Miceli, RN, BSN, OCN (Mayo Clinic-College of Medicine, Rochester, MN) shares how to best manage multiple myeloma symptoms and side effects, along with myeloma-treatment symptoms and side effects. 
Workshop Resources:
Download the workshop slides below.
Additional Resources:
Download the IMF's Multiple Myeloma Informational Booklets:
Workshop Sponsors:
With Support From: Binding Site, Bristol Myers Squibb; GSK; Janssen; Karyopharm Therapeutics; and Oncopeptides
The multiple myeloma resources have been made available from our sponsors:
(All the sponsor links below are external links and you acknowledge that you are leaving the IMF website)
Previous Post
What is ide-cel and how can it benefit myeloma patients?
Next Post
COVID-19 FAQ #27: What should myeloma patients know about the COVID-19 variants?