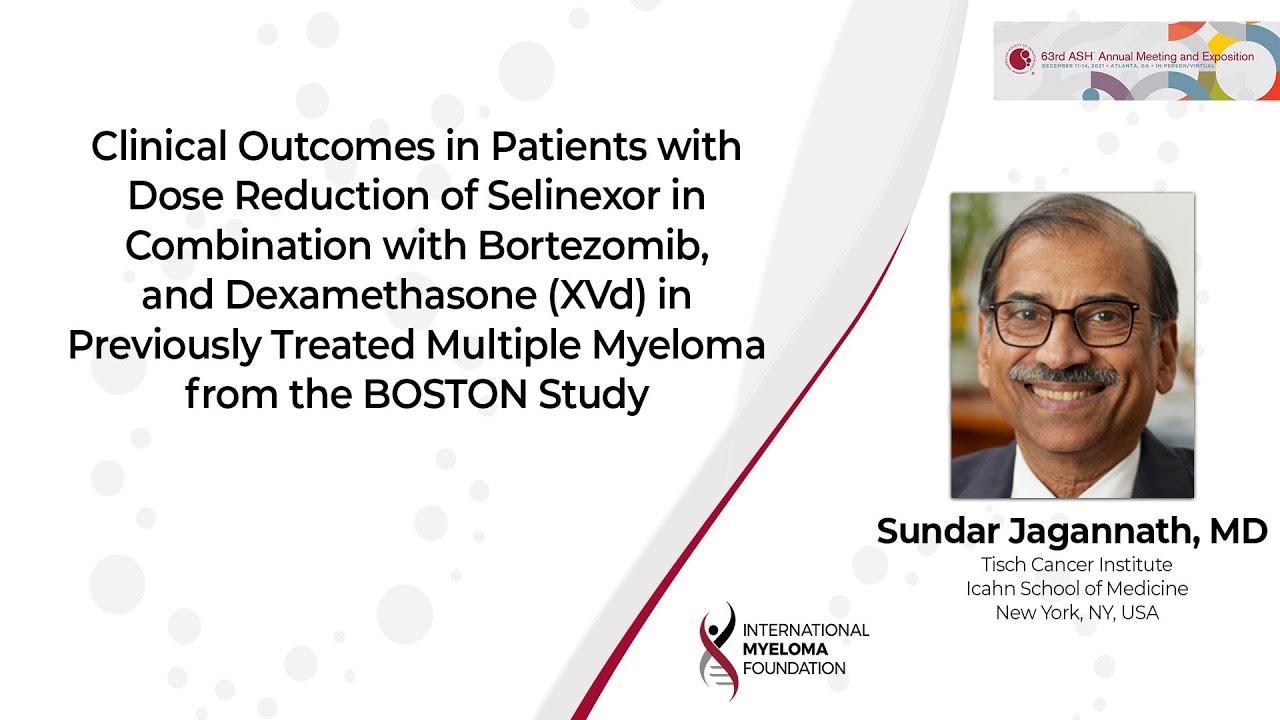 Clinical Outcomes in Patients with Dose Reduction of Selinexor in Combination with Bortezomib, and Dexamethasone (XVd) in Previously Treated Multiple Myeloma from the Boston Study
Treatment of multiple myeloma (MM) has greatly improved over the last two decades. However, most pts will relapse and develop refractory disease. Most anti-cancer regimens require dose modifications (interruption, reduction, or discontinuation) during the treatment course in order to optimize the therapeutic window; appropriate modifications improve tolerability while maintaining anti-cancer activity.
Selinexor, an oral selective inhibitor of XPO1-mediated nuclear export (SINE) compound, enforces the nuclear retention and functional activation of tumor suppressor proteins within the nucleus and prevents the translation of oncoproteins. The combination of once weekly (QW) selinexor, QW bortezomib, and dexamethasone (XVd) is FDA approved for previously treated MM. Compared to standard twice weekly (BIW) bortezomib plus dexamethasone (Vd) and using 40% less bortezomib and 25% less dexamethasone, XVd demonstrated significantly prolonged median progression-free survival (PFS) and time-to-next-treatment (TTNT), increased the overall response rate (ORR), reduced rates of peripheral neuropathy, and showed a trend towards improved overall survival (OS) in the Phase 3 randomized BOSTON study (NCT03110562). The recommended starting dose of selinexor in XVd is 100mg QW, but the median dose administered in BOSTON was 80 mg QW. Here, we analyzed the efficacy outcomes and adverse events (AEs) in pts whose dose was reduced compared to those where it was not. 
Conclusions:
While all pts on XVd initiated therapy at 100mg selinexor QW, and it was associated with very low rates of progressive disease (1 in 195 pts), appropriate dose reductions of selinexor were associated with a longer PFS, DOR, and TTNT, and significantly reduced AE with improved tolerability, highlighting dose reductions as an important tool to personalize and optimize the therapeutic window for pts with RRMM.
ASH 2021: Abstract 3793
Previous Post
High Prevalence of Monoclonal Gammopathy in a Population at Risk: The First Results of the PROMISE Study
Next Post
Updated Phase 1 Results from MonumenTAL-1: First-in-Human Study of Talquetamab in Patients with Relapsed Refractory Multiple Myeloma