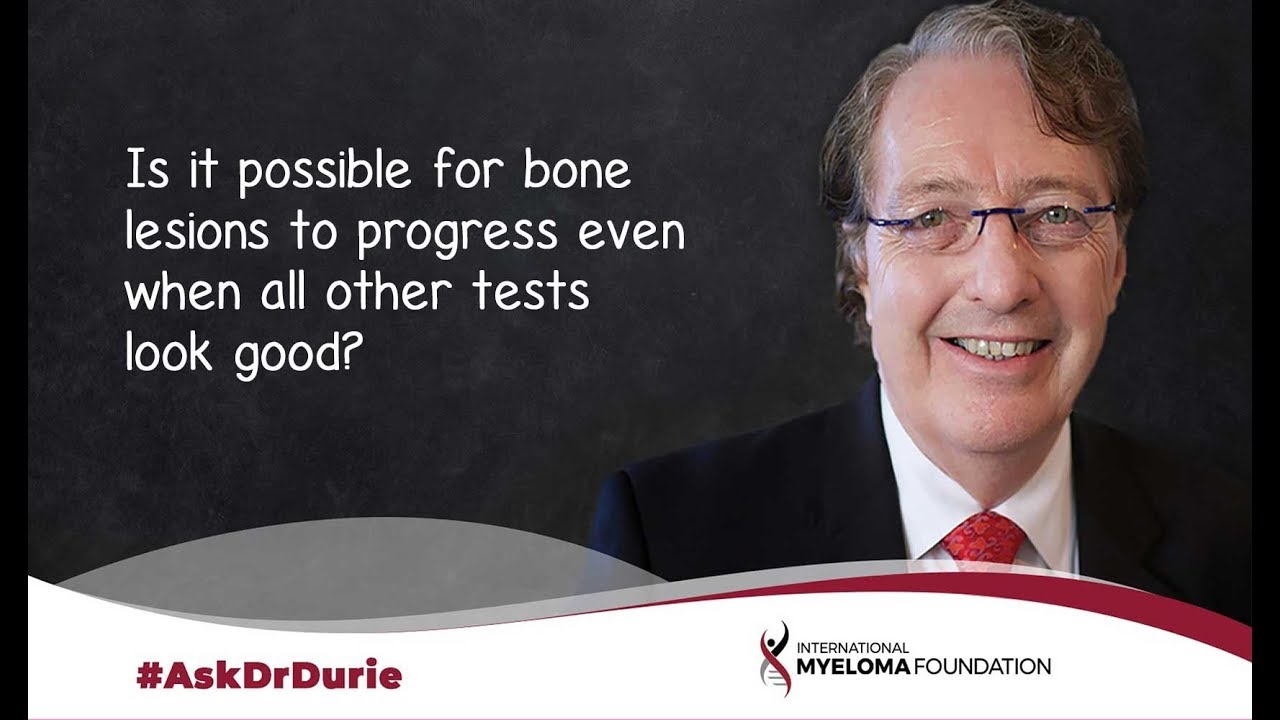 Can bone lesions progress even when all other tests look good?
Is it possible for bone lesions to progress even when all other tests look good?
BOTTOM LINE:
In this week's video, Dr. Durie discusses bone disease in myeloma patients and the importance of continued bone lesion monitoring.
If you have a question that you'd like to suggest for a future episode of Ask Dr. Durie, please submit it to [email protected]. 
To reach the IMF InfoLine Coordinators, please call 800.452.2873 or email them at [email protected].  
Transcript:
This week's "Ask Dr. Durie" comes in response to a question from several patients. This is a recurring question, but I think it is important enough that I need to answer it again as clearly as I can. The question is "can bone disease progress or persist even though all of the other myeloma lab tests look good?"
 
And the answer to this question is unfortunately, yes. Even though the myeloma has responded very well to treatment, it may be that a little bit of myeloma has remained. And it could be persisting in the bone or maybe even increasing slightly in one area of the bone.
 
And so, for patients who have had bone disease as an important part of their myeloma, at the beginning, at the point of diagnosis, it is indeed extremely important to keep track of the bone disease.
 
Now, bone disease can be assessed in a variety of ways. Simply with X-rays, and if there are lesions on X-rays that's an easy way to check. But sometimes CT scan is required, and these days we will often do a very sensitive whole-body CT. In addition, for the spine a pelvis, we may do an MRI. Or, what can be extremely helpful, if feasible cost-wise and logistic-wise, is to do a whole-body PET-CT. This has the advantage of showing where the lesions are on the CT, and whether the disease is active on the PET part of the CT, where there is sugar uptake from the injection at the site of any active myeloma lesions.
 
And so, it's important to realize that myeloma lesions which are produced at the beginning, they don't really heal up. There continue to be some small holes in the bone, and so, on X-ray you may continue to see those lesions. Those lesions may be shown to heal on MRI, but healing on MRI occurs very slowly. So, even after six or nine months, even the myeloma is responding to treatment, it may not be so obvious on an MRI.
 
And so, really the only way to tell if bone disease is continuing to be active is using a PET-CT to see if the area is continuing to take up sugar. And so, have evidence of being active disease.
 
And so, the bottom line to this question is, even though the myeloma protein in the blood or the urine can be monitored, and should be monitored, and may be responding very nicely with reduced levels, it is still extremely important to check on the X-rays and scans of the bone to see if anything additional is occurring with that part of the myeloma that may not have fully responded to the treatment.
And so, the BOTTOM LINE is that yes, there can be new disease even if all of the other myeloma tests are looking good. And so, it's crucial to be aware of that and work with your doctor to get the best comparison scans or X-rays so you can see if the bone lesions are healing, or if possibly, there is a little bit of myeloma left. This is important because depending upon the results, it may be that there is a change in treatment required, or maybe even some new treatment is necessary to get rid of that disease which has been left and is affecting the bones. 
 
---
Dr. Brian G.M. Durie serves as Chairman of the International Myeloma Foundation and serves on its Scientific Advisory Board. Additionally, he is Chairman of the IMF's International Myeloma Working Group, a consortium of nearly 200 myeloma experts from around the world. Dr. Durie also leads the IMF's Black Swan Research Initiative®.
Next Post
Approaches To Achieve the Best Possible Outcomes in Myeloma