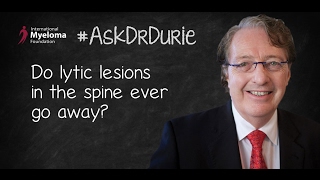 Do lytic lesions in the spine ever go away?
Post date
February 02, 2017
In this video, Dr. Brian Durie explains how holes in the bone may partially heal, but these holes do not fully recover.
BOTTOM LINE:
​Be examined for lytic lesions by your doctor and intervene as necessary.
IMF Chairman and Co-Founder Brian G.M. Durie, MD welcomes your questions about the latest myeloma treatments, research, controversies and quality of life issues. If you have a question you think might be of interest to the myeloma community, please send to askdrdurie@myeloma.org!

For questions of a specific personal nature, please call the IMF InfoLine coordinators at 800.452.2873 or email them at infoline@myeloma.org. 
Previous Post
The importance of facts in science: the Black Swan Research Initiative search for the cure moves ahead
Next Post
What is the latest on the Black Swan Research Initiative?