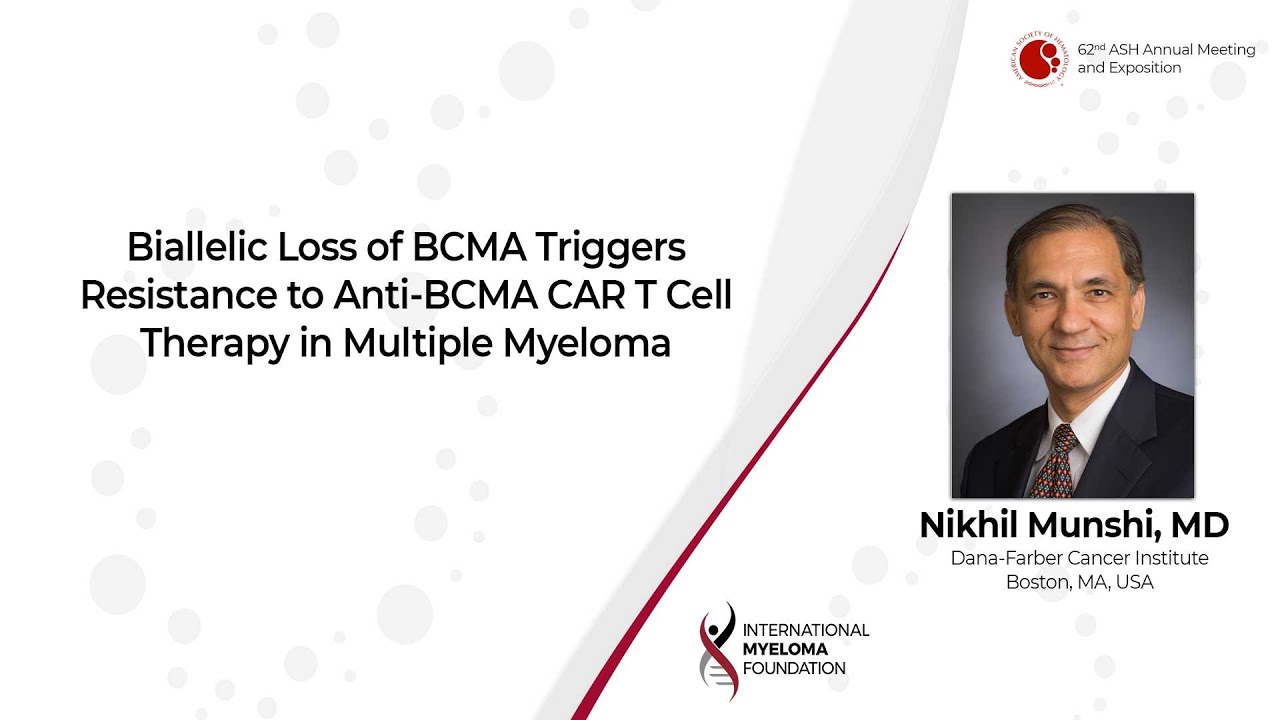 Biallelic Loss of BCMA Triggers Resistance to Anti-BCMA CAR T Cell Therapy in Multiple Myeloma
What is the purpose of this study?
Chimeric antigen receptor (CAR) T-cell therapy targeting B cell maturation antigen (BCMA) has provided deep responses in relapsed/refractory multiple myeloma (MM). However, median PFS has been less than 12 months, and amongst the small number of patients retreated at the time of progression with the same CAR T product, responses have been infrequent.
In this video:
Dr. Nikhil Miunshi discusses the results to identify biallelic loss of BCMA locus as a potential resistance mechanism to BCMA targeting therapy.
Conclusion:
The data also demonstrate the ability of MM cells to survive without BCMA expression. With the growing number of BCMA targeting therapeutic modalities under development, we would expect to see such occurrences more commonly in the future.
ASH 2020: Abstract 721
---
Nikhil Munshi, MD
Dr. Nikhil Munshi received his medical degree from Maharaja Sayajirao University, followed by an internship and residency in internal medicine at Shri Sayaji General Hospital and Maharaja University in India. He then completed an oncology fellowship at Johns Hopkins Ocology Center, and an hematology/oncology fellowhip at Indiana University Medical Center. Dr. Munshi is currently professor of medicine in the Department of Medicine at Harvard Medical School, as well as an attending physician at VA Boston Healthcare System and Dana-Farber Cancer Institute.
Previous Post
First Data from the Phase 1 Study of the GPRC5DxCD3 Bispecific Talquetamab in Patients with Relapsed or Refractory Multiple Myeloma
Next Post
Clinical activity and safety of cevostamab in relapsed/refractory multiple myeloma