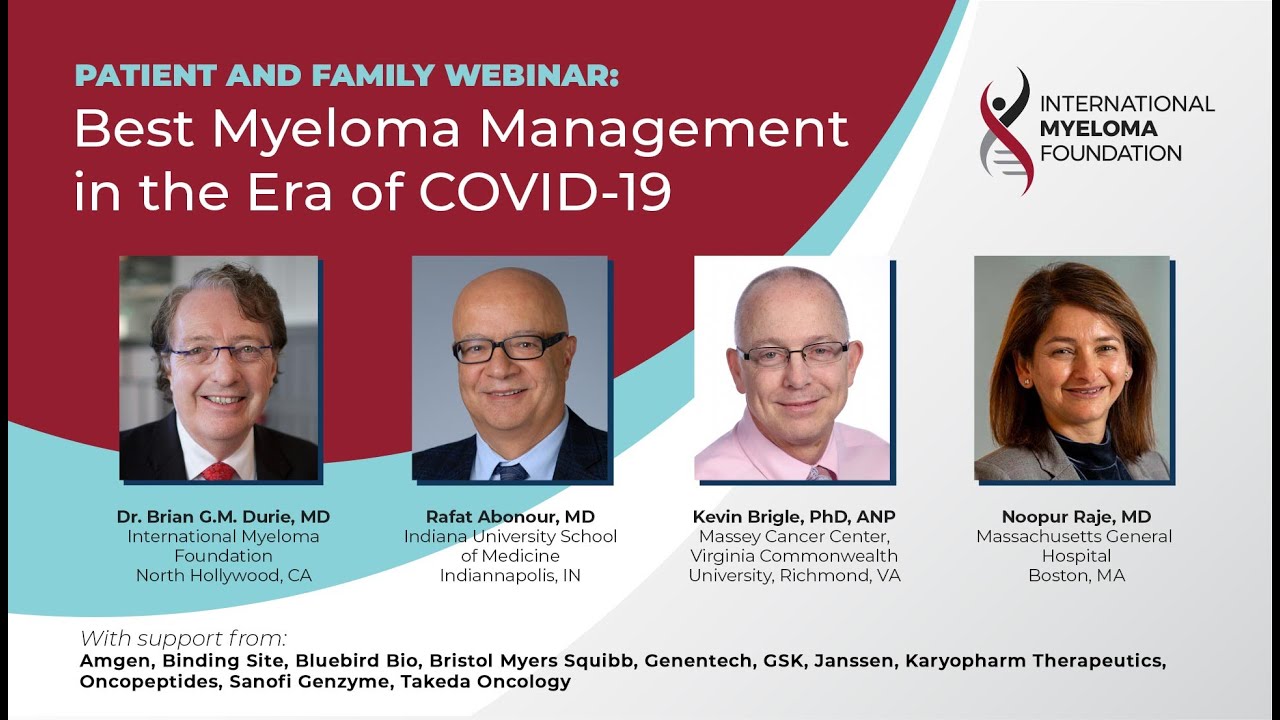 What is the best way to manage multiple myeloma in the era of COVID-19?
This IMF Patient and Family Webinar will focus on "Best Myeloma Management in the Era of COVID - 19" IMF Chairman Dr. Brian G.M. Durie will moderate presentations with a panel of myeloma experts.
What to Expect 
In this webinar, myeloma experts answer questions that help patients where they are at right now, including:
I have myeloma and have been vaccinated. I heard there's a COVID-19 booster. What do I do next?
I'm undergoing myeloma treatment. When should I vaccinate? 
I have just been diagnosed with myeloma. What should I expect?
I need help managing side effects of myeloma treatment, for example, how do I tackle the "dark side" of steroids?
How do the new immune therapies (such as mABs, CELMODS, bispecifics, and CAR T-cell therapies) augment your immune response?
When and how should relapsed myeloma patients be treated?
Speakers and Topics:
Additional Resources:
Acquaint yourselves with the following resources on the IMF website to better understand the discussions.
Essential Tests for Diagnosis and Monitoring
Myeloma Acronyms & Abbreviations
Watch Ask Dr. Durie Videos:
"Myeloma 101: What does a newly diagnosed patient need to know?"
"What imaging studies, or scans, should myeloma patients undergo?"
Download the IMF's Multiple Myeloma Informational Booklets:
If you have any questions, please contact:
The International Myeloma Foundation
1-800-452-CURE (2873)
[email protected]
---
Patient and Family Webinar Sponsors:
with support from:
Amgen, Binding Site, Bluebird Bio, Bristol Myers Squibb, Genentech, GSK, Janssen, Karyopharm Therapeutics, Oncopeptides, Sanofi Genzyme, and Takeda Oncology
Please check out these multiple myeloma resources from our sponsors:
(All the sponsor links below are external links and you acknowledge that you are leaving the IMF website. The IMF is not responsible for content provided by the links below and you may be subject to the Privacy Policy and Terms & Conditions of the destination site(s).)
Even The Odds
Virtual Patient Booth

Bluebirdbio website

Revlimid Treatment Overview brochure

Pomalyst Transition Treatment brochure

DARZALEX FASPRO™ Patient Brochure

Learn About Our Mechanism of Action

Oncopeptides, Inc. website

Talking to Your Healthcare Team
Previous Post
How to get financial help for myeloma patients and caregivers?
Next Post
COVID-19 FAQ #36: Should myeloma patients get a COVID-19 booster shot?