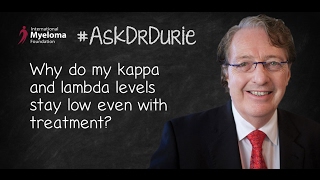 Why do my kappa and lambda levels stay low even with treatment?
Post date
February 09, 2017
In this video, Dr. Brian GM Durie explains why kappa and lambda levels typically decrease for myeloma patients.
BOTTOM LINE:
​While lambda and kappa levels may lower, it's usually not concerning. 
IMF Chairman and Co-Founder Brian G.M. Durie, MD welcomes your questions about the latest myeloma treatments, research, controversies and quality of life issues. If you have a question you think might be of interest to the myeloma community, please send to askdrdurie@myeloma.org!

For questions of a specific personal nature, please call the IMF InfoLine coordinators at 800.452.2873 or email them at infoline@myeloma.org. 
Previous Post
Global Collaboration Essential to Achieve a Cure for Myeloma
Next Post
Why expertise is important in guiding treatment planning, myeloma research, and much more