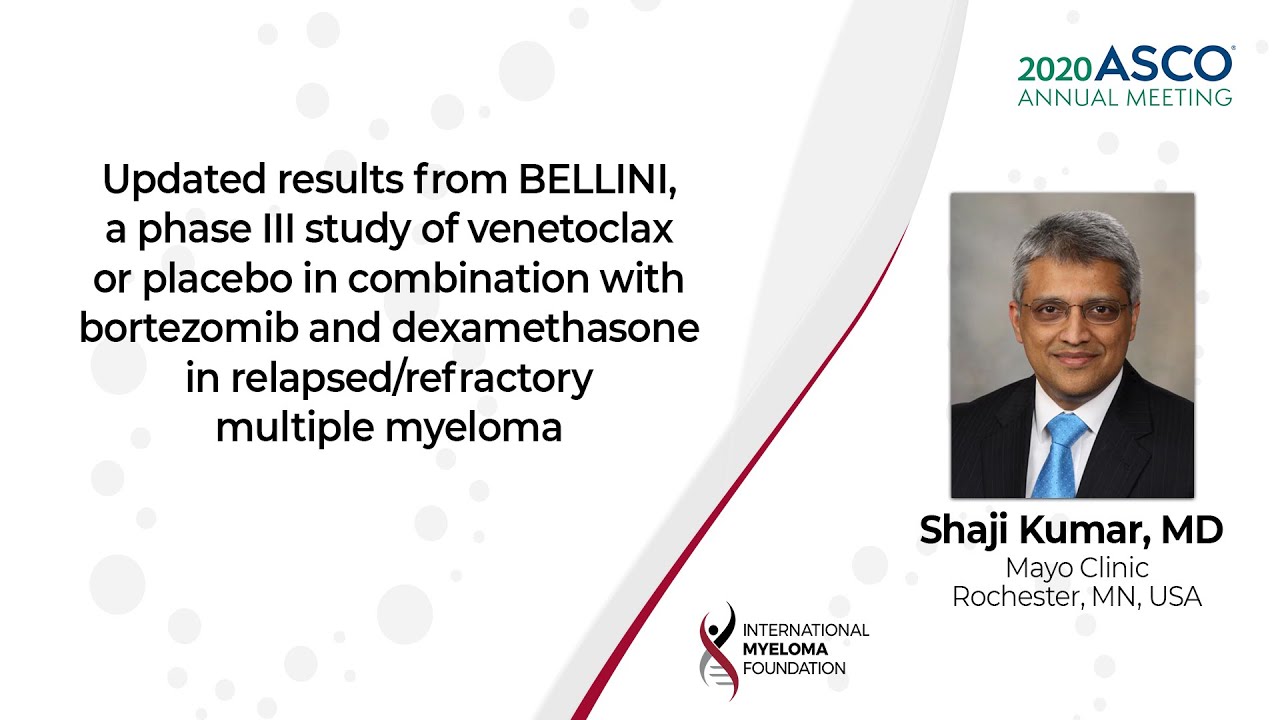 Updated results from BELLINI, a phase III study of venetoclax or placebo in combination with bortezomib and dexamethasone in relapsed/refractory multiple myeloma
Dr. Shaji Kumar on the BELLINI Trial
What is the BELLINI Trial?
The phase III BELLINI Trial uses the selective, potent, oral BCL-2 inhibitor, Venetoclax. The drug Venetoclax is added to combination of Velcade (bortezomib) and dexamethasone (d) and studied against a placebo. The Venetoclax, bortezomib, and dexamethasone combination demonstrated significantly improved response rates and progression-free survival (PFS) versus placebo. This combination showed significant efficacy in patients  with either t(11;14) or BCL2high gene expression.
In this video:
Dr. Shaji Kumar (Mayo Clinic - Rochester, Minnesota) explains how the BELLINI trial updates the safety and efficacy data from the pre-specified second interim overall survival (OS) analysis. He talks about how this multi-center, randomized, double-blind trial studies patients with relapsed/refractory multiple myeloma (RRMM) who have had 1-3 prior lines of therapy. These patients were randomized 2:1 to Venetoclax (800 mg) or placebo in combination with bortezomib (1.3 mg/m2) and dexamathasone (20 mg).
Results:
291 patients were randomized; 194 to Venetoclax, 97 to placebo. Patient characteristics were well balanced among arms. In the Venetoclax arm, median age was 66, 17% had high-risk cytogenetics, 11% had t(11;14), and 34% had BCL2high gene expression.
As of Sept 13, 2019, 59 patients were still on study, 45 (23%) Venetoclax versus 14 (14%) placebo. At a median follow-up of 28.6 months, there were 64 (33%) deaths in the Venetoclax arm versus 24 (25%) in placebo. At the initial data cutoff (November 26, 2018), progression free survival HR was 0.63 (0.44,0.90) and overall survival HR was 2.03 (1.04,3.95).  
Most common treatment-emergent adverse events (TEAEs) with Venetoclax were diarrhea (59%), nausea (37%), and constipation (35%). Most common grade 3/4 adverse events  were neutropenia (21%/8%), thrombocytopenia (15%/30%), anemia (16%/15%), diarrhea (15%/12%), and pneumonia (18%/13%). Serious adverse events occurred in 54% Venetoclax and 52% placebo patients. 24% discontinued Venetoclax due to adverse events vs 12% placebo. There were 14 treatment-emergent deaths in the Venetoclax arm and 1 in placebo.
Conclusions:
The addition of Venetoclax to bortezomib plus dexamethasone significantly improves progression free survival but resulted in increased mortality versus placebo in the total population. Greatest progression free survival improvement with Venetoclax was observed in patients with t(11;14) or BCL2high gene expression, where Venetoclax shows a favorable benefit-risk profile.
Clinical trial information: NCT02755597
---
SHAJI K. KUMAR, MD
Dr. Shaji Kumar is the Medical Director for the Cancer Center Clinical Research Office at the Mayo Clinic Cancer Center in Rochester, Minnesota. Dr. Kumar holds membership in several professional organizations including the American Society of Hematology, American Society of Clinical Oncology, American Association for Cancer Research, American Society of Blood and Marrow Transplantation, the Association of Physicians of India, and the European Hematology Association. He has published numerous articles, abstracts, editorials, and letters in the peer-reviewed literature, including Blood, Journal of Clinical Oncology, Leukemia, American Journal of Hematology, British Journal of Haematology, and Bone Marrow Transplantation. Visit Dr. Shaji Kumar's full biography.
Previous Post
MRD assessed by mass spectrometry versus next generation sequencing in bone marrow in myeloma pts treated with KRd+ASCT
Next Post
Clinical implications of loss of minimal residual disease (MRD) negativity in multiple myeloma