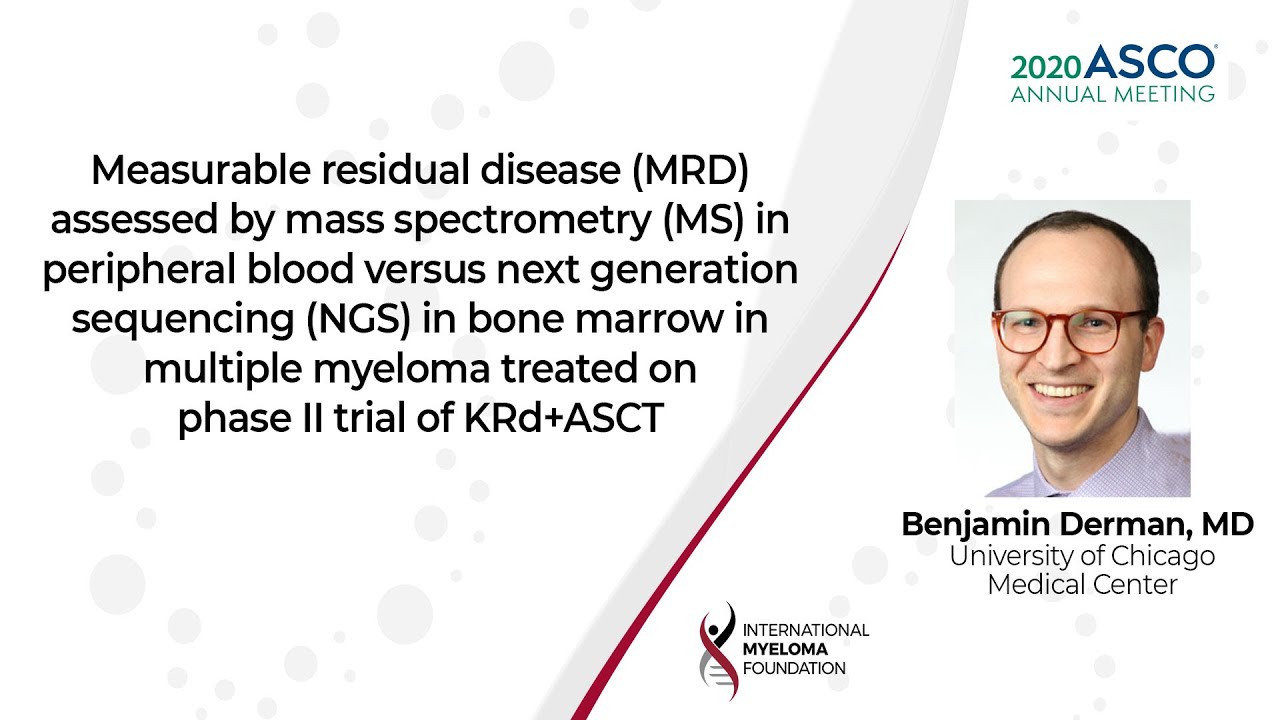 MRD assessed by mass spectrometry versus next generation sequencing in bone marrow in myeloma pts treated with KRd+ASCT
What is the purpose of this study?
This study assesses the concordance of mass spectometry in peripheral blood and Next-Generation Sequencing (NGS) in the bone marrow, comparing outcomes by minimal residual disease status.
In this video:
Dr. Benjamin A. Derman (University of Chicago Medical Center - Chicago) talks about how minimal residual disease negativity in multiple myeloma (MM) assessed by Next Generation Sequencing (NGS) in bone marrow (BM) aspirate is associated with longer progression free survival (PFS) and overall survival. Mass spectometry can detect monoclonal protein at a heightened sensitivity in peripheral blood (PB). 
Results
Minimal residual disease (MRD) assessment by the blood test was similar in sensitivity to the bone marrow test. 
Conclusions:
The blood test showed to be a better predictor of time before tumor progression than the bone marrow test. Also, MRD positivity measured by the blood test predicted the conversion of MRD negativity to positivity by the bone marrow test. A larger, prospective trial comparing these testing modalities should be conducted to confirm these results.
---
BENJAMIN A. DERMAN, MD
Dr. Benjamin Derman is a hematologist and oncologist at the University of Chicago Medical Center, in Illinois.  Visit Dr. Derman's full biography.
Previous Post
COVID-19 FAQ #13: Is it safe for myeloma patients to resume in-person doctors' visits?
Next Post
Updated results from BELLINI, a phase III study of venetoclax or placebo in combination with bortezomib and dexamethasone in relapsed/refractory multiple myeloma