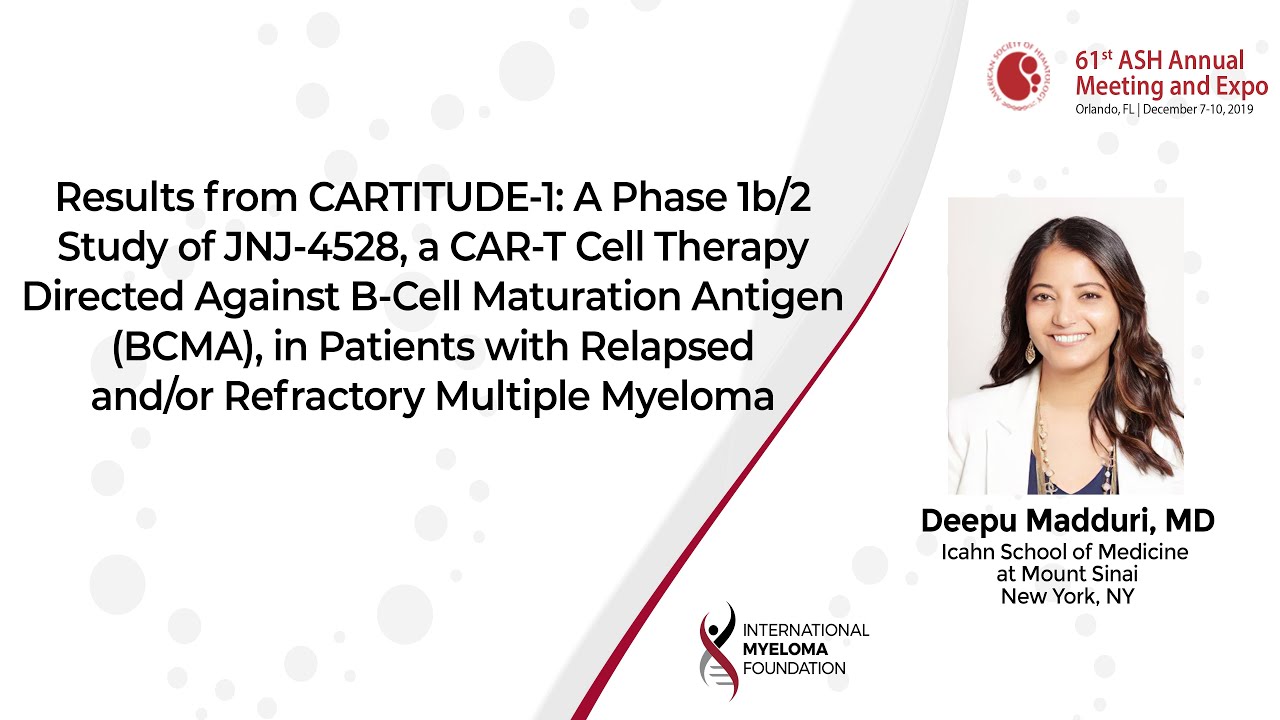 Results from CARTITUDE-1: A Phase 1b/2 Study of JNJ-4528, a CAR-T Cell Therapy Directed Against B-Cell Maturation Antigen (BCMA), in Patients with RRMM
Introduction: JNJ-68284528 (JNJ-4528) is a chimeric antigen receptor T cell (CAR-T) therapy containing two BCMA-targeting single-domain antibodies designed to confer avidity. A first-in-human phase 1 study (LEGEND-2) conducted in China of LCAR-B38M, an identical CAR to JNJ-4528, showed high overall response and manageable safety in 74 patients (pts) with R/R MM. Phase 1b results from the ongoing CARTITUDE-1 study conducted in the US with JNJ-4528 are presented here (NCT03548207).
Conclusion:  Collectively these results demonstrate that JNJ-4528 at a target dose of 0.75x106 CAR+ cells/kg delivers early and deep responses, including MRD negativity in all evaluable pts tested, with a manageable safety profile in pts with refractory MM. The safety and efficacy results from the ongoing CARTITUDE-1 study are consistent with the LEGEND-2 study and confirm the 0.75x106 CAR+ cells/kg dose as the RP2D for further clinical development.
 
---
DEEPU MADDURI, MD
Deepu Madduri, MD is Assistant Professor of Medicine (Hematology and Medical Oncology) and Assistant Director, Cellular Therapy Service, with the Center of Excellence for Multiple Myeloma at The Tisch Cancer Institute and the Icahn School of Medicine at Mount Sinai. Dr. Madduri specializes in plasma cell disorders including multiple myeloma, amyloid light-chain amyloidosis, POEMS syndrome, plasmacytoma, and monoclonal gammopathies of uncertain significance. She performs a variety of procedures including bone marrow biopsies and stem cell transplant. She serves as the lead physician liaison between the Center of Excellence for Multiple Myeloma and the Bone Marrow and Stem Cell Transplantation Program at The Mount Sinai Hospital. Visit
Dr. Deepu Madduri's full biography
Previous Post
Qip-Mass Spectrometry in High Risk Smoldering Multiple Myeloma Patients Included in the GEM-CESAR Trial
Next Post
A Combined Analysis of the STORM and Mammoth Studies