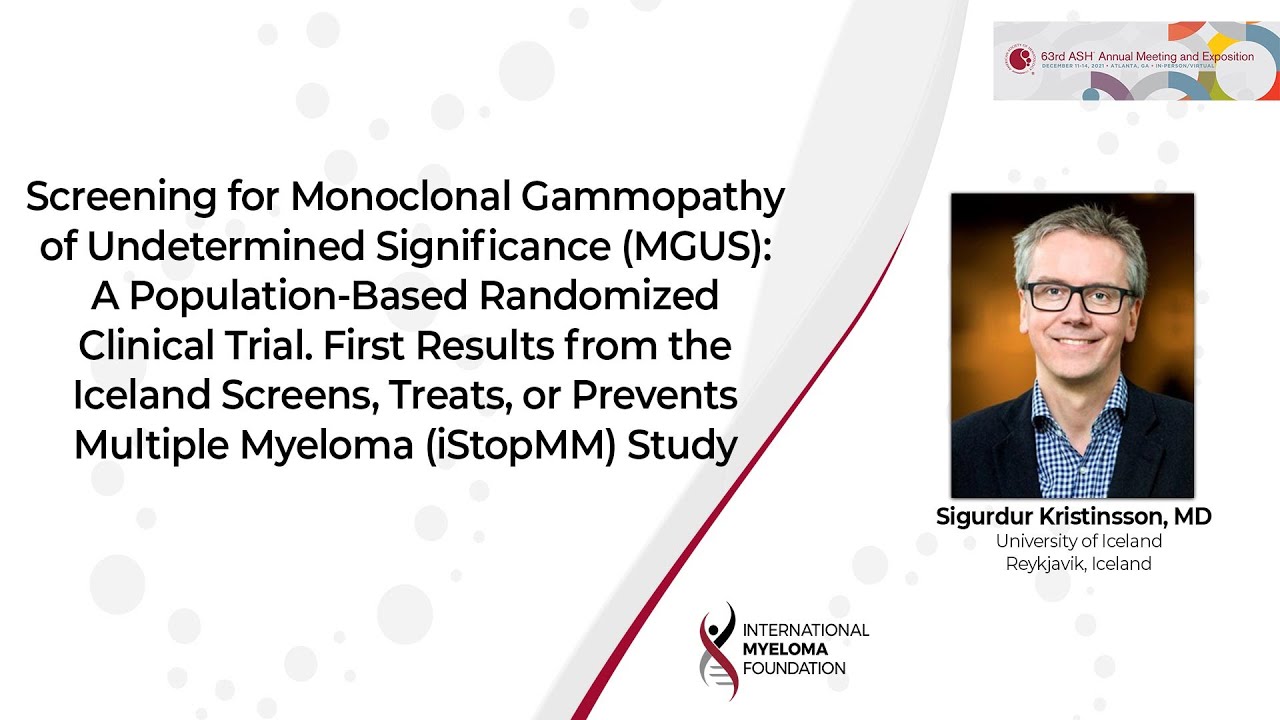 Screening for Monoclonal Gammopathy of Undetermined Significance: First Results from the iStopMM Study
Background:
Cancer screening is performed worldwide for several malignancies. Monoclonal gammopathy of undetermined significance (MGUS) precedes multiple myeloma (MM) and related lymphoproliferative disorders (LP). However, less than 5% of all MM patients are diagnosed during their precursor state and individuals who develop MM while being monitored for MGUS have better overall survival and fewer complications, compared to MM patients diagnosed without knowledge of MGUS. Thus, population-based screening for MGUS could identify candidates for early treatment of MM/LPs. To evaluate whether systematic screening is beneficial, we performed the Iceland Screens, Treats, or Prevents Multiple Myeloma (iStopMM) study, the first population-based screening study for MGUS that includes a randomized clinical trial (RCT) of follow-up and treatment strategies.
Conclusion:
In this large prospective population-based screening study including >75,000 screened persons, we have identified 3,725 individuals with monoclonal gammopathy. In the RCT, after 3 years of follow-up, we show that active screening identifies significantly higher number of individuals with full-blown malignancy and smoldering disease, illustrating the fact that early detection and intervention is achievable. Although our findings are encouraging, until final results of the iStopMM study become available, including data on survival and quality of life, we advise against systematic MGUS screening in healthy individuals.
ASH 2021: Abstract 156 
Previous Post
Top Multiple Myeloma Abstracts Presented at ASH 2021
Next Post
Updates on the Binding Site's ongoing collaboration with the iStopMM study