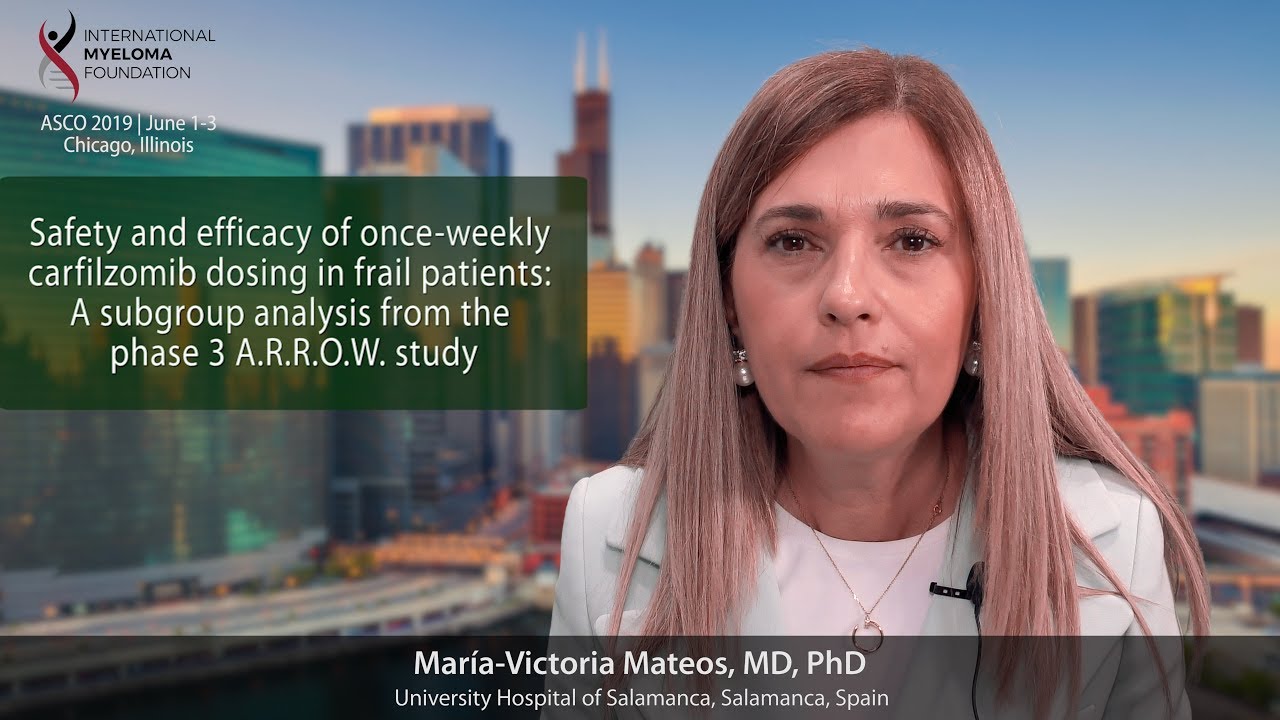 Safety and efficacy of once-weekly carfilzomib dosing in frail patients
A.R.R.O.W. demonstrated superior progression-free survival (PFS) with once-weekly K (70 mg/m2)-dexamethasone (Kd70) vs twice-weekly K (27 mg/m2)-dexamethasone (Kd27) in relapsed and refractory multiple myeloma (RRMM) pts, regardless of age. Weekly Kd70 is US-approved for relapsed or refractory MM (1–3 prior therapy lines). For a comprehensive fitness measure, frailty scales were developed incorporating age, comorbidities, and functional status. (Palumbo Blood 2015; Facon Blood 2015). Here we assessed post hoc pt outcomes by frailty status. 
Conclusions:
Once-weekly Kd70 resulted in PFS benefits vs twice-weekly Kd27 with a favorable benefit/risk profile regardless of frailty score as defined. These results support weekly Kd70 as a treatment option for both fit and frail RRMM pts.
Authors:
Maria-Victoria Mateos, Heinz Ludwig, Shaji Kumar, Cara Ann Rosenbaum, Mei Huang, Amanda Goldrick, Julie Blaedel, Meletios A. Dimopoulos; University Hospital of Salamanca/IBSAL, Salamanca, Spain; Wilhelminen Cancer Research Institute, Wilhelminenspital, Vienna, Austria; Mayo Clinic, Rochester, MN; Weill Cornell Medicine, New York, NY; Amgen, Inc., Thousand Oaks, CA; University Athens School of Medicine, Athens, Greece
---
Clinical trial information: NCT02412878
ASCO 2019 Abstract No:8027
Citation: 
J Clin Oncol 37, 2019 (suppl; abstr 8027)
---
ABOUT MARIA V. MATEOS, MD, PhD
Dr. María-Victoria Mateos, is Associate Professor of Hematology and Consultant Physician in the Haematology Department at the University of Salamanca and Director of the Myeloma Unit, where she is responsible for coordinating the Clinical Trials Unit in Salamanca University Hospital's Haematology Department. She currently serves on the European Hematology Association (EHA) as the chair of Scientific Program Committee for the 2019 congress.
Previous Post
Key Multiple Myeloma Abstracts Presented at ASCO 2019
Next Post
Overall survival with oral selinexor plus low dose dexamethasone in patients with triple class refractory-multiple myeloma