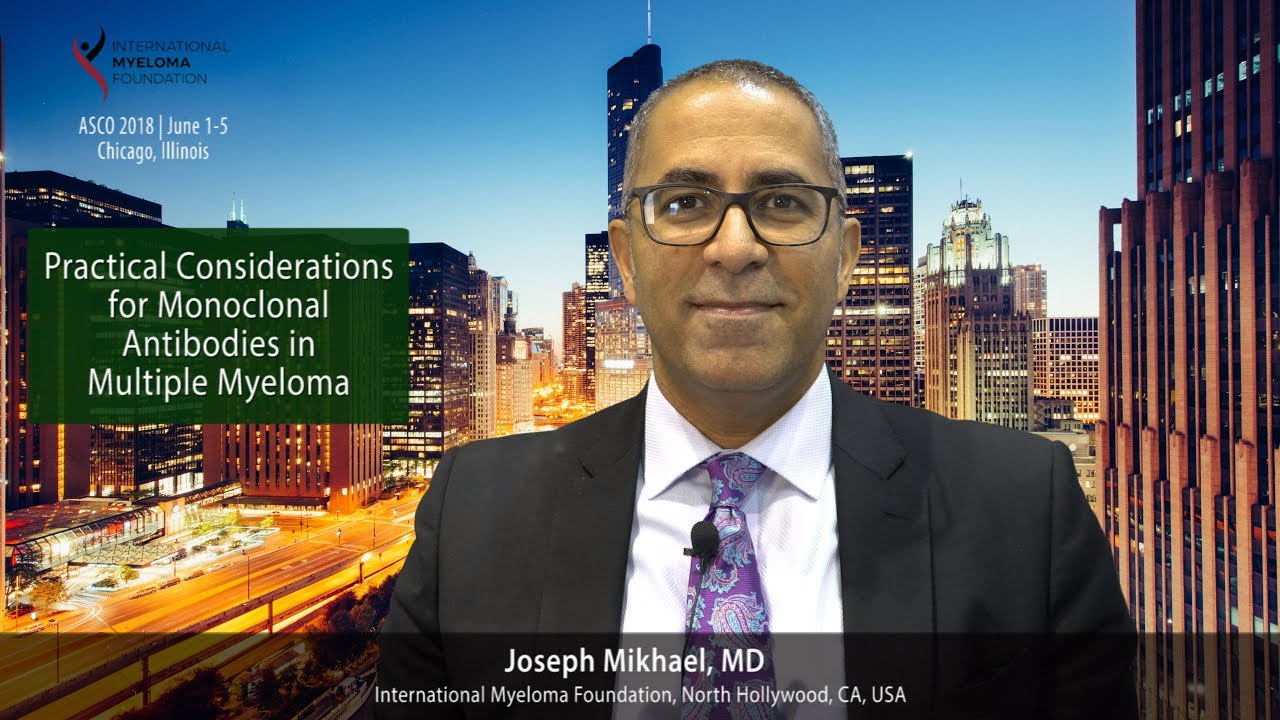 Practical Considerations for Monoclonal Antibodies in Multiple Myeloma
Dr. Joseph Mikhael on ASCO 2018 Abstracts Addressing Monoclonal Antibodies in Myeloma 
Dr. Joseph Mikhael, Chief Medical Officer at the International Myeloma Foundation, highlights an ASCO 2018 session about monoclonal antibodies used to treat multiple myeloma. Dr. Mikhael comments on the following:
The use of monoclonal antibodies are significant for myeloma patients at first relapse.


Monoclonal antibodies may be used in combination with lenalidomide, bortezomib, and other agents to help a patient reach remission.


Treatment with monoclonal antibodies must be individualized due to myeloma's complexities.
In addition, Dr. Mikhael previews the use of new monoclonal antibodies and other new treatments, including CAR T-cell therapy.
---
ABOUT JOSEPH MIKHAEL, MD
Dr. Joseph Mikhael is a world-renowned multiple myeloma expert. In his position with the IMF, he works closely with the Board Chairman, Dr. Brian G.M. Durie, to advance the mission of the organization in research, education, advocacy, and patient care to improve lives of patients with myeloma. Dr. Mikhael has conducted dozens of clinical trials in the field of multiple myeloma and has contributed to the development of many novel drugs. He has served as a Professor of Medicine at the Mayo Clinic, an Associate Dean at the Mayo Clinic School of Graduate Medical Education, and as the Deputy Director of Education at the Mayo Clinic Cancer Center. Dr. Mikhael also serves as a councilor on the American Society of Hematology (ASH) Executive Committee and is involved in mentoring the next generation of hematologists. He did his medical training in Canada, having completed medical school at the University of Ottawa, his hematology training at the University of Toronto, and a Multiple Myeloma Fellowship at Princess Margaret Hospital. He also has a master's degree in education from the University of Toronto. Dr. Mikhael remains in clinical and academic medicine with City of Hope Cancer Center in California. View Dr. Joseph Mikhael's full biography here.
Previous Post
Phase 2 study of venetoclax plus carfilzomib and dexamethasone in patients with RR multiple myeloma
Next Post
Value and cost of multiple myeloma therapy