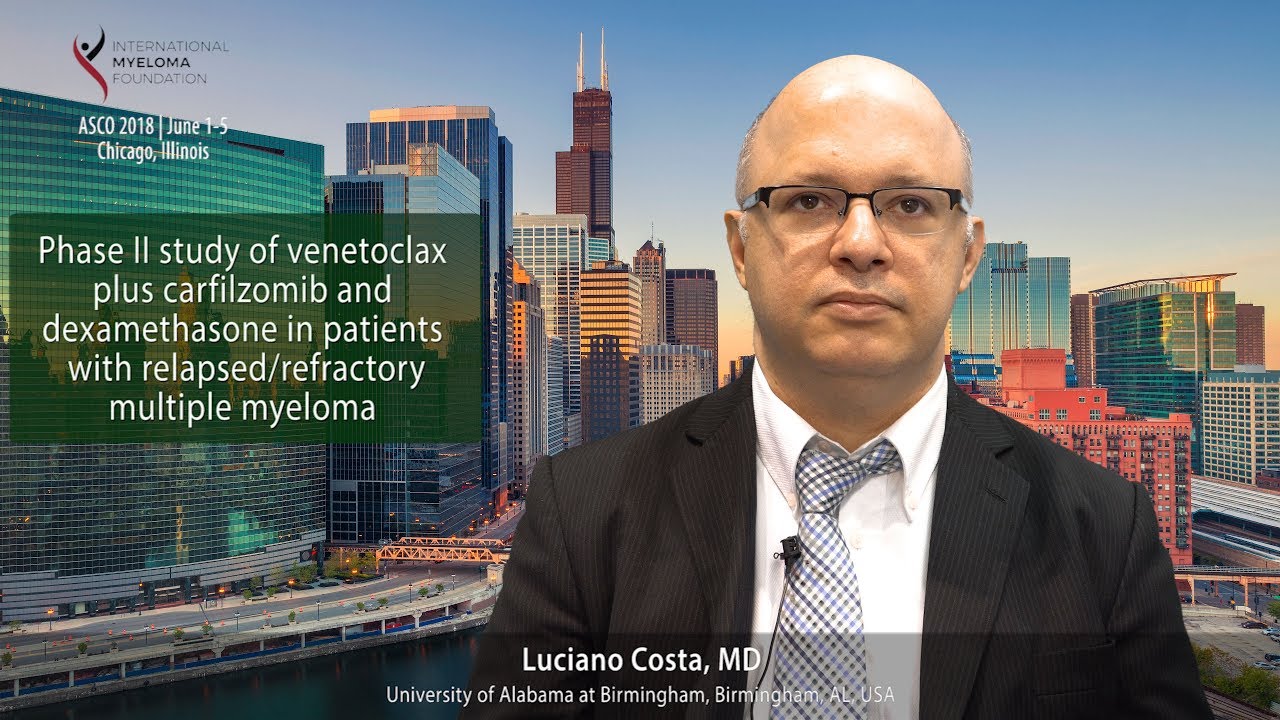 Phase 2 study of venetoclax plus carfilzomib and dexamethasone in patients with RR multiple myeloma
Dr. Luciano Costa Discusses a Phase 2 Venetoclax Study
In this video, Dr. Luciano Costa (University of Alabama, Birmingham, AL) discusses a phase 2 trial with using a combination of venetoclax, carfilzomib, and dexamethasone. This trial accrued 42 patients in the U.S. Myeloma cells have several anti-apoptotic molecules that allow them to avoid cell death. The purpose of the trial was to test if the combination of venetoclax, carlfilzomib, and dexamethasone could reverse those anti-apoptotic properties. Venetoclax was used in different doses and on different schedules. This trial demonstrated the following:
The combination of venetoclax, carfilzomib, and dexamethasone is very well-tolerated.
The side effects of the combination are just as similar to the administration of carfilzomib alone.
83% of patients with one to three prior lines of therapy had a measurable response. Of these patients, 57% had at least very good partial response (VGPR).
Venetoclax was very active in patients with translocation t(11;14). However, even patients without this translocation had a high response rate.
After this combination is further tested and side effects are better understood, it may be a positive option for patients with refractory or relapsed multiple myeloma. This method of treatment could be considered for those who become refractory to other inhibitors, such as bortezomib.
Learn more about this clinical trial at NCT02899052
---
ABOUT LUCIANO COSTA, MD
Luciano Costa, M.D., is an Associate Professor of Medicine Blood and Marrow Transplantation and Cell Therapy Program at the University of Alabama in Birmingham, Alabama. His main areas of focus include strategies for hematopoietic stem cell transplantation in chronic lymphoproliferative disorders, toxicity of hematopoietic stem cell transplantation, and population outcomes of hematologic malignancies. View Dr. Luciano Costa's full biography here.
Previous Post
Daratumumab in combination with carfilzomib and dexamethasone in lenalidomide-refractory patients with relapsed multiple myeloma
Next Post
Practical Considerations for Monoclonal Antibodies in Multiple Myeloma