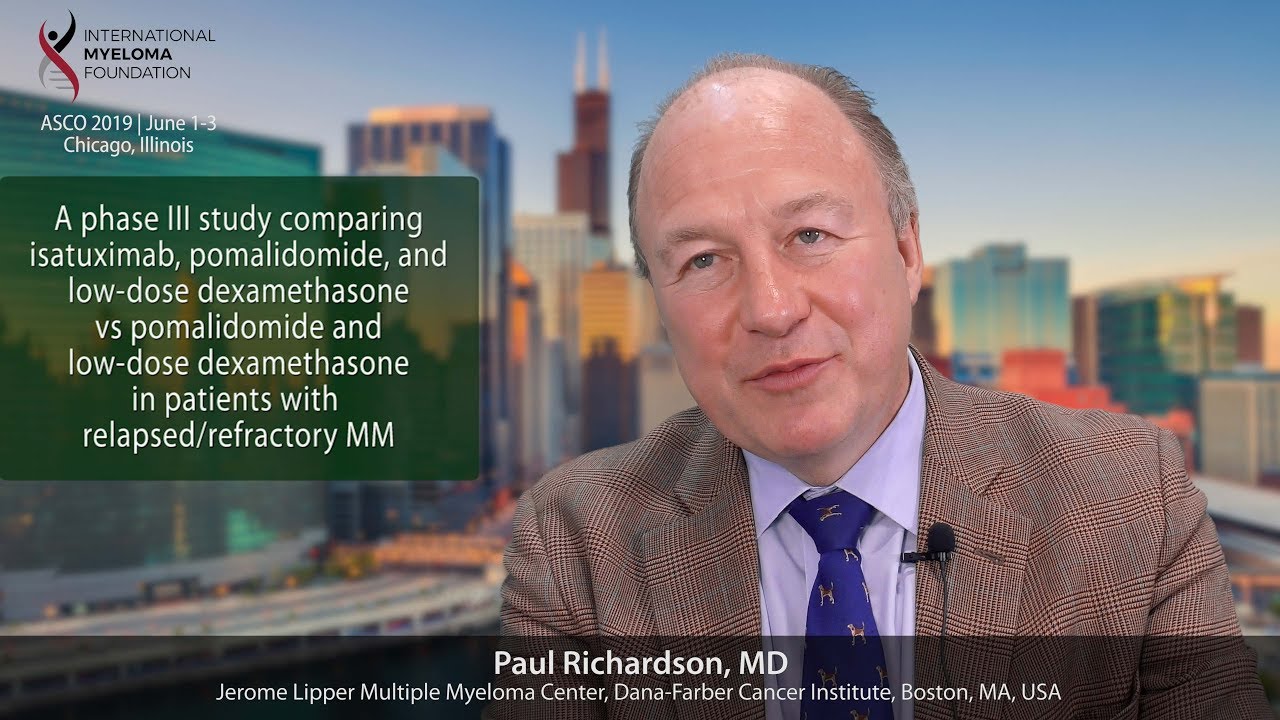 A phase III study comparing isatuximab, pomalidomide, and low-dose dexamethasone vs pom and low-dose dex in pts with relapsed/refractory multiple myeloma
Dr. Paul Richardson on a Phase III Isatuximab Combination Trial
In this video, Dr. Paul Richardson (Jerome Lipper Mulitple Myeloma Center, Dana Farber Cancer Institute - Boston) describes this phase III trial. The study aimed to demonstrate progression-free survival improvement with isatuximab (Isa), a novel anti-CD38 monoclonal antibody, in combination with pomalidomide and dexamethasone  (IsaPd) compared to dexamethasone-pomalidomide-alone (Pd).
Video Transcript
My name is Dr. Paul Richardson, and I'm the Director of Clinical Research at the Jerome Lipper Multiple Myeloma Center at uh, in Boston, Massachusetts, and I serve as the R.J. Corman Professor of Medicine at Harvard Medical School.
Now the second presentation I wanted to share with you was from our work, basically evaluating the very exciting CD38 targeting antibody isatuximab. Isatuximab is in the same family as daratumumab, in that it targets CD38. But what's very important is that the antibodies do actually have quite a few differences. For example, Isatuximab is better able to target the ecto-enzymic pathway that CD38 subserves on the myeloma cell surface. And also, at the same time, have a more of an atopic effect as well as perhaps, certain pre-clinically, have different effects on the immune milieu on which the tumor sits.
While both antibodies are clearly, exquisitely active in terms of their antibody dependence – cytoxic, cytotoxicity, and other features such as T-cell activation and indeed, macrophage activity, one interesting thing property between the two antibodies is that whilst daratumumab activates complement – that obviously can be helpful. It does lead to some concerns about the respiratory side effects of first infusion. Interestingly, isatuximab doesn't have that same effect on complement to the same degree. And so, it seems to be associated with less frequent respiratory-type reactions.
Early phase data has shown that isatuximab has very similar activity to daratumumab as a single-agent. And so we launched a phase Ib combining isatuximab with pomalidomide and dexamethasone. I had the privilege of leading this with my co-investigator Dr. Joe Mikhael. And we were able to show in this trial,  not only was the combination very well-tolerated, but at the same time, not only also was the response rate high, but the median PFS for this large trial was striking of over 17 months.
This provided the backbone for the IKARI phase III trial, which was a much larger phase III comparison for patients with relapsed/refractory myeloma where pomalidomide and dexamethasone would be the appropriate standard regimen. And therefore we looked at this population to compare that approach to isatuximab, dexamethasone, and pomalidomide as a comparator. 
The trial involved 300 patients. It was conducted in 26 countries, 92 centers, and we were able to rapidly enroll this study—150 patients per arm. They truly reflected a real-world population. Over 90% were lenalidomide-refractory, about 20% were high-risk by cytogenetics, and a significant proportion had renal impairment. And also we had a broad age range, with a significant proportion of patients be over 65. 
So putting this altogether, we then evaluated the three drugs versus the two. And I should mention that in the study, we did allow patients with asthma and COPD, which was an exclusion for patients entering daratumumab-based trials, because of this respiratory concern. And we were very pleased to see when you administer isatuximab weekly for the first month, and then every two weeks thereafter with minimal pre-medications and a relatively short infusion time, um, that these patients not only tolerated these infusions, with a low rate of, a very low rate of discontinuation, and overall infusion-rate reaction of around 30 percent, which was typically with the first infusion and not thereafter. 
But we were also able to see a very manageable safety profile. What we saw with isatuximab were some neutropenia and some higher rates of chest infection, but these all proved generally manageable. 
Now the really striking thing was the PFS difference that we saw, which approached 12 months for the three drugs as opposed to approximately 6 months for the control group. And that to us, was particularly striking, so almost a doubling of the PFS.
What was also important was the response rates approximately doubled in favor of the three drugs. What was that particularly interesting is that this was already translating with a meaningful benefit of under a year, into a survival benefit for the three drugs versus the two.
When we did subgroup analyses for risk categories, we showed them that the renal-impaired patients with three drugs performed particularly well, high-risk they performed particularly well, and very importantly, in those patients who were lenalidomide-refractory, and lenalidomide was part of their last regimen, the isatuximab-pom-dex platform generated a hazard ratio of 0.5, which is very favorable.
So, in aggregate, this was first phase III of its kind to be reported to date, looking at this very vulnerable relapse/refractory, very much a real-world population. And we show clear clinical benefit for the three drugs isatuximab, pomalidomide and dexamethasone over the current standard of pomalidomide and dexamethasone. 
I think this build very nicely on previous experiences where we've shown for example, in the OPTIMISMM trial, that pomalidomide, bortezomib, and dexamethasone was an ideal platform in patients who've tried lenalidomide and become refractory to it in a less-advanced setting. So now to have this three-drug platform potentially available for our patients is a very exciting new direction.
 
Conclusions
IsaPd significantly improved PFS and ORR vs Pd, with a manageable safety profile. IsaPd is an important new treatment option for the management of RRMM. 
Authors
Paul G. Richardson, Michel Attal, S. Vincent Rajkumar, Jesus San Miguel, Meral Beksac, Ivan Spicka, Xavier Leleu, Fredrik Schjesvold, Philippe Moreau, Meletios A. Dimopoulos, Jeffrey SY. Huang, Jiri Minarik, Michele Cavo, H. Miles Prince, Sandrine Macé, Kathryn Penkus Corzo, Frank Campana, Solenn Le-Guennec, Franck Dubin, Kenneth Carl Anderson, on behalf of the ICARIA-MM Study Group; Jerome Lipper Multiple Myeloma Center, Department of Medical Oncology, Dana-Farber Cancer Institute, Harvard Medical School, Boston, MA; IUCT-Oncopole, Toulouse, France; Mayo Clinic, Rochester, MN; Clínica Universidad de Navarra, Navarra, Spain; Ankara University, Ankara, Turkey; Vseobecna Fakultni Nemocnice V Praze, Prague, Czech Republic; CHRU Lille, Lille, France; Oslo University Hospital, Oslo, Norway; CHU de Nantes-Hôtel Dieu, Nantes, France; National and Kapodistrian University of Athens, Athens, Greece; National Taiwan University Hospital, Taipei, Taiwan; University Hospital Olomouc, Olomouc, Czech Republic; Seràgnoli Institute of Hematology, Bologna University School of Medicine, Bologna, Italy; Epworth Healthcare and Peter MacCallum Cancer Centre, Melbourne, VIC, Australia; Sanofi R&D, Oncology, Vitry-Sur-Seine, France; Sanofi, Cambridge, MA; Sanofi US, Cambridge, MA; Sanofi R & D, Vitry-Alfortville, France; Sanofi, Vitry-Sur-Seine, France
---
Clinical trial information: 
NCT02990338
ASCO 2019 Abstract No: 8004
Citation: 
J Clin Oncol 37, 2019 (suppl; abstr 8004)
---
ABOUT PAUL RICHARDSON, MD
Paul Richardson, M.D. is the Clinical Program Leader and Director of Clinical Research at the Jerome Lipper Multiple Myeloma Center at Dana-Farber Cancer Institute in Boston. He is also an Institute Physician and a RJ Corman Professor of Medicine, at Harvard Medical School in Cambridge, MA. In addition to multiple myeloma, his key clinical interests are regimen-related toxicity, stem cell transplantation, experimental therapies and cancer pharmacology, and more. Visit Dr. Paul Richardson's full biography.
Previous Post
E3A06: Randomized phase III trial of lenalidomide versus observation alone in patients with asymptomatic high-risk smoldering multiple myeloma
Next Post
Top 5 Multiple Myeloma Clinical Studies Presented at ASCO 2019