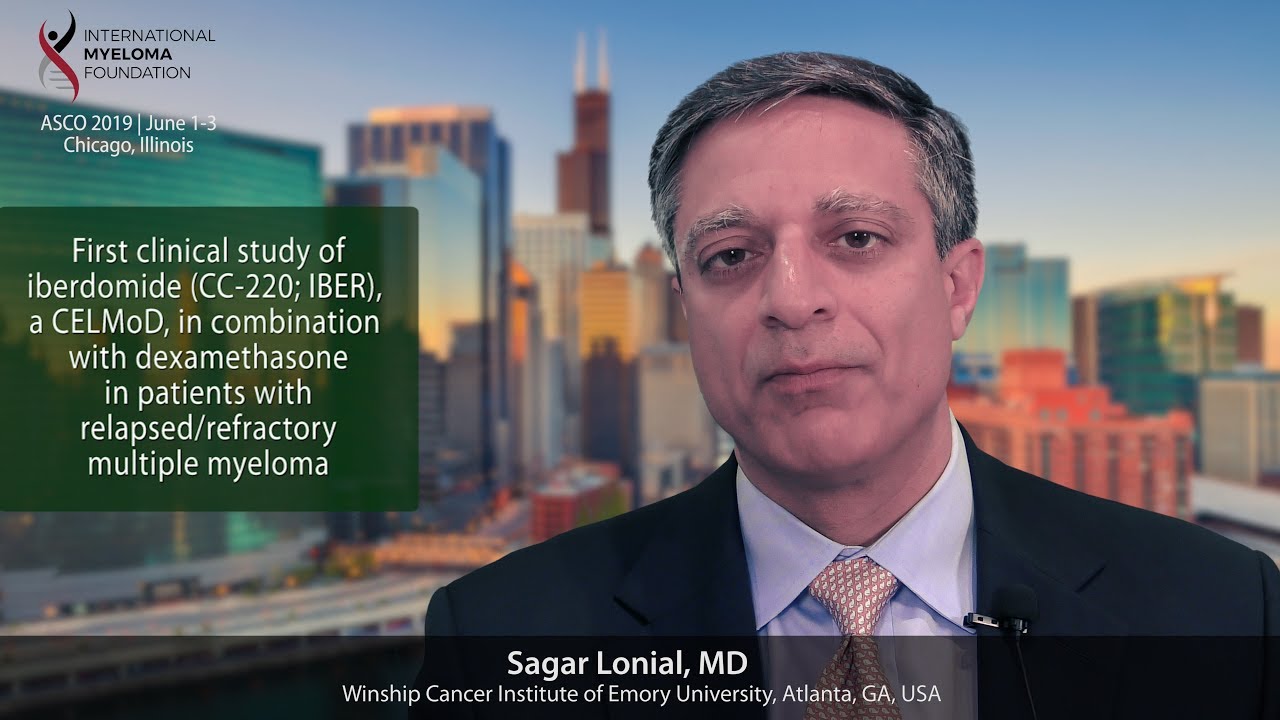 First clinical study of iberdomide, a CELMoD, in pts with relapsed/refractory multiple myeloma
Dr. Sagar Lonial on the CELMoD IBER
IBER is a novel cereblon E3 ligase modulator (CELMoD) with enhanced tumoricidal and immunostimulatory activities. Preclinically, IBER overcomes immunomodulatory drug (IMiD) resistance and has synergy with daratumumab (DARA), bortezomib (BORT), and DEX. 
Video Transcript
I'm Dr. Sagar Lonial from the Winship Cancer Institute of Emory University in Atlanta, Georgia. I'm here to talk about our abstract evaluating our abstract evaluation CC-220, or iberdomide for patients with relapsed and refractory myeloma. We know that the IMiD class of agents has been very active with myeloma for patients in all phases of disease—all the way from smoldering through relapsed/refractory disease, with agents such as thalidomide, lenalidomide, and pomalidomide.
What I presented at ASCO was the first presentation of data using the new CELMoD, and CELMoD means cerablon-binding protein that is selected to be more specific for Ikaros and Aiolos down regulation through binding of cereblon. 
And this drug was previously known as CC-220. It's now known as iberdomide, or IBER.  And this was a phase I study evaluating in IBER in combination with dexamethasone. And we went through doses all the way from .3 mg per day, all the way up to doses of 1.3 mg per day, in combination with weekly dexamethasone. 
IBER is taken similar to pom and len, in the sense that it's given three weeks on with a one-week break. And it's currently being explored as a single-agent, alone, so no dex, as well as in combination with bortezomib, carfilzomib, and daratumumab.
What we demonstrated in this phase I trial is that roughly 30% of patients responded to IBER plus dex, even if they were resistant to pomalidomide, daratumumab, lenalidomide, or proteasome inhibitors. This suggests that in aggregate IBER plus dex represents a new way to overcome resistance to pomalidomide and lenalidomie. And, likely because of its mechanism of enhancing immune function, will be a very good partner with monoclonal anitbodies, CAR-T cells, or other immune-based therapies.
So we're very excited about this new treatment option for patients for whom pom or len no longer work, but IBER may offer a new treatment approach.
Conclusions
IBER + DEX showed favorable efficacy and safety in heavily pretreated patients with relapsed/refractory myeloma who failed multiple prior therapies. This study is ongoing, including combinations of IBER with DARA or BORT. 
Authors
Sagar Lonial, Niels W.C.J. van de Donk, Rakesh Popat, Jeffrey A. Zonder, Monique C. Minnema, Jeremy Larsen, Tuong Vi Nguyen, Min S. Chen, Amine Bensmaine, Mariana Cota, Pieter Sonneveld; Winship Cancer Institute of Emory University, Atlanta, GA; Amsterdam UMC, Vrije Universiteit Amsterdam, Department of Hematology, Amsterdam, Netherlands; NIHR UCLH Clinical Research Facility, University College London Hospitals NHS Foundation Trust, London, United Kingdom; Karmanos Cancer Institute, Detroit, MI; University Medical Center Utrecht, Utrecht, Netherlands; Mayo Clinic, Phoenix, AZ; Celgene Corporation, Summit, NJ; Erasmus Medical Center Rotterdam, Rotterdam, Netherlands
---
Clinical trial information:
NCT02773030
ASCO 2019 Abstract No: 8006
Citation: 
J Clin Oncol 37, 2019 (suppl; abstr 8006)
---
ABOUT SAGAR LONIAL, MD, FACP
Dr. Sagar Lonial is Chief Medical Officer at the Winship Cancer Institute at Emory University in Atlanta. He is board certified in hematology and medical oncology.  His research focus is "with combinations of novel agents as therapy for myeloma and lymphoma, particularly evaluating combinations that may result in synergistic inhibition of the PI3-K/Akt pathway." Visit Dr. Sagar Lonial's full biography. 
Previous Post
Top 5 Multiple Myeloma Clinical Studies Presented at ASCO 2019
Next Post
Outcomes of patients with t(11;14) multiple myeloma: An international myeloma working group (IMWG) multicenter study