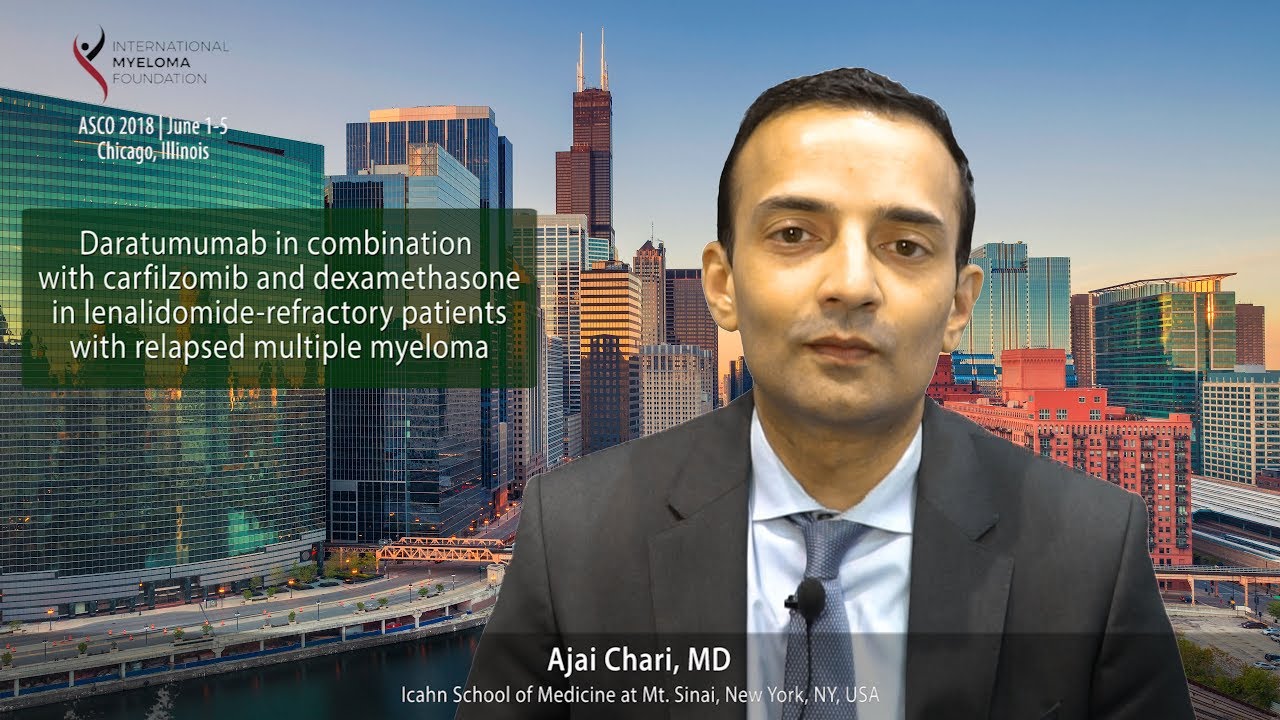 Daratumumab in combination with carfilzomib and dexamethasone in lenalidomide-refractory patients with relapsed multiple myeloma
In this video, Dr. Ajai Chari (Icahn School of Medicine, Mt. Sinai Hospital - New York) discusses an update of a phase III study that looks at safety and efficacy of the combination of daratumumab + carfilzomib + dexamethasone in a group of patients who are refractory to lenalidomide. This study is important because many high-impact journals have reported that some phase III studies show that three-drug combinations are better than two-drug combinations in myeloma patients. However, studies that use lenalidomide + dexamethasone as a backbone do not apply to the vast majority of U.S. patients who are on lenalidomide maintenance.
This lenalidomide maintenance would make these patients refractory to lenalidomide at the time that their myeloma progresses, thereby making them ineligible for those studies that use lenalidomide + dexamethasone as a control arm.
The addition of carfilzomib to daratumumab (Kd) showed no new safety signals, and the rate of severe of neutropenia was only about 19–20 percent, and there was no marked increase in infection. The response rate was about 80% with some MRD-negativity. The progression for survival was about 14 months, which is really encouraging for this patient population.
However, this study requires further validation. To that point, daratumumab is being studied in these combinations: carfilzomib + dexamethasone +/- daratumumab; and also pomalidome + dexamethasone +/- daratumumab.
An important issue in this study was that patients were administered a split-dose of daratumumab over two days, which allowed patients to better tolerate this drug.
---
ABOUT AJAI CHARI, MD
Dr. Ajai Chari is an Associate Professor of Medicine, the Director of Clinical Research in the Multiple Myeloma Program, and the Associate Director of Clinical Research, Mt Sinai Cancer Clinical Trials Office in New York. His main areas of focus are plasma cell disorders including multiple myeloma, AL amyloidosis, POEMS syndrome, plasmacytoma, and monoclonal gammopathies of undetermined significance (MGUS). View Dr. Ajai Chari's full biography here.
Previous Post
Phase II study of ex vivo expanded cord blood natural killer cells for multiple myeloma
Next Post
Phase 2 study of venetoclax plus carfilzomib and dexamethasone in patients with RR multiple myeloma