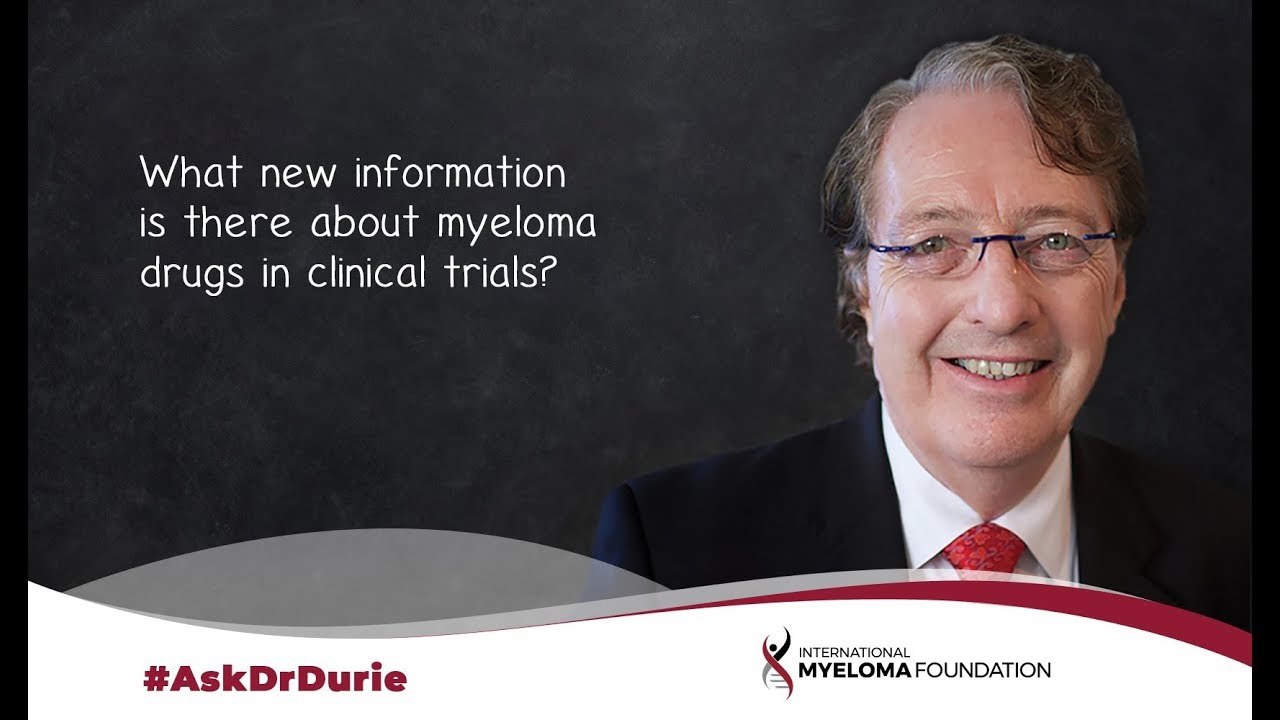 What new information is there about myeloma drugs in clinical trials?
In this week's video, Dr. Brian G.M. Durie explains where many new agents for myeloma are in the clinical trials process.
BOTTOM LINE:
Four new myeloma drugs are still undergoing clinical research. They are venetoclax, panobinostat, daratumumab, and selinexor.
If you have a question that you'd like to suggest for a future episode of Ask Dr. Durie, please submit it to [email protected]. 
To reach the IMF InfoLine Coordinators, please call 800.452.2873 or email them at [email protected]. 
Transcript:
This week's "Ask Dr. Durie" comes from a patient who has been following the news closely and wants to know, "Is there anything really new that's happening with regard to the many novel drugs that seem to be undergoing trials in myeloma?" 
And, in answer to this, I think this is an excellent question, I'd like to draw attention to four of the new agents, which have been in the news recently.
The first of those is selinexor, and this is an important first-in-class new drug which has been shown to be active in patients with relapse and refractory myeloma. And the trial results, the STORM trial results, using selinexor and dexamethasone were submitted to the FDA review. Unfortunately, at a recently ODAC hearing, the panel voted against the early approval of selinexor because they were concerned about toxicities and the amount of benefit that was being seen within this initial single-arm trial. 
However, since then, there have been follow-up meetings with the FDA, and the FDA has agreed to further review selinexor and look at some early results from the BOSTON trial, in which selinexor is combined with Velcade and dexamethasone, to see if in this combination the toxicity is acceptable and if a reasonable degree of efficacy or benefit is being seen.
And so, there are some positive signals from the FDA and they've changed the date of the upcoming review so that by July 6th now, we will see if these new data from the BOSTON trial and additional information supplied by the Karyopharm company will be sufficient to convince the FDA to go ahead and give approval for this important and exciting new agent.
The second new agent in the news is daratumumab, the anti-CD38 monoclonal antibody, which is administered currently by intravenous infusion. An important trial, the COLUMBA trial showed that subcutaneous injection could be used instead of the intravenous infusion. And in this particular trial, the results, the preliminary results have been submitted in the press release. They showed that the activity, the benefit with sub-Q daratumumab was equivalent to the intravenous infusion methods. So really, really excellent news. And in fact, if anything, it seems that the subcutaneous administration was administered with less toxicity and obviously much, much greater convenience, versus the long infusion times in the clinic with the IV daratumumab, so there is now optimism that the FDA will receive this submission package and will look favorably on the use of daratumumab as a subcutaneous shot versus the IV infusion.
The third drug is just a small note to indicate that the drug, panobinostat, or Farydak, has transferred ownership from the original company of Novartis to a smaller biotech company that will be further developing this agent which was actually approved back in 2015. Apparently the new biotech company will look at different dose schedules and maybe some new combinations. And so we can look for some new studies and maybe some more innovated and expanded ways to use panobinostat.
The fourth new drug in the news is actually not quite such good news. The results from the BELLINI trial were released, in which venetoclax was combined with Velcade and dex and compared with Velcade and dexamethasone alone. In this particular trial, there were more deaths and complications in the patients receiving the three-drug combination with the Venetoclax. Based on the preliminary data, the FDA has taken the unusual step to actually halt new enrollment into this trial until they can figure out what is causing this extra toxicity and infections. 
They have allowed ongoing treatment within the trial with the use of preventative antibiotics to decrease the risks of infection. However, I think we're all going to be looking carefully at what has happened in this trial. Because we are very, very excited about this new drug, venetoclax, which has striking activity in patients who have the translocation t(11;14) and is a unique way to manage these patients. So, we're all quite hopeful that this will all get sorted out quite soon. And we will indeed have access to the venetoclax, both for the t(11;14) patients and in combination with Velcade and dex and other agents. So, we'll need to stay tuned on that.
But, these are four drug updates which hopefully will be helpful to give you a status report.
---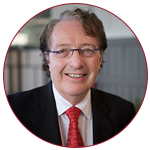 Dr. Brian G.M. Durie serves as Chairman of the International Myeloma Foundation and serves on its Scientific Advisory Board. Additionally, he is Chairman of the IMF's International Myeloma Working Group, a consortium of nearly 200 myeloma experts from around the world. Dr. Durie also leads the IMF's Black Swan Research Initiative®.
Previous Post
What imaging studies, or scans, should myeloma patients undergo?
Next Post
Living Well with Myeloma: MGUS, Smoldering Myeloma, and Newly Diagnosed