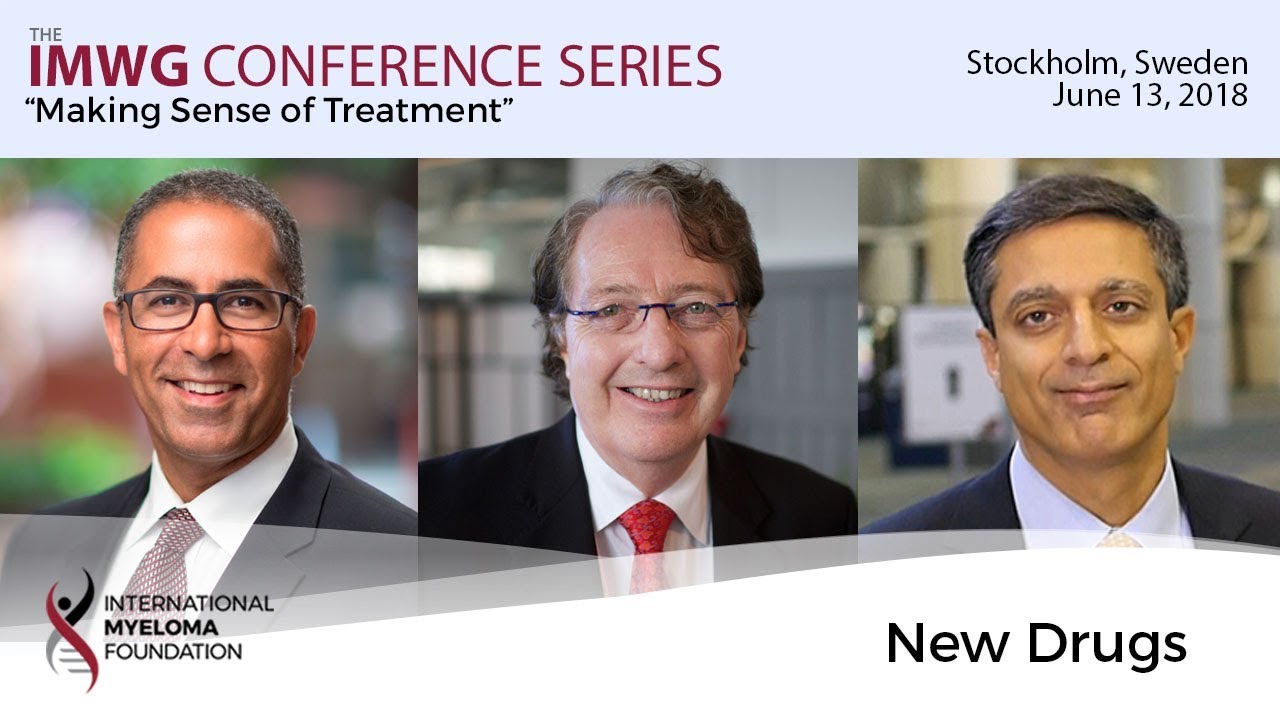 New Drugs in Multiple Myeloma
IMWG Conference Series: Stockholm 2018
In this video, IMF Chairman Brian G.M. Durie moderates a lively discussion about new drugs and drug combinations in the myeloma treatment landscape with Dr. Joseph Mikhael (IMF Chief Medical Officer) and Dr. Sagar Lonial (Emory University, Atlanta). 
This video is the fourth in a six-part series that focuses on making sense of multiple myeloma treatment based upon the newly obtained input from three leading research conferences: the American Society of Clinical Oncology (ASCO) 2018 annual meeting, the International Myeloma Working Group (IMWG) 2018 Summit, and the European Hematology Association annual meeting, which all took place during the first two weeks of June 2018.
Dr. Durie opens the discussion with a list of newly approved therapies (carfilzomib, daratumumab, and pomalidomide) and those still in the approval process (selinexor, venetoclax, and isatuximab/MOR 202).
He points to Dr. Maria V. Mateos' team and their  A.R.R.O.W. study  data presented at ASCO 2018. This study looked at administering a higher dose of carfilzomib + dexamethasone once weekly as opposed to the twice weekly, lower doses of the same combination in patients with relapsed and refractory myeloma. The results proved that once weekly dosed patients experienced a better overall response and better remission, as well as tolerated the treatment with little side effects.
Dr. Mikhael thinks that they will switch patients to a once a week dosing on a case-by-case basis, as this dosing is more convenient for patients. He expresses interest in how this study will affect future clinical trials with carfilzomib. He was also encouraged that there was no additional cardiac toxicity risks with once-weekly dosing.
Dr. Lonial says the other take-home message about the A.R.R.O.W. study uses a carfilzomib dosing that is very similar to bortezomib.
Dr. Durie then points to the combination of venetoclax (a BCL-2 inhibitor) + carfilzoimb that showed good overall response rates for patient with t(11;14).
Dr. Lonial points to data that venetoclax + dexamethasone in patients with t(11;14) with a response rate of 70%. So Dr. Lonial wonders what is being added by carfilzomib in the venetoclax + carfilzoimb combination in a truly t(11:14) patient?
Dr. Mikhael speaks to the fact that this study didn't look at the fact that t(11:14) patients were refractory to bortezomib, but did have a response to the combination of venetoclax + bortezomib had a response. So yes, there is something to note in a combination of venetoclax + bortezomib or venetoclax + carfilzomib.
Other Topics:
---
We thank supporters of this program:
AMGEN Oncology, Celgene Corporation, and Takeda Oncology