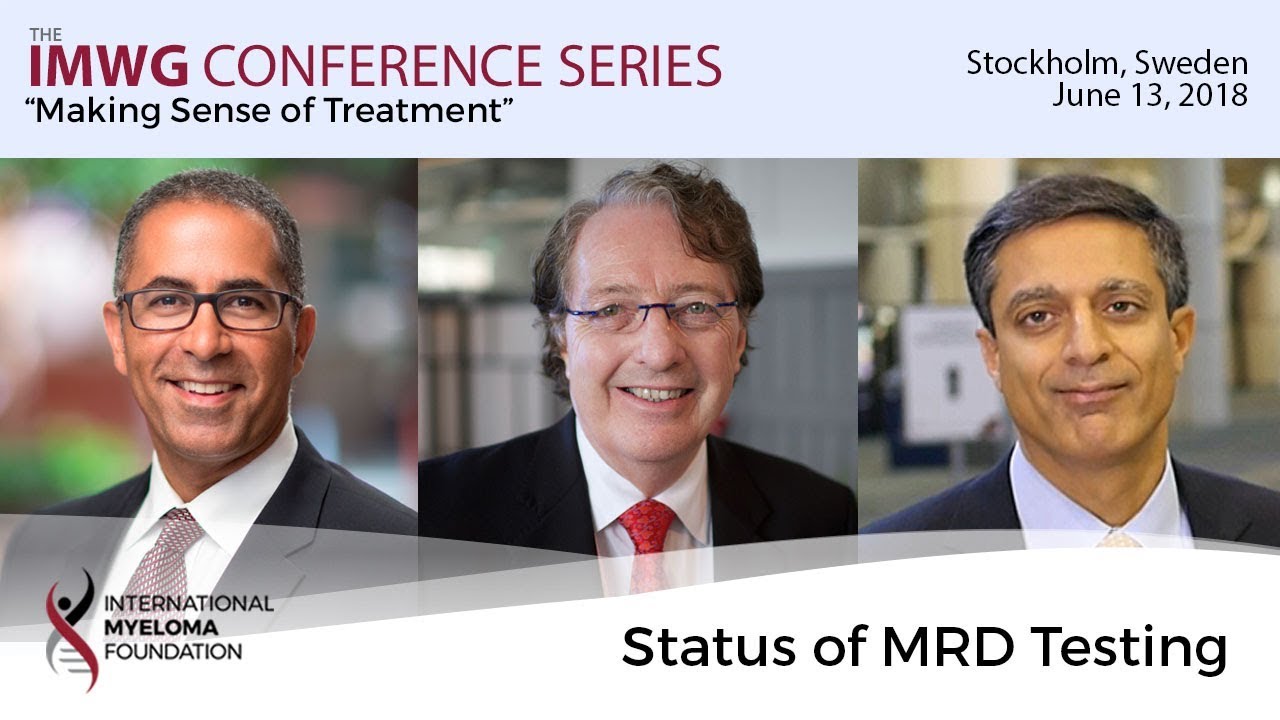 IMWG Conference Series: Stockholm 2018
click on the image above to watch the webcast
(to view the webcast in fullscreen, click on the bottom right square icon underneath the YouTube logo)
​In this video, IMF Chairman Brian G.M. Durie moderates a lively discussion about the status of minimal residual (MRD) testing with Dr. Joseph Mikhael (IMF Chief Medical Officer) and Dr. Sagar Lonial (Emory University, Atlanta). 
This video is the second in a six-part series that focuses on making sense of multiple myeloma treatment based upon the newly obtained input from three leading research conferences: the American Society of Clinical Oncology (ASCO) 2018 annual meeting, the International Myeloma Working Group (IMWG) 2018 Summit, and the European Hematology Association annual meeting, which all took place during the first two weeks of June 2018.
Dr. Durie opens the discussion with an overview of MRD-testing.
MRD-testing can be conducted using one of two methods: Next Generation Flow (NGF) or Next Generation Sequencing (NGS)
MRD-testing can detect minimal residual disease at the sensitivity of 10-6, or one in one million myeloma cells.
Patients who achieve the depth of response of 10-6, tend to have improved progression-free survival and overall survival.
There are varying opinions on how to implement MRD-testing in the clinical setting.
Dr. Durie then poses the questions:
What will be the impact of MRD as a primary endpoint in clinical trials?
How do you use MRD testing in clinical practice?
Dr. Sagar Lonial responds that it is important to know the maintenance regimen of myeloma patients in clinical trials because maintenance can impact PFS and OS independently of MRD-negativity.
Dr. Mikhael adds that it is critical to do MRD-testing, but there is a tremendous danger in making major treatment decisions until clinicians understand the implications of this testing better.
Dr. Lonial also points to the importance of imaging (PET/CT-scans) as a partner to MRD-testing, especially for patients who may have extramedullary disease.
In the meantime, Dr. Lonial's team is using MRD-testing in the clinical setting to collect data to analyze in context of a risk-adaptive maintenance approach. However, they are not using it for treatment decisions.
Dr. Mikhael agrees that the data is great for collection, but not to make treatment decisions.
Other Topics:
---
We thank supporters of this program:
AMGEN Oncology, Celgene Corporation, and Takeda Oncology