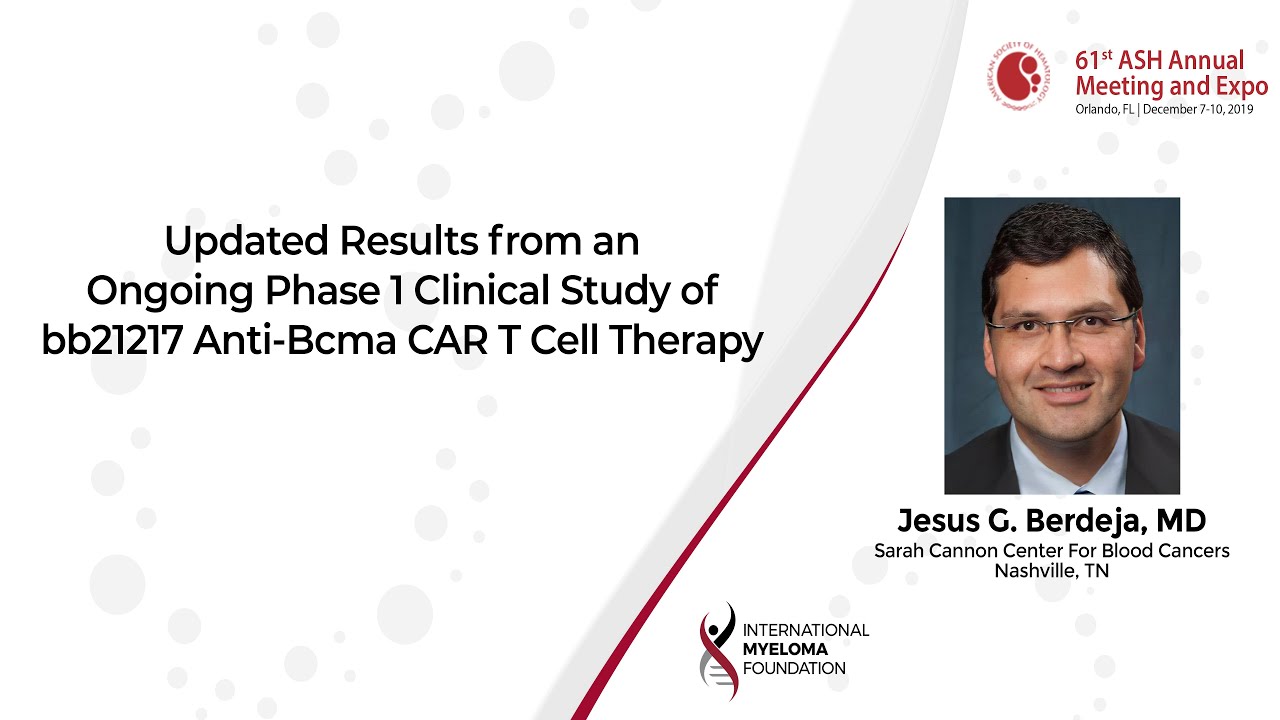 Updated Results from an Ongoing Phase 1 Clinical Study of bb21217 Anti-Bcma CAR T Cell Therapy
Introduction: Chimeric antigen receptor (CAR) T cell therapy directed against B cell maturation antigen (BCMA) has shown promising results for the treatment of relapsed refractory multiple myeloma (RRMM) in several phase 1 studies. Persistence of CAR T cells post infusion may be one determinant of duration of response. bb21217 is a next-generation anti-BCMA CAR T cell therapy based on investigational therapy idecabtagene vicleucel (bb2121) (Friedman 2018, Hum Gene Ther 29:585) that uses the same lentiviral CAR T design as bb2121, but adds the phosphoinositide 3-kinase inhibitor bb007 during ex vivo culture to enrich the drug product for memory-like T cells. Evidence suggests that CAR T cells with this phenotype may be more persistent and more potent than unselected CAR T cells. CRB-402 is a first-in-human study of bb21217 in patients with RRMM designed to assess safety, pharmacokinetics, efficacy and duration of effect.
Conclusions: The adverse events observed to date were manageable and consistent with known toxicities of CAR T therapies. Initial efficacy results with bb21217 CAR T therapy in heavily pretreated RRMM are encouraging, with 83% of patients demonstrating clinical response. Emerging data demonstrate long-term persistence of CAR T cells in long-term responders. Updated data to be presented will help determine whether treatment with bb21217 results in sustained CAR T cell persistence and durable clinical responses, and whether bb21217 is tolerated at higher doses.
Previous Post
Valutazione MRD mediante citometria a flusso multiparametrico e NGS nella sperimentazione Forte
Next Post
Is minimal residual disease (MRD) testing routinely recommended?