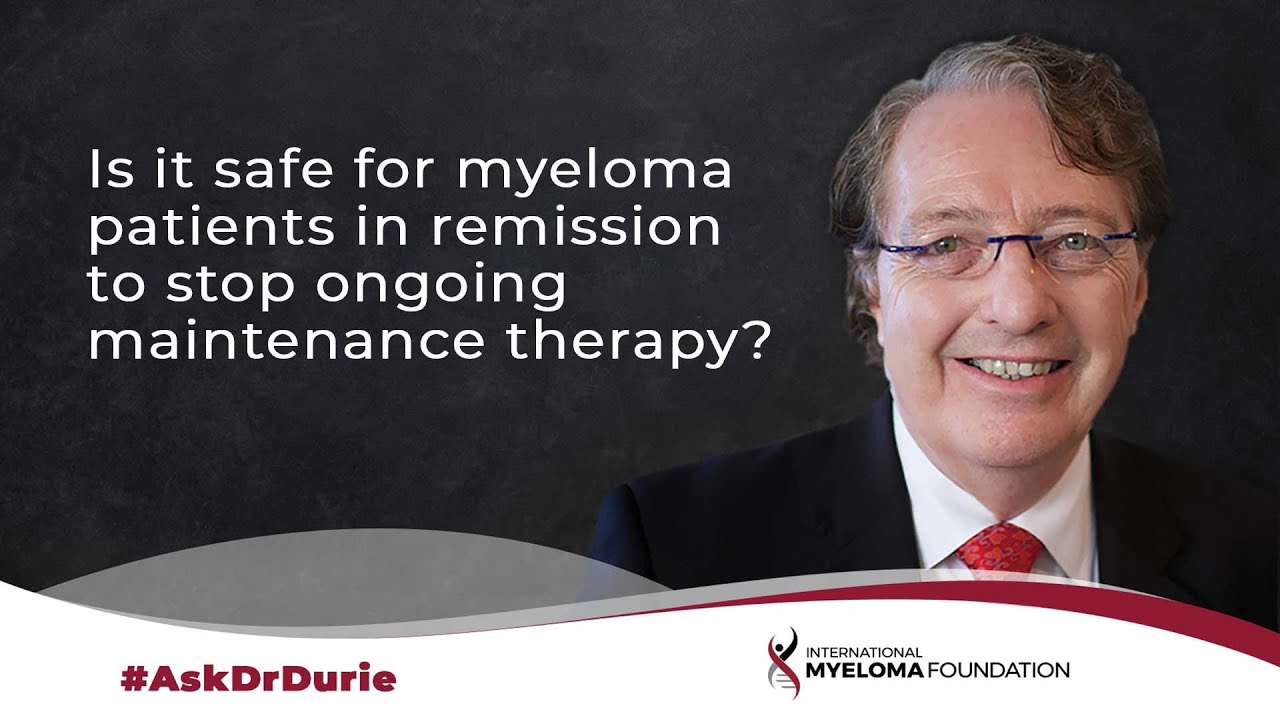 Is it safe for myeloma patients in remission to stop ongoing maintenance therapy?
In this week's video, Dr. Durie discusses what options myeloma patients have when drug side effects impact their quality of life.
BOTTOM LINE:
Discuss treatment changes carefully with your doctor.
If you have a question that you'd like to suggest for a future episode of Ask Dr. Durie, please submit it to [email protected]. 
To reach the IMF InfoLine Coordinators, please call 800.452.2873 or email them at [email protected].  
Transcript:
This weeks' "Ask Dr. Durie" comes from a patient who has been having a lot of side effects using maintenance therapy, in this case, lenalidomide, or Revlimid®. And, the question really is: "Is it safe to stop ongoing maintenance?"
This particular gentleman had been, has been doing quite well, had therapy with Velcade®, Revlimid, and dex, an autologous stem cell transplant, and has been taking lenalidomide maintenance for about eighteen months now. And so, he's doing well and actually in complete remission. 
And so, what are the pros and cons of continuing versus stopping? Well, clearly this is a very reasonable question. The advantages of continuing are that we do know that ongoing maintenance does seem to enhance the length of the remission. And so, there is natural anxiety for a patient to want to try to stay on to the maintenance therapy for as long as possible. There is also the option to reduce the dose of Revlimid and change the scheduling from perhaps two weeks on two weeks off, versus three weeks on and one week off. The dose can be reduced to as low as five milligrams so that the side effects can be significantly reduced. 
Various side effects are problematic if the white count is reduced. This patient had actually had a couple of episodes of infection, including one episode of pneumonia. And so, reduction to improve the white count can be feasible and can often be enough to allow the continuation of the treatment. If there has been a problem with diarrhea, as I've discussed in another blog, we do have therapies that can help to manage with that.
The kind of negatives about stopping are, we don't know the impact of stopping. We don't know what is the ideal length. At eighteen months, there probably has been an excellent benefit. Would the maximum benefit be two years or three years? We don't really know. So, there are some important uncertainties at this point.
Another big question has been if you're in complete remission and MRD, minimal residual disease testing is done and shows an undetected or negative result, is it then safe to stop the lenalidomide? Again, unfortunately, we don't have data on that. 
And so, the BOTTOM LINE is that this is really an important, important issue to discuss carefully with your doctor, and through the pros and the cons. Because there are several of each. But, from the patient perspective, if the side effects are really impacting your quality of life, you just need to know that it can be safe to stop. and, if you are off therapy, one of the advantages is that you know you are reducing drug exposure and potentially reducing the ongoing risk of some degree of drug resistance. And so, it is feasible to stop, monitor closely, and then restart the drug with an expectation that the treatment will again work well. And so, there is this option that is something to talk about carefully with your doctor, which is the bottom line recommendation in this case. Be aware of the possibility, think about the quality of life, and review the options, and make a decision. 
---
Dr. Brian G.M. Durie serves as Chairman of the International Myeloma Foundation and serves on its Scientific Advisory Board. Additionally, he is Chairman of the IMF's International Myeloma Working Group, a consortium of nearly 200 myeloma experts from around the world. Dr. Durie also leads the IMF's Black Swan Research Initiative®.
Previous Post
What does the FDA approval of Sarclisa (isatuximab) mean for myeloma patients?
Next Post
COVID-19 Update for Support Group Leaders