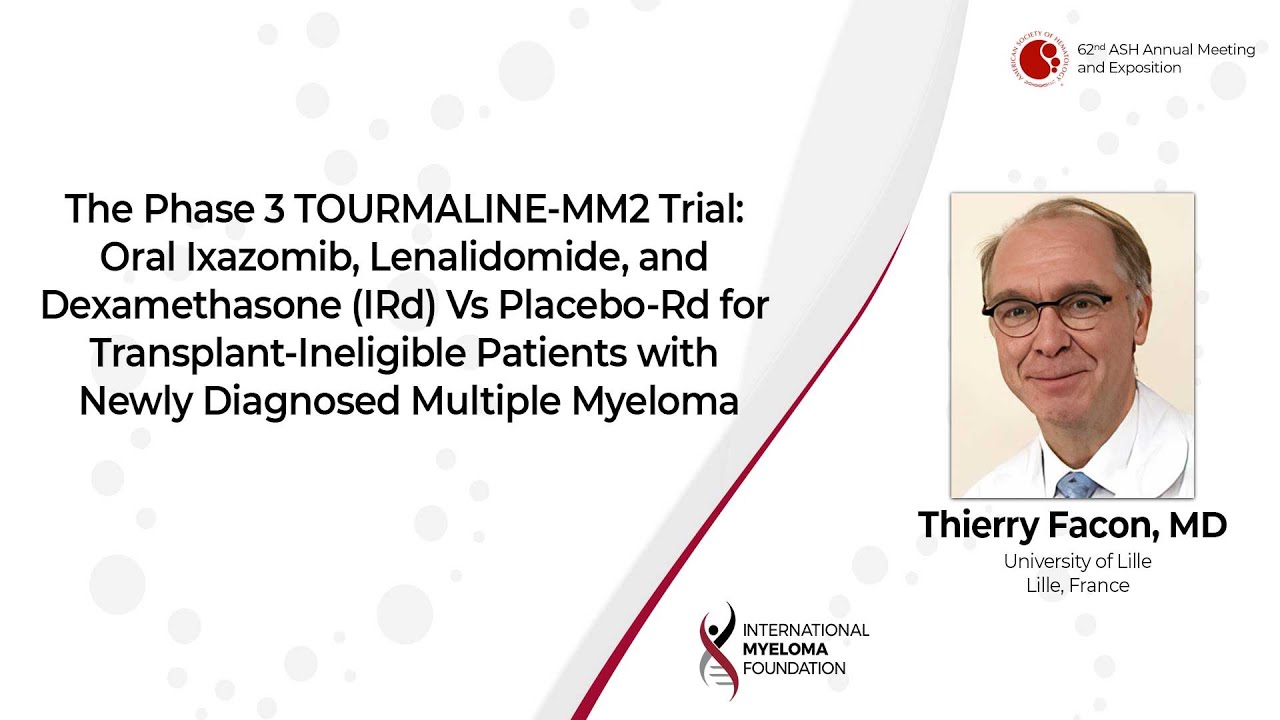 TOURMALINE-MM2: Ixazomib Plus Lenalidomide and Dexamethasone for Newly Diagnosed MM
What is the purpose of this study?
The multicenter, double-blind phase 3 TOURMALINE-MM2 trial (ClinicalTrials.gov Identifier: NCT01850524) randomly assigned 705 patients with newly diagnosed MM ineligible for transplant to receive IRd or placebo plus lenalidomide and dexamethasone (Rd). The primary endpoint was PFS and secondary endpoints included overall survival (OS), complete response (CR) rate, overall response rate (ORR), and safety.
In this video:
Dr. Thierry Facon presents the results of the TOURMALINE-MM2 clinical trial which was designed to see if having an all oral treatment with ixazomib would be a safe and effective alternative.
Results:
The addition of ixazomib led to a clinically meaningful, albeit non-statistically significant improvement in progressive free survival (PFS). In newly diagnosed patients with multiple myeloma taking ixazomib in combination with lenalidomide and dexamethasone, PFS was 35.23 months (N=351) compared to 21.8 months in the control group (N=354).
Conclusion:
As a whole, these data demonstrate that ixazomib, plus lenalidomide and dexamethasone is a feasible treatment option for certain transplant-ineligible patients with newly diagnosed myeloma who could benefit from an all-oral triplet combination
ASH 2020: Abstract 551
---
Thierry Facon, MD
Dr Thierry is Professor of Hematology in the Department of Hematology, Lille University Hospital, Lille, France, and is also an honorary professor at the Institute of Hematology & Blood Diseases Hospital, Chinese Academy of Medical Sciences, Peking Union Medical College, China.
Previous Post
COVID-19 FAQ #25: How can the "Swiss cheese" model help myeloma patients stay safe?
Next Post
Outcomes from the CARTITUDE-1 Study Assessing CAR T-Cell Therapy in Relapsed Refractory Multiple Myeloma