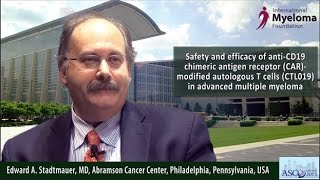 Dr. Edward Stadtmauer on the safety and efficacy of anti-CD19 CAR-T cells in advanced MM (ASCO 2015)
Dr. Edward A. Stadtmauer
Abramson Cancer Center
Philadelphia, Pennsylvania USA
Background: CTL019, a 2nd-generation anti-CD19 CAR transduced via lentiviral vector, can induce regression of refractory B cell malignancies. Though multiple myeloma (MM) is reported to be CD19-negative, we hypothesized that CTL019 would exhibit efficacy in MM due to low-level CD19 expression on MM plasma cells (PC) or CD19 expression in drug-resistant, disease-propagating subsets of the MM clone. Here, we report initial results of an ongoing phase 1 study of CTL019 in patients with advanced MM.
Methods: MM patients are eligible if they experienced disease progression within one year of a prior autologous stem cell transplantation (ASCT) and are medically fit to undergo second ASCT. Study therapy consists of 1-5x107CTL019 cells infused 12-14 days after high-dose melphalan + ASCT.
Results: 4 subjects have been treated and have completed 30-220 days of follow-up. Median prior lines of therapy is 7.5 (range 3-10). 3/4 have unfavorable cytogenetics; 1/4 had PC leukemia. Adverse events have included hypogammaglobulinemia (4/4) and grade 1 cytokine release syndrome (1/4). 3 subjects are evaluable for response. In all 3 subjects, CTL019 engraftment was achieved (peak 0.1-0.6% of peripheral blood T cells at days 30-42), and B cells were not detectable by flow cytometry in blood or marrow at day 42. At day 100, subject #1 attained MRD-negative stringent complete response (CR), and Subject #2 attained MRD-negative unconfirmed (due to unevaluable bone marrow core) CR. Response duration in Subject #1 has surpassed the response duration after this subject's prior ASCT (i.e., remission inversion). 99.95% of Subject #1's MM PC were CD19-negative by flow cytometry and RTPCR, indicating that efficacy in this subject is not due to direct cytotoxicity of CTL019 against the dominant MM PC population. Subject #3 experienced disease progression at day 43. Updated results on the first 5 subjects will be presented.
Conclusions: Preliminary data suggest that CTL019 can be manufactured from and safely administered to refractory MM patients. CTL019 can engraft and induce B cell aplasia after salvage ASCT. Ongoing, deep responses in 2 of 3 evaluable subjects are encouraging with respect to potential efficacy. Clinical trial information: NCT02135406
---
ABOUT EDWARD A. STADTMAUER, MD
Edward A. Stadtmauer, MD is the Director of the Bone Marrow and Stem Cell Transplant Program, as well as Chief of the Hematologic Malignancies Program at the University of Pennsylvania. Board-certified in internal medicine, hematology, and medical oncology, Dr. Stadtmauer is a reviewer for numerous journals and is on the editorial board of the Journal of Clinical Oncology. Dr. Stadtmauer's writings have appeared in peer-reviewed journals such as Annals of Internal Medicine, Blood, Bone Marrow Transplantation, Journal of Clinical Oncology, New England Journal of Medicine, among others. Visit Dr. Edward Stadtmauer's full biography.
Previous Post
Dr. Meletios Dimopoulos on the results of the phase III study Endeavor (ASCO 2015)
Next Post
Dr. Andrzej Jakubowiak on the results of the phase II study of Btz/dex w/wo elotuzumab in RRMM (ASCO 2015)