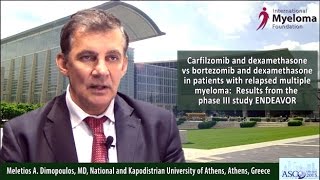 Dr. Meletios Dimopoulos on the results of the phase III study Endeavor (ASCO 2015)
Dr. Meletios Dimopoulos
National and Kapodistrian
University of Athens
Athens, Greece
Background: ENDEAVOR (NCT01568866) is comparing Kyprolis and dexamethasone with Velcade and dexamethasone with patients with relapsed multiple myeloma. The primary endpoint is progression-free survival (PFS). Secondary endpoints include overall survival (OS), overall response rate (ORR), rate of peripheral neuropathy (PN), and safety.
Methods: Adults with RMM and 1-3 prior treatments were eligible; planned enrollment was 888 pts. Pts were randomized 1:1 and stratified by prior K or V (yes vs no), prior lines of treatment (1 vs 2-3), ISS stage (1 vs 2-3), and intended route of V (IV vs SC). The Kd arm received K (30-min IV infusion) on days (D) 1, 2, 8, 9, 15, and 16 of a 28-day cycle (20 mg/m2 on D1 and 2 [cycle 1]; 56 mg/m2 thereafter) and dexamethasone (dex; 20 mg) on D1, 2, 8, 9, 15, 16, 22, and 23. The Vd arm received V (1.3 mg/m2; IV or SC on D1, 4, 8, and 11 of a 21-day cycle) and dex (20 mg) on D1, 2, 4, 5, 8, 9, 11, and 12. Cycles were repeated until disease progression or unacceptable toxicity.
Results: Data are presented for Kd then Vd. In total, 929 pts (Kd: 464; Vd: 465) from 27 countries were randomized. In the Vd arm, 83.6% of pts received SC V. At the preplanned interim analysis, median treatment exposure was 39.9 and 26.8 weeks. Kd showed a significant improvement in median PFS vs Vd (18.7 months [mo] vs 9.4 mo; hazard ratio = 0.53; P< .0001). OS data were immature (75 and 88 deaths) and continue to be followed. ORRs were 76.9% and 62.6% (P< .0001); 54.3% and 28.6% had a very good partial response or better, and 12.5% and 6.2% of pts had a complete response or better. Treatment discontinuation due to an adverse event (AE) occurred in 14.0% and 15.7% of pts. On-study death due to an AE occurred in 3.9% and 3.4% of pts. AEs of interest (grade ≥ 3) included hypertension (preferred term; 8.9% vs 2.6%), dyspnea (high-level term; 5.6% vs 2.2%), cardiac failure (grouped term; 4.8% vs 1.8%), and acute renal failure (grouped term; 4.1% vs 2.6%). Rates of grade ≥ 2 PN (grouped term) were 6.3% vs 32.0% (P< .0001).
Conclusion: Kd demonstrated statistically significant and clinically meaningful superiority over Vd in RMM, with a two-fold improvement in median PFS. In addition, Kd had a favorable benefit-risk profile. These data suggest that K is a potential best-in-class agent for RMM. Clinical trial information: NCT01568866
---
ABOUT DR. MELETIOS A. DIMOPOULOS
Dr. Meletios A. Dimopoulos, is a Professor of Hematology and Medical Oncology, Chairman of the Department of Clinical Therapeutics and Rector of the National and Kapodistrian University of Athens, Greece. Dr. Dimopoulos has authored more than 1,000 publications in peer-reviewed journals, with more than 47,000 citations and an h-index of 102 (ISI). He is a member of the IMF Scientific Advisory Board.
Next Post
Dr. Edward Stadtmauer on the safety and efficacy of anti-CD19 CAR-T cells in advanced MM (ASCO 2015)