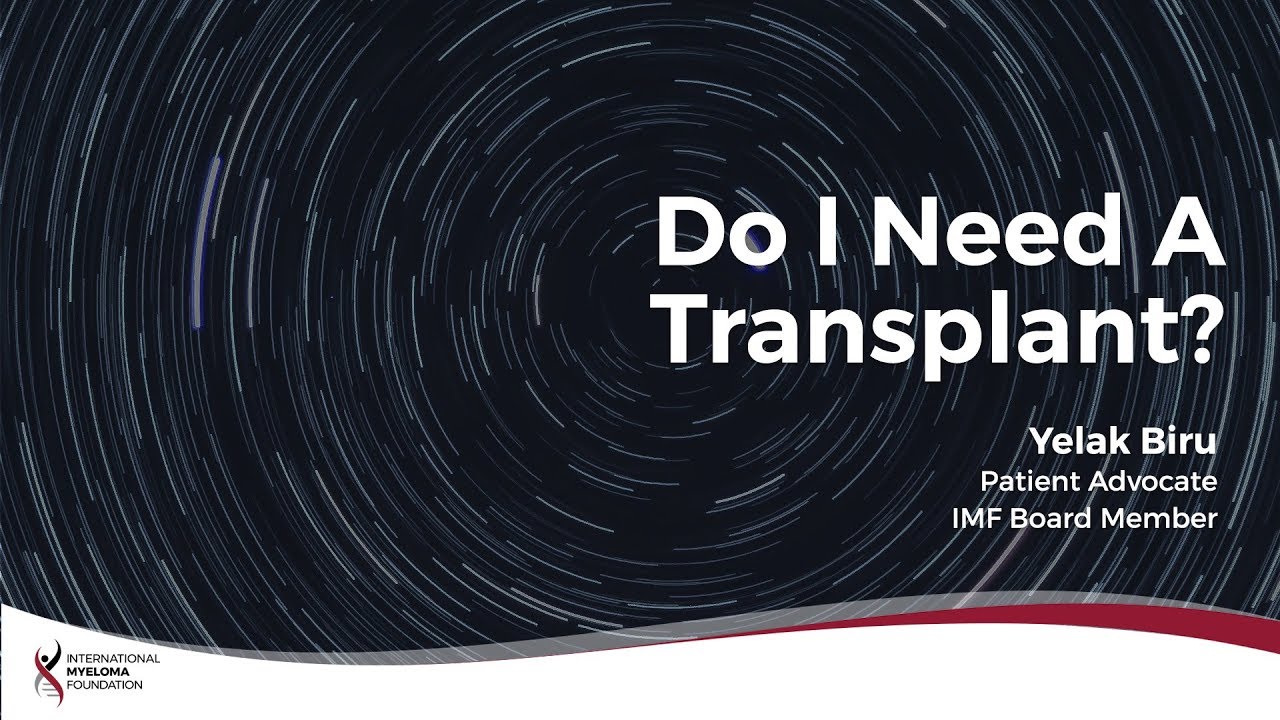 At the 2018 International Myeloma Working Group Summit in Stockholm, IMF Board Member and 20-plus year myeloma survivor Yelak Biru shares his experience of doing a mock session on "So Do I Need a Transplant?"
During the re-enactment, Yelak played a 33-year-old myeloma patient and graduate student faced with the decision of whether he should undergo an autologous stem cell transplant (ASCT). As this patient, Yelak was low-risk but MRD-positive. He debated:
• Doing four or more rounds of Revlimid, Velcade, and dexamethasone, and collecting stem cells to freeze for a future transplant in case of relapse, or 
• Undergoing an ASCT right away.
Then, a trio of myeloma experts — Nooper S. Raje, MD (Massachusetts General Hospital - Boston), Jean-Luc Harousseau, MD (University of Nantes – Nantes, France), and S. Vincent Rajkumar, MD (Mayo Clinic, Rochester, MN) — intervened. 
Each myeloma expert had a different approach. Dr. S. Vincent Rajkumar said, "The answer will be different for each patient, depending on age, risk factor, quality of life issues, and the patient's access to drugs."   
From the session, Yelak gleaned that different myeloma experts each have individual approaches to disease management. Yelak said, "Each patient's treatment needs to be individualized based on the patient's preference and available data and available treatments in their particular region or particular country."
In his real-life myeloma journey, Yelak Biru was diagnosed at age 25 and has lived with the disease for 22 years. He had his stem cells collected but elected not to undergo ASCT. He said, "The doctor couldn't guarantee my quality of life." At the time, Yelak wanted to be able to attend graduate school and work without stopping for the intense recuperation required by a transplant. As he said, "I think all this applies to patients today. Some younger people may be in school. Some people in their 50s may want to work as much as possible before they retire."
Yelak's message: "We patients are more than data. I urge you to consider us as individuals."
Previous Post
Is Daratumumab Being Used in the Frontline Setting for Myeloma Patients?
Next Post
How CRISPR Could Impact the Future of Myeloma Treatment