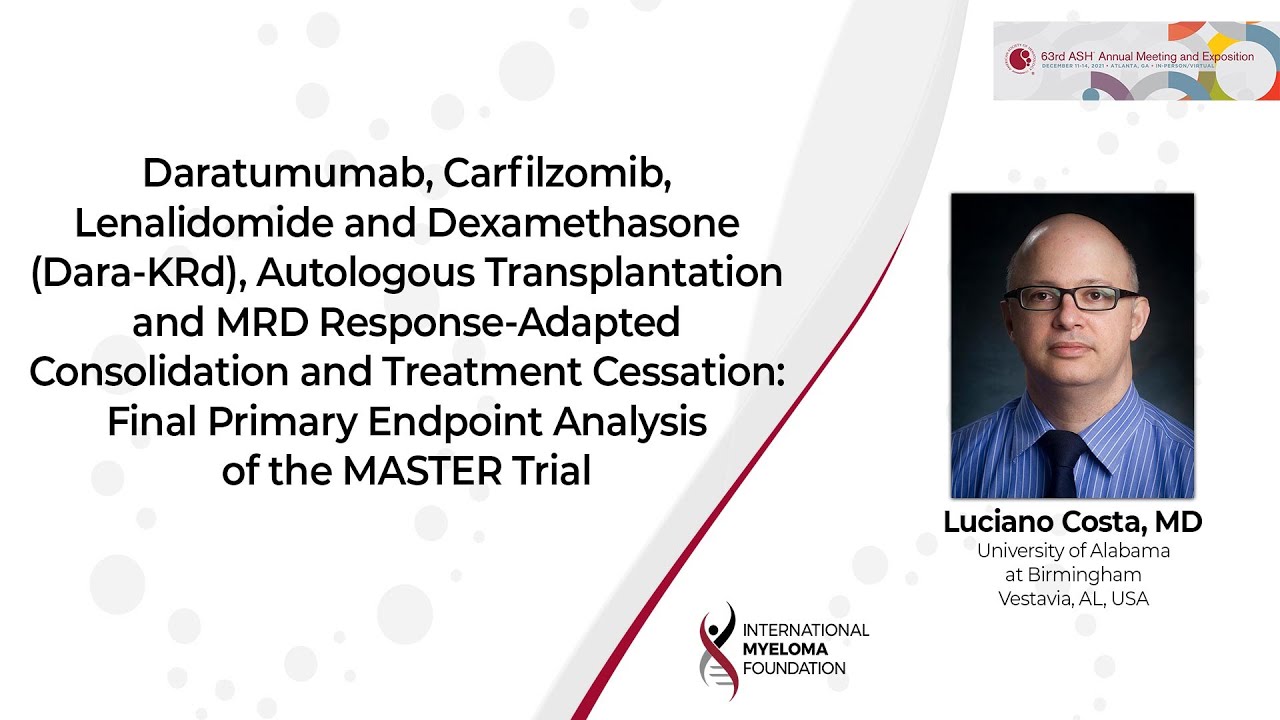 Dara-KRd, Autologous Transplantation and MRD Response-Adapted Consolidation and Treatment Cessation. Final Primary Endpoint Analysis of the MASTER Trial
Minimal/measurable residual disease (MRD) post initial therapy is prognostic of long term outcomes in patients (pts) with newly diagnosed MM (NDMM), but has not been used to modify therapy. We hypothesized that the combination of daratumumab, carfilzomib, lenalidomide and dexamethasone (Dara-KRd) would be safe and highly active in pts with NDMM. In addition, we employed MRD by next generation sequencing (NGS) to inform the use and duration of Dara-KRd post-autologous transplant (AHCT) and treatment cessation in pts with confirmed MRD negativity.
Conclusion
Monoclonal antibody-based quadruplet therapy, AHCT and MRD response-adapted consolidation therapy leads to the highest rate of MRD negativity reported in NDMM. Near all patients with 0 or 1 HRCA and confirmed MRD negativity remain free of IMWG progression or MRD resurgence despite cessation of treatment. While most patients with ultra-high risk MM reach deep responses with this approach, novel consolidative strategies are needed. For most patients with NDMM, this strategy creates the opportunity of MRD surveillance as an experimental alternative to the burden of indefinite maintenance.
ASH 2021: Abstract 481
Previous Post
Are MGUS patients at higher risk of getting severely ill from COVID-19?