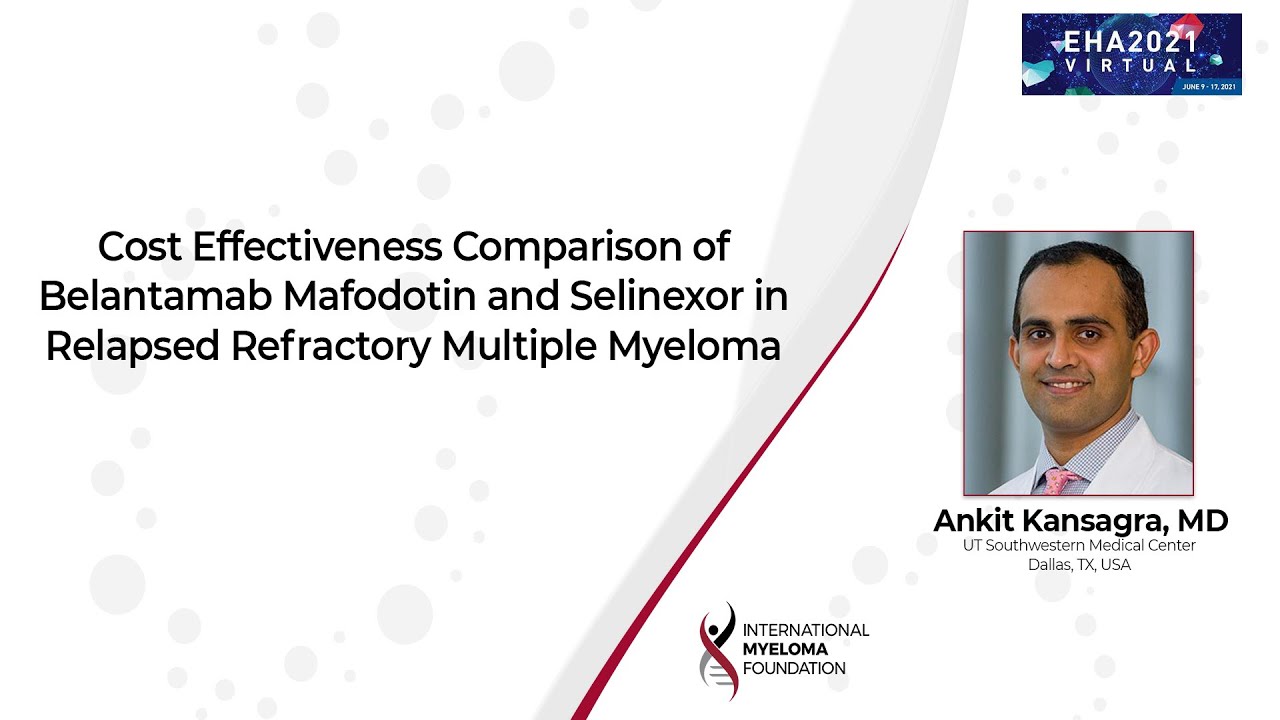 Cost-Effectiveness Comparison of Belantamab Mafodotin and Selinexor in Relapsed Refractory Multiple Myeloma
Dr. Ankit Kansagra Discusses the Cost-Effectiveness of Belantamab Mafodotin and Selinexor
What is the background of this study?
Highly effective drugs have significantly affected the outcomes of multiple myeloma, with a five-year survival improving from 34.6 % in 1998 to 53.9% in 2016. Since 2009 alone, more than a dozen new treatments have been approved by FDA continuing to improve quantity and quality of life in patients with multiple myeloma. However, these drugs come at a huge financial cost and cost effectiveness analysis is commonly used tool to study economic impact of novel treatments.
In this video:
Dr. Ankit Kansagra (UT Southwestern Medical Center, Dallas, TX, USA) discusses the cost effectiveness of belantamab mafodotin and selinexor in relapsed refractory multiple myeloma.
Conclusions:
Outcomes for patients with triple-class exposed myeloma is poor with limited therapeutic options and carry a significant cost burden. With scientific advances, we are at verge of paradigm shift with anticipated regulatory approval of therapeutic options agents like novel alkylating agents, newer immunomodulatory drugs, CAR T-cell and bispecific antibodies. Our study is the first to provide critically required economical perspective in choosing appropriate agents in triple-class exposed multiple myeloma.
Previous Post
Ciltacabtagene autoleucel, a BCMA directed CAR-T therapy, in relapsed refractory multiple myeloma: Updated results from CARTITUDE-1
Next Post
Teclistamab, a BCMA × Cd3 Bispecific Antibody, in Patients with Relapsed Refractory Multiple Myeloma: Updated Phase 1 Results