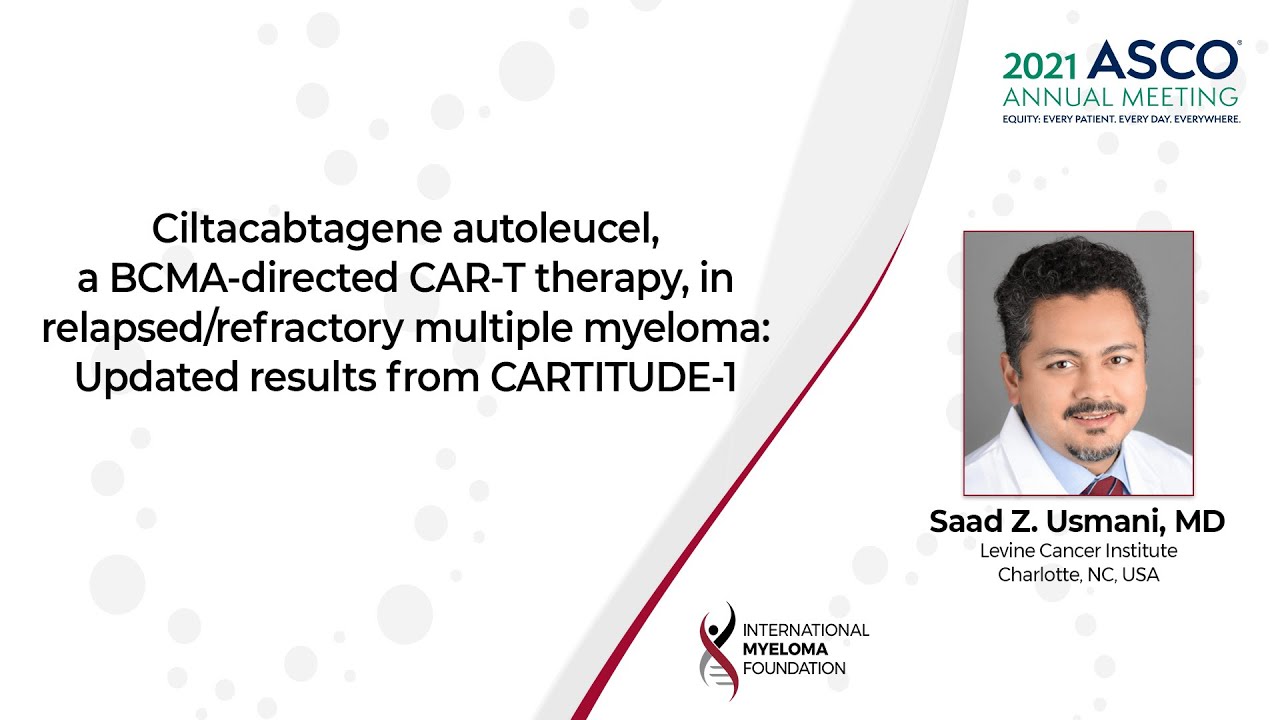 Ciltacabtagene autoleucel, a BCMA directed CAR-T therapy, in relapsed refractory multiple myeloma: Updated results from CARTITUDE-1
Dr. Saad Usmani on a Study of Cilta-Cel Safety
What is the background of this study?
CARTITUDE-1 (NCT03548207) is a phase Ib/II study evaluating ciltacabtagene autoleucel (cilta-cel; JNJ-68284528), a CAR T-cell therapy with two BCMA–targeting single-domain antibodies, in patients with relapsed refractory multiple myleoma. This study reports on the updated results in patients with a longer duration (median 12.4 months) of follow-up.
In this video:
Dr. Saad Usmani (Levine Cancer Institute/Atrium Health, Charlotte, NC) explains this study focused on characterizing cilta-cel safety, confirming the recommended phase II dose (recommended phase II dose; phase Ib), and evaluating efficacy (phase II) of this line of treatment. Cytokine release syndrome (CRS) and neurotoxicity were both observed.
Conclusions:
A single infusion of cilta-cel yielded early, deep, and durable responses in heavily pretreated patients with multiple myeloma, with a manageable safety profile at the recommended phase II dose. Cilta-cel is under further investigation in other mulitple myeloma populations in earlier lines of therapy and in outpatient settings.
Clinical trial information: NCT03548207
Previous Post
KarMMa-4: Idecabtagene vicleucel, a BCMA-directed CAR T-cell therapy in high-risk newly diagnosed multiple myeloma
Next Post
Cost-Effectiveness Comparison of Belantamab Mafodotin and Selinexor in Relapsed Refractory Multiple Myeloma