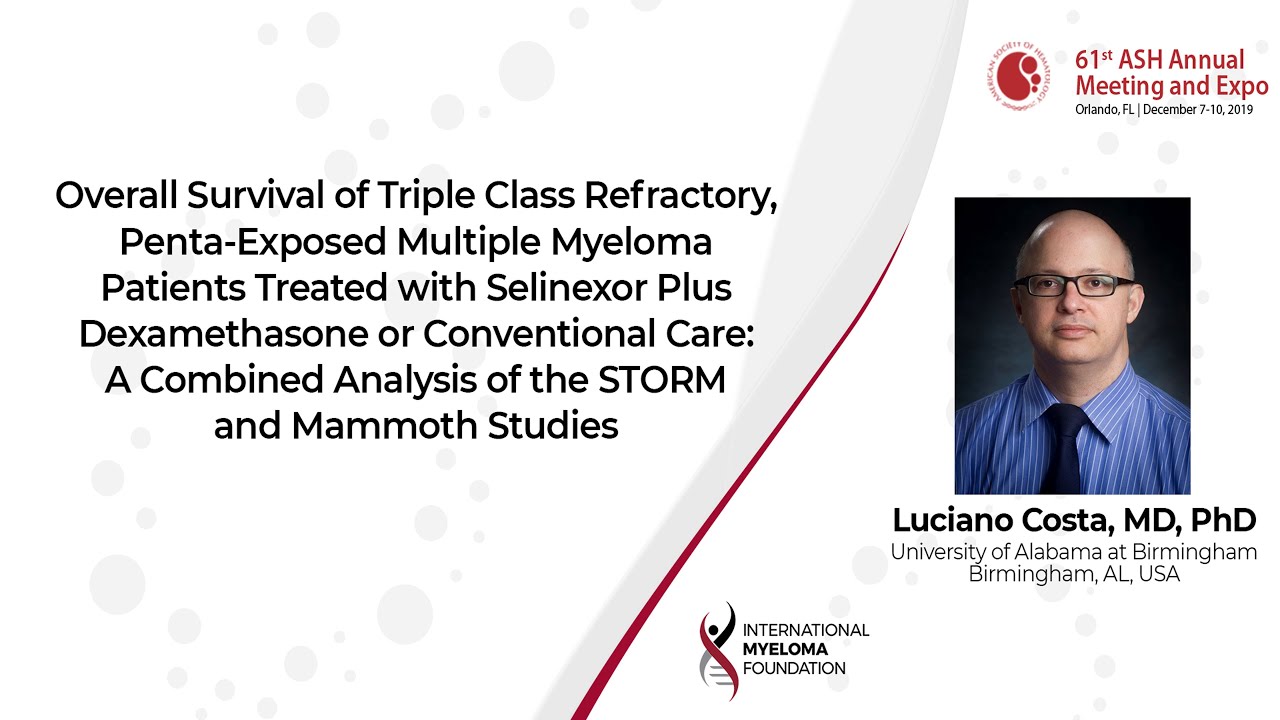 A Combined Analysis of the STORM and Mammoth Studies
Introduction: Proteasome inhibitors (PI), immunomodulatory agents (IMiDs) and the CD38 monoclonal antibody daratumumab (dara) have transformed the management of MM, yet eventual refractoriness to these agents seems inevitable. Relapsed and refractory MM (RRMM) which becomes triple class refractory (TCR, i.e. refractory to a PI, an IMiD and Dara) uncommonly responds to further lines of therapy and survival is dismal. Selinexor is a selective inhibitor of nuclear export compound targeting exportin 1 (XPO1) which is overexpressed in MM cells and essential for their survival. In the STORM study, selinexor in combination with low-dose dexamethasone (Sd) demonstrated promising efficacy in TCR, penta-exposed (TCR-PE, i.e. exposed to lenalidomide, pomalidomide, bortezomib, carfilzomib and dara) MM. Establishing the natural history for outcomes in the TCR-PE population can help provide context to understand the outcomes observed with Sd in STORM. In the retrospective MAMMOTH study, we reported the outcomes of patients with RRMM after they became refractory to dara, including a subset of patients who were TCR. We further analyzed the MAMMOTH dataset to generate a cohort of patients similar to patients in STORM in order to compare conventional care vs. Sd.
Conclusion:  Despite inherent limitations in comparison of trial enrollees vs. real world patients, this analysis suggests improved OS with Sd vs conventional care in patients with TCR-PE RRMM. Prognosis for these patients remains poor and underscores the need for therapeutic advancements.
---
ABOUT LUCIANO COSTA, MD
LUCIANO COSTA, MD Luciano Costa, MD, is an Associate Professor of Medicine Blood and Marrow Transplantation and Cell Therapy Program at the University of Alabama in Birmingham, Alabama. His main areas of focus include strategies for hematopoietic stem cell transplantation in chronic lymphoproliferative disorders, the toxicity of hematopoietic stem cell transplantation, and population outcomes of hematologic malignancies. Visit Dr. Luciano Costa's full biography.
Previous Post
Results from CARTITUDE-1: A Phase 1b/2 Study of JNJ-4528, a CAR-T Cell Therapy Directed Against B-Cell Maturation Antigen (BCMA), in Patients with RRMM
Next Post
Carfilzomib, Lenalidomide and Dex (KRd) After ASCT Results in High Rates of MRD Negativity