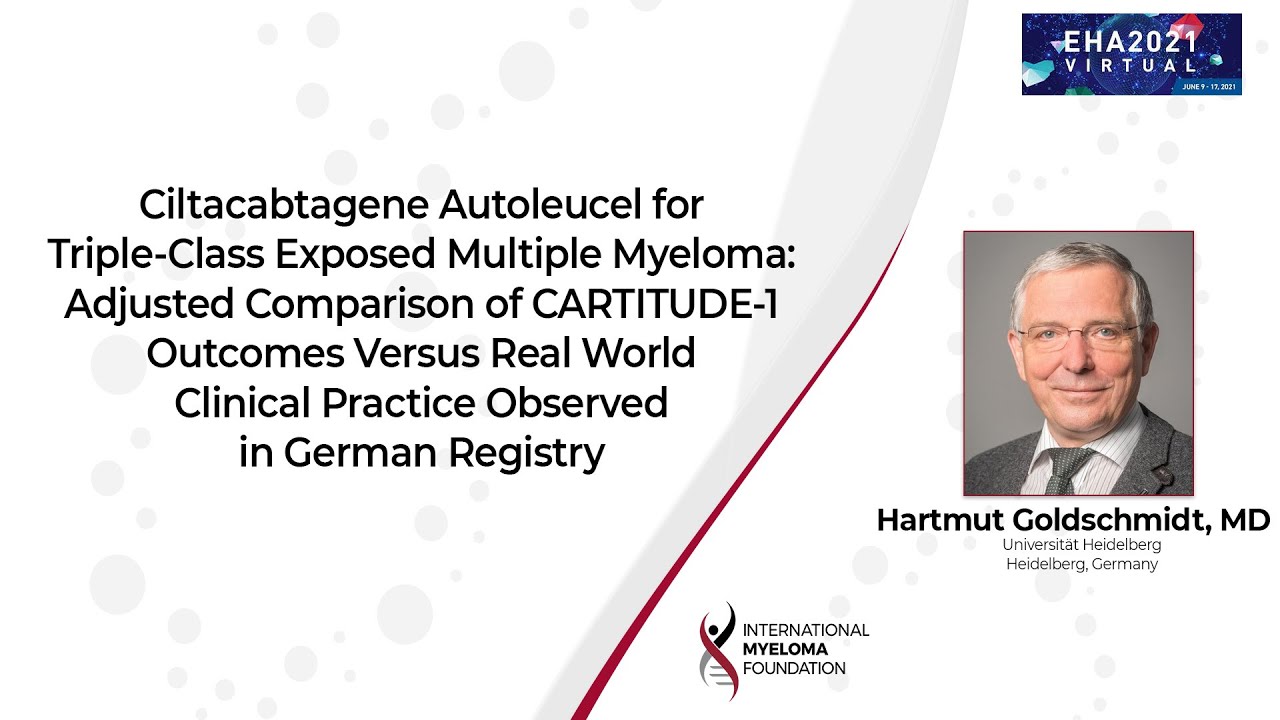 Ciltacabtagene Autoleucel for Triple-Class Exposed Multiple Myeloma: Adjusted Comparison of CARTITUDE-1 Outcomes Versus Real World Clinical Practice Observed in German Registry
EHA 2021, CARTITUDE-1, real-world practice, Ciltacabtagene autoleuce,
Dr. Hartmut Goldschmidt on the CARTITUDE-1 Study
What is the background of the study?
Patients with relapsed/refractory multiple myeloma (RRMM) who are triple-class exposed to immunomodulatory drugs (IMiDs), proteasome inhibitors (PIs) and anti-CD38 monoclonal antibodies (MoABs) have few treatment options available and poor outcomes (Gandhi et al., Leukemia, 2019). Ciltacabtagene autoleucel (cilta-cel), a chimeric antigen receptor T-cell (CAR-T) therapy, is studied in CARTITUDE-1, an open-label, single arm phase 1b/2 clinical trial assessing safety and efficacy of cilta-cel in adult patients with triple-class exposed relapsed/refractory multiple myeloma (RRMM). In absence of a comparator arm in CARTITUDE-1, comparison of trial outcomes versus an external cohort of similar patients allows to quantify clinical benefits relative to treatments used in current clinical practice.
In this video:
Dr. Hartmut Goldschmidt, MD (Universität Heidelberg, Heidelberg, Germany) compares the outcomes of the CARTITUDE-1 study versus real world clinical practice.
Conclusions:
Comparative analyses using PLD, adjusting for differences in patient characteristics between both cohorts, shows that cilta-cel patients had significantly longer overall survival and time to next treatment compared to patients treated with therapies used in current clinical practice in Germany. These findings highlight cilta-cel's potential as an effective treatment option to address currently unmet treatment needs in triple-class exposed patients with RRMM.
Previous Post
Should smoldering myeloma patients start treatment?
Next Post
Measurable Residual Disease Evaluation During Ixazomib Maintenance in Newly Diagnosed Multiple Myeloma: A Large Analysis of 1280 Patients Enrolled in TOURMALINE-MM3 and -MM4