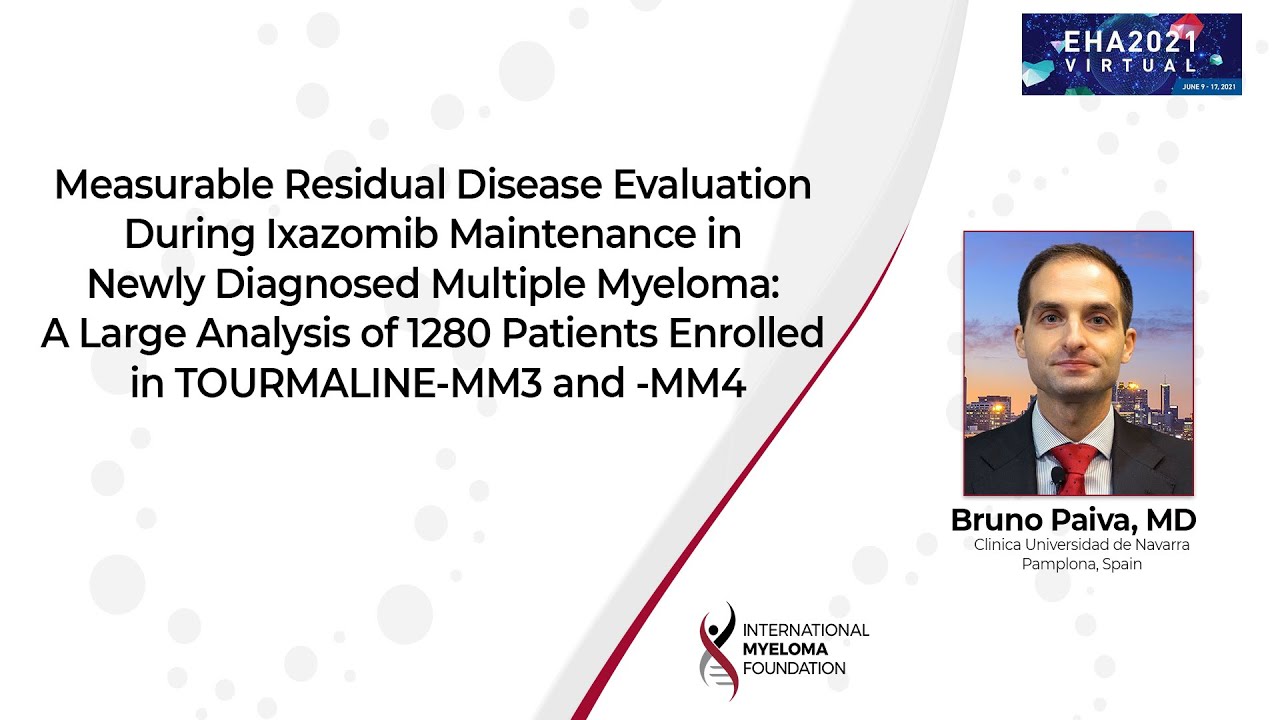 Measurable Residual Disease Evaluation During Ixazomib Maintenance in Newly Diagnosed Multiple Myeloma: A Large Analysis of 1280 Patients Enrolled in TOURMALINE-MM3 and -MM4
Dr. Bruno Paiva on the Tourmaline-MM3 and -MM4 Trials
What is the background of the study?
MRD status is the most powerful prognostic factor in newly diagnosed multiple myeloma and sustained MRD negativity is a surrogate for prolonged survival. Interest is growing for using MRD to guide treatment intensity and duration, particularly during maintenance. Paradoxically, MRD data in this setting is scarce and knowledge of the volatility of MRD status throughout treatment is limited.
In this video:
Dr. Bruno Paiva (Clinica Universidad de Navarra, Pamplona, Spain) discusses MRD evaluation during ixazomib maintenance in the TOURMALINE -MM3 and -MM4 trial.
Conclusions:
This large dataset demonstrated that the prognostic value of MRD status at the start of maintenance can be enhanced by measuring MRD kinetics during treatment. Our results support the achievement and sustainability of MRD negativity as a treatment endpoint in the maintenance setting and showed poor outcomes in MRD− pts converting to MRD+, underscoring the value of serial MRD assessments to anticipate relapse and guide treatment decisions. Accordingly, ixa showed significant progression-free survival benefit vs placebo in patients who were MRD+ at study entry and patients with persistent MRD.
Previous Post
Ciltacabtagene Autoleucel for Triple-Class Exposed Multiple Myeloma: Adjusted Comparison of CARTITUDE-1 Outcomes Versus Real World Clinical Practice Observed in German Registry
Next Post
Idecabtagene Vicleucel (Ide-Cel, BB2121), A BCMA-Directed Car T Cell Therapy, in Patients with Relapsed and Refractory Multiple Myeloma: Updated KarMMa Results