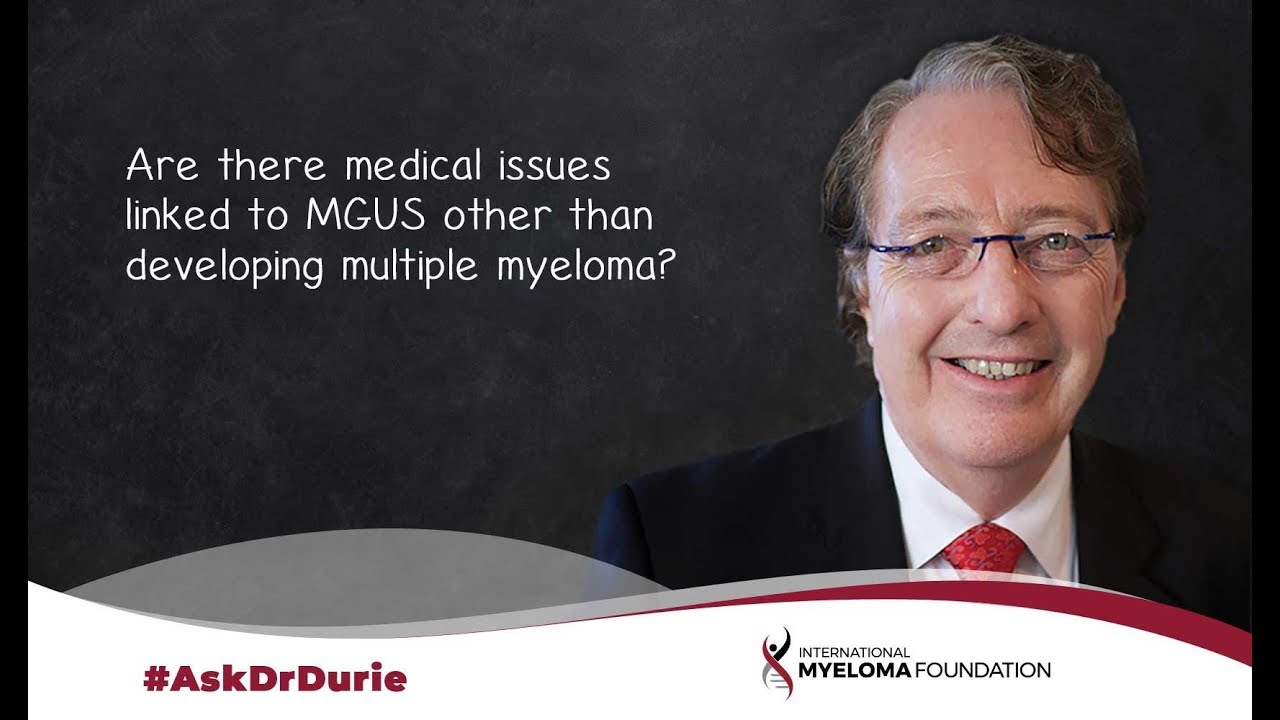 Are there medical issues linked to MGUS other than developing multiple myeloma?
In this week's video, Dr. Brian G.M. Durie discusses MGUS and the medical issues that can occur with the diagnosis.
BOTTOM LINE:
MGUS has a 1% per year risk of becoming myeloma. MGUS patients may develop other medical issues other than myeloma. Always discuss this condition with your doctor.
If you have a question that you'd like to suggest for a future episode of Ask Dr. Durie, please submit it to [email protected]. 
To reach the IMF InfoLine Coordinators, please call 800.452.2873 or email them at [email protected].  
Transcript:
This weeks' 'Ask Dr. Durie' comes from a patient with a question of "What about MGUS, monoclonal gammopathy of undetermined significance? Is the only concern just the development of multiple myeloma or can there be other problems linked to the presence of MGUS? And this comes from a patient who's aware that there can be other issues, such kidney or nerve issues. And so, the answer to this question is that MGUS can definitely be linked to other medical issues and we really do need to pay attention to the possibility of those as we monitor patients with MGUS.
And so MGUS is obviously monoclonal gammopathy of undetermined significance, which is a situation where there's a low level of monoclonal protein in the blood or a little bit in the urine and less than 10% plasma cells in the bone marrow. Over time 1% per year of such patients can develop multiple myeloma. And we are very much aware of that.
But what we don't talk about as much is that in patients with MGUS there can, in fact, be a number of other issues which emerge. So, for example, other types of blood cancers can occur, patients with MGUS can develop even lymphomas or Waldenstrom macroglobulinemia. In addition, patients can sometimes develop amyloidosis or light chain deposition disease, where light chains are deposited into different tissues and can cause medical problems.
But the other kinds of problems which this patient is referring to is problems with kidney function or nerve damage or even skin problems or even the increased risk of infection which does seem to be a problem for some patients. And so, these other issues need to be on the radar of the doctor taking care of patients with MGUS, and patients also need to be aware that there are other issues which can emerge and that might require medical attention. And so, we think about MGUS that only needs to be observed and doesn't require treatment. Well actually, if there are nerve issues or kidney issues or increased risk of infection, then we might end up recommending therapy. Such as the use of intravenous gamma globulin for a patient who has recurring infections. 
And so, BOTTOM LINE, in this case, is, MGUS has a very low risk, 1% per year of turning into myeloma, but there definitely can be other medical issues and is important to discuss the possibility of that with your treating doctor.
---
Dr. Brian G.M. Durie serves as Chairman of the International Myeloma Foundation and serves on its Scientific Advisory Board. Additionally, he is Chairman of the IMF's International Myeloma Working Group, a consortium of nearly 200 myeloma experts from around the world. Dr. Durie also leads the IMF's Black Swan Research Initiative®.
Previous Post
Can CAR T-cell therapies be used earlier in the treatment of multiple myeloma?
Next Post
How important is it to keep dexamethasone in the myeloma treatment regimen?