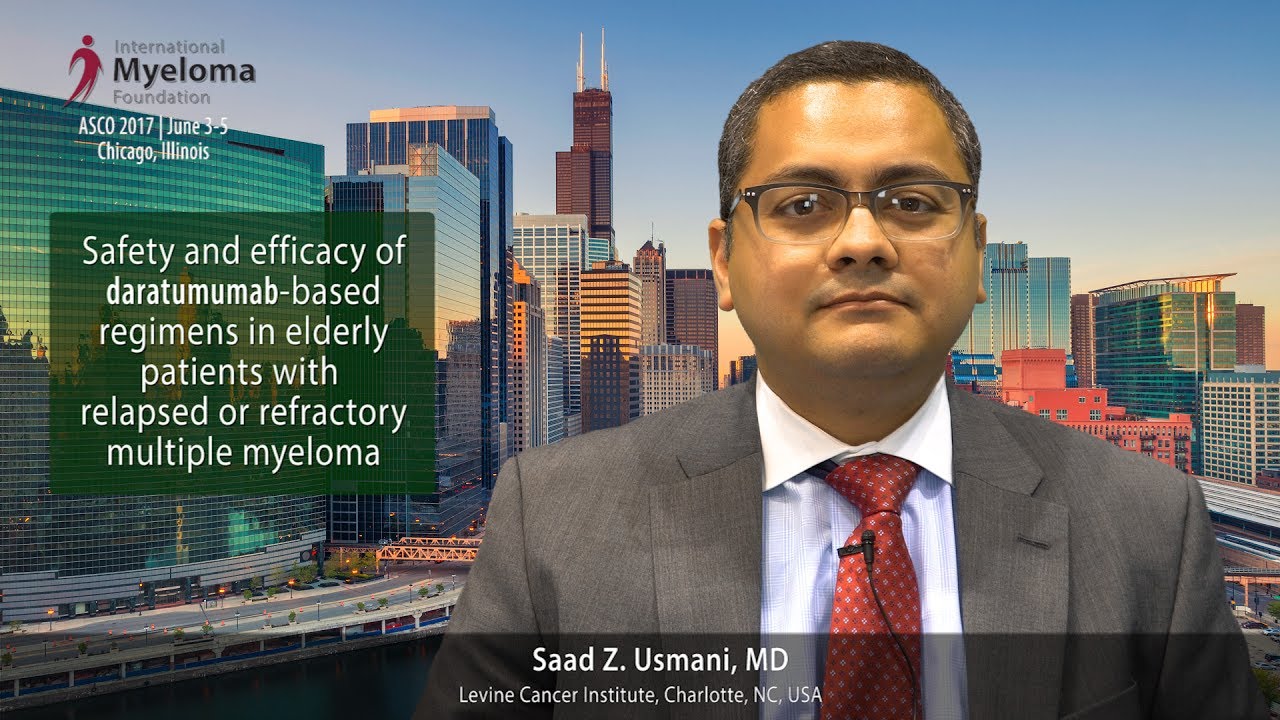 Safety and efficacy of daratumumab-based regimens in elderly (≥75 y) patients with relapsed or refractory multiple myeloma: Subgroup analysis of POLLUX and CASTOR
Saad Z. Usmani, MD
Levine Cancer Institute
Carolinas HealthCare System
Charlotte, NC
Background: Daratumumab (D) plus lenalidomide and dexamethasone (Rd; POLLUX) or with bortezomib and dexamethasone (Vd; CASTOR) demonstrated prolonged PFS and tolerability compared with Rd and Vd alone, respectively, in RRMM pts. We examined the safety and efficacy profiles of DRd and DVd in elderly (≥75 y) pts from these phase 3 studies. 
Conclusions: The safety and efficacy profiles in elderly pts were generally comparable with the overall population in each study.
Author(s): Maria-Victoria Mateos, Andrew Spencer, Ajay K. Nooka, Ludek Pour, Katja C. Weisel, Michele Cavo, Jacob Laubach, Gordon Cook, Shinsuke Iida, Lotfi Benboubker, Saad Zafar Usmani, Sung-Soo Yoon, Nizar J. Bahlis, Christopher Chiu, Jordan Mark Schecter, Kaida Wu, Xiang Qin, David Soong, Meletios A. Dimopoulos
Clinical trial information: NCT02136134 and NCT02076009
---
ABOUT SAAD USMANI, MD
Dr. Saad Usmani is Chief of Plasma Cell Disorders and Director of Clinical Research in Hematologic Malignancies at the Levine Cancer Institute Hematologic Oncology and Blood Disorders and Carolinas HealthCare System.
Previous Post
CALGB/ECOG 100104 (Alliance) study: Lenalidomide vs placebo maintenance after stem cell transplant
Next Post
Daratumumab (DARA) in combination with carfilzomib, lenalidomide, and dexamethasone (KRd) in patients (pts) with newly diagnosed multiple myeloma (MMY1001)