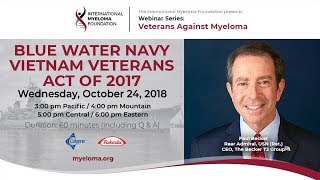 Blue Water Navy Vietnam Veterans Act of 2017
click on the image above to watch the teleconference
(to view the teleconference in fullscreen, click on the bottom right square icon underneath the YouTube logo)
Veterans Against Myeloma held a live webinar on the Blue Water Navy Vietnam Veterans Act of 2017. This legislation has been discussed in previous VAM newsletters and is currently under consideration for passage in the U.S. Senate after already passing the House. The IMF supports this legislation, but the Department of Veterans Affairs has recently criticized the bill, placing its future in jeopardy. Join us to learn about the history of Blue Water Navy veterans and their critical need for VA benefits to treat diseases, such as myeloma, developed from their time in service.
Other resources:
VAM Guide to VA Benefits - This guide is intended to help Veterans with myeloma, their caregivers and family navigate the VA claims process. The information provided is taken from various VA sources and reassembled into one cohesive narrative specific to multiple myeloma. If you find any of this information to be out of date, inaccurate, or unusable, please notify us immediately so that we may update this guide for all our VAM members.
Blue Water Navy Vietnam Veterans Act of 2017 HR 299 -  This bill includes as part of the Republic of Vietnam its territorial seas for purposes of the presumption of service connection for diseases associated with exposure by veterans to certain herbicide agents while in Vietnam.
CBO HR 299 - H.R. 299 would modify the loan guarantee and disability compensation programs administered by the Department of Veterans Affairs (VA). On net, CBO estimates that enacting the bill would decrease direct spending for those programs by $271 million over the 2019-2028 period. In addition, H.R. 299 would expand access to VA medical care for certain veterans and their dependents. In total, CBO estimates that implementing the bill would cost $136 million over the 2019-2023 period, assuming appropriation of the necessary amounts.
---
For more information please email [email protected]
Follow us on Twitter @imfadvocacy
Follow us on Facebook @advocacyimf
Next Post
How is the IMF's Black Swan Research Initiative working to find a cure for multiple myeloma?