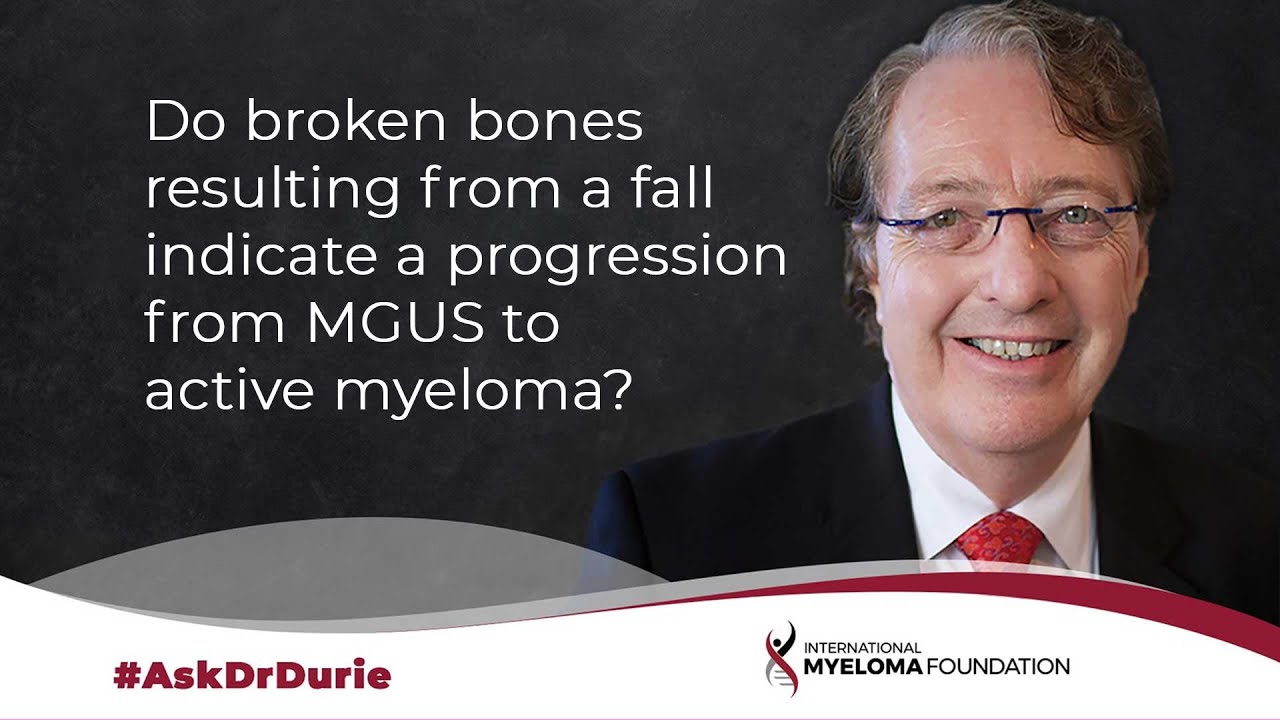 Do fractures resulting from a fall indicate myeloma progression?
In this week's video, Dr. Durie discusses if bone fractures resulting from an accident, such as a fall, could indicate disease progression, and what measures should be taken to find out.
BOTTOM LINE:
Do not rush to treatment before undergoing a full evaluation to assess the status of the disease.
IMF Chairman Brian G.M. Durie, MD welcomes your questions about the latest myeloma treatments, research, controversies, and quality of life issues. If you have a question you think might be of interest to the myeloma community, please send it to [email protected]!

For questions of a specific personal nature, please call the IMF InfoLine coordinators at 800.452.2873 or email them at [email protected]. 
Transcript:
This week's "Ask Dr. Durie" comes from a gentleman who is very concerned because he developed a couple of broken ribs. And so, he has MGUS, and the question with his doctor was, "with broken ribs, does mean that he has now developed active myeloma?"  And so, very, very, important, this question.
 
So, in his case, he actually had quite a bad fall, fell over backward against some rocks and broke the ribs in that fashion. And so, in this case, where there's been quite a serious trauma involved, an accident, then I think that the development of some broken ribs does not necessarily mean that there has been myeloma.  
 
But it means that one needs to look carefully to see, well maybe were the ribs weakened? Or, are there any indications that the myeloma has indeed become more active.
 
And so, in this situation, I strongly recommend that detailed testing be repeated. One needs to check, is the myeloma protein level in the blood, has that changed? Has that increased? Is there an increase in the blood free light? The light chains in the blood. Has there been a change in the bone marrow plasma cells? The percentage, I'm assuming had been quite low and it would be reasonable to see if there's been an increase in the bone marrow plasma cells.
And then, of course, the critical thing is to evaluate the bones overall. And this can be done with a whole-body CT scan, or if feasible, a PET-CT scan would be ideal, to see is there any active myeloma anywhere throughout the skeleton? In this particular case, where apparently the myeloma protein level had not changed, I would expect that the PET-CT scan would be negative, except possibly at the site of the healing of the two fractures.  And so, this is a very important thing just to be aware of.
 
And the BOTTOM LINE is: Please check carefully first and don't just rush in with treatment for myeloma without truly evaluating the status of the disease to see if maybe this was just an unfortunate fall, and just additional on-going monitoring is required to assess the status of the disease. 
 
---
Dr. Brian G.M. Durie serves as Chairman of the International Myeloma Foundation and serves on its Scientific Advisory Board. Additionally, he is Chairman of the IMF's International Myeloma Working Group, a consortium of nearly 200 myeloma experts from around the world. Dr. Durie also leads the IMF's Black Swan Research Initiative®.
Previous Post
Can infections, such as Helicobacter pylori, trigger multiple myeloma?
Next Post
What can newly diagnosed myeloma patients expect in regard to treatment in 2020?