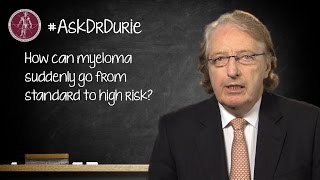 #AskDrDurie: How can myeloma suddenly go from standard- to high-risk?
Post date
October 19, 2015
In this episode of #AskDrDurie, IMF Co-Founder and Chairman Dr. Brian G.M. Durie answers a patient submitted question regarding receiving an initial diagnosis of standard myeloma, having treatment, and then being told the myeloma was high risk. He explains when and why that can happen and discusses different kinds of testing involved.

Dr. Brian G.M. Durie is the Chairman of the Board of Directors of the International Myeloma Foundation. He began studying multiple myeloma over 30 years ago, and is recognized around the world as one of the top myeloma doctors.
Previous Post
#AskDrDurie: Should I have an ASCT if I've been through therapy and am in remission?
Next Post
#AskDrDurie: Can a low white blood cell count be enough to trigger a need for myeloma therapy?