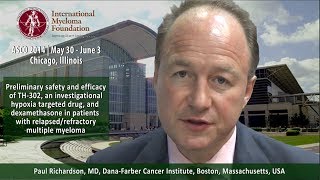 ASCO 2014: Preliminary safety and efficacy of TH-302
Paul Richardson, MD
Dana-Farber Cancer Institute
Boston, Massachusetts, USA

Preliminary safety and efficacy of TH-302, an investigational hypoxia-targeted drug, and dexamethasone (dex) in patients (pts) with relapsed/refractory multiple myeloma (RR MM)
Abstract No: 8534
Background: While alkylators, IMiDs and proteasome inhibitors are current standard treatment for pts with MM, the presence of hypoxia in the diseased bone marrow (Colla, Leukemia 2010) presents a new therapeutic target for MM. TH-302 is a novel 2-nitroimidazole prodrug of the DNA alkylator bromo-isophosphoramide mustard that is selectively activated under hypoxia. Synergistic induction of apoptosis in MM cells by TH-302 and bortezomib was shown in MM models in vivo and in vitro (Hu et al, Mol Cancer Ther 2013). An ongoing Phase 1/2 study investigates TH-302 with dex in RR MM. In the dose-escalation stage of the study, the maximum tolerated dose (MTD) of biweekly TH-302 was established at 340 mg/m2 and preliminary activity was reported based on the modified IMWG guidelines (Ghobrial et al., ASH 2013). The 340 mg/m² plus dex expansion arm is ongoing.
Methods: The Phase 1/2 open-label multicenter study investigates IV TH-302 (240-480 mg/m²) plus PO dex (40 mg) on Days 1, 4, 8 and 11 of a 21-day cycle. At the MTD, a Simon two-stage minimax design was implemented to pursue a regimen with ≥25% response rate or discontinue if ≤5% (90% power, 10% alpha).
Results: 16 pts (11 male, 5 female) were enrolled through completion of the initial stage of the Simon design, including 9 at the MTD. Median prior therapies was 6 (3 – 11) and median age 60 years (53 – 86). All had previously received both bortezomib and lenalidomide/thalidomide containing regimens and an alkylating agent. The most common ≥Gr 3 AEs were thrombocytopenia (44%) and leukopenia (38%). Dose limiting Gr 3 stomatitis was only reported in the 480 mg/m2 cohort. 7 pts had SAEs, 6 of which were related to TH-302, including 3 pts with pneumonia. The pre-specified target for response for the initial 9-pt Simon stage at the MTD was achieved with 1 PR, 2 MRs, 4 SDs, 1 PD and 1 NA. To date, 15 of 24 pts have been enrolled to evaluate safety and efficacy at the MTD.
Conclusions: TH-302 can be administered at 340 mg/m2 biweekly with dex. Preliminary clinical activity has been noted in pts with heavily pre-treated RR MM. Data from pts in the Simon two-stage treated at the MTD will be updated and presented at the meeting.
Clinical trial information: NCT01522872.
Author(s): Jacob Laubach, Noopur S. Raje, Philippe Armand, Robert L. Schlossman, Jacalyn Rosenblatt, Jeffrey Matous, Jacquelyn Ann Hedlund, Michael Gary Martin, Craig H. Reynolds, Kenneth H. Shain, Ira Zackon, Laura Stampleman, Erica Boswell, Stacey Chuma, Rebecca Liguori, Damian Handisides, Stew Kroll, Kenneth Carl Anderson, Paul G. Richardson, Irene M. Ghobrial, Blood Cancer Research Partnership; Dana-Farber Cancer Institute, Boston, MA; Massachusetts General Hospital, Boston, MA; Beth Israel Deaconess Medical Center, Boston, MA; Colorado Blood Cancer Institute, Denver, CO; Maine Center for Cancer Medicine, Scarborough, ME; The West Clinic, Memphis, TN; Ocala Oncology Center, Ocala, FL; H. Lee Moffitt Cancer Center & Research Institute, Tampa, FL; New York Oncology Hematology, Albany, NY; Pacific Cancer Care, Monterey, CA; Jerome Lipper Multiple Myeloma Center, Department of Medical Oncology, Dana-Farber Cancer Institute, Boston, MA; Blood Cancer Research Partnership, Boston, MA; Threshold Pharmaceuticals, South San Francisco, CA
---
ABOUT PAUL RICHARDSON, MD
Paul Richardson, M.D. is the Clinical Program Leader and Director of Clinical Research at the Jerome Lipper Multiple Myeloma Center at Dana-Farber Cancer Institute in Boston. He is also an Institute Physician and an RJ Corman Professor of Medicine at Harvard Medical School in Cambridge, MA. In addition to multiple myeloma, his key clinical interests are regimen-related toxicity, stem cell transplantation, experimental therapies and cancer pharmacology, and more. Visit Dr. Paul Richardson's full biography.
Previous Post
ASCO 2014: MM-005 Phase 1 trial of POM, BORT, and LoDEX in LEN refractory and PI exposed myeloma
Next Post
ASCO 2014: DETERMINATION trial: A phase III multi-center study examining the timing of SCT for MM