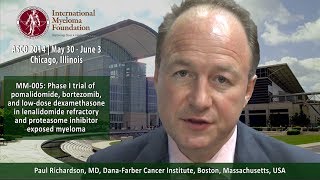 ASCO 2014: MM-005 Phase 1 trial of POM, BORT, and LoDEX in LEN refractory and PI exposed myeloma
Paul Richardson, MD
Dana-Farber Cancer Institute
Boston, Massachusetts, USA

MM-005: Phase 1 trial of pomalidomide (POM), bortezomib (BORT), and low-dose dexamethasone (LoDEX [PVD]) in lenalidomide (LEN)-refractory and proteasome inhibitor (PI)-exposed myeloma.
Background: Combination treatment (Tx) with IMiDs immunomodulatory agents and PIs demonstrated substantial efficacy in myeloma patients (pts) (Richardson, Blood, 2010). MM-005 was designed to identify the optimal PVD dose for a phase 3 trial (MM-007) comparing PVD vs. BORT + LoDEX in RRMM pts. A secondary objective examined subcutaneous (SC) BORT as part of PVD Tx.
Methods: Eligible pts had 1-4 prior Tx lines, including ≥2 consecutive cycles (C) of LEN and a PI. Pts must have been LEN-refractory and PI-exposed but not BORT refractory. MTD was determined using a 3+3 design; an SC BORT cohort was added at the MTD. Tx continued until PD or unacceptable AE. MTD was the primary endpoint; additional endpoints included safety, overall response rate (ORR; ≥ partial response [PR]), time to response (TTR), duration of response (DoR), and pharmacokinetics.
Results: The trial is fully enrolled (N=28): 22 pts in intravenous (IV) BORT and 6 pts in SC BORT cohorts. Median prior Tx was 2 (1-4). No dose-limiting toxicities (DLTs) were observed. Recommended PVD dose (21-day C) is POM 4 mg D1-14, BORT 1.3 mg/m2 on D1, 4, 8, 11 for C1-8; D1, 8 for C9+, and LoDEX 20 mg (10 mg for pts > 75 y) on D1-2, 4-5, 8-9, 11-12 for C1-8; D1-2, 8-9 for C9+. Most common grade (Gr) 3-4 AEs included (IV cohorts): neutropenia (36%) and thrombocytopenia (27%); (SC cohort): 7 Gr 3 AEs occurred in one pt each; no Gr 4 AEs were observed. Peripheral neuropathy (PN) in IV cohorts was 0% (Gr 3-4), 14% (Gr 2), and 32% (Gr 1); 1 pt reported Gr 2 PN (SC cohort). No pt discontinued due to Tx-related AEs. ORR (IV cohorts) was 71% (38% ≥ very good PR [VGPR]), median TTR was 1 C, and median DoR was 11 C. Preliminary (median 5 C) ORR for SC pts was 67% (1 PR, 2 VGPRs, 1 complete response). 4 of 6 pts receiving BORT SC still remain on Tx; 1 of 4 pts has not yet responded. BORT administration route (IV/SC) did not impact POM exposure, which was within the range previously observed. Long-term follow-up will be presented.
Conclusions: PVD was effective and well tolerated across all cohorts in LEN-refractory/BORT-exposed pts with no DLTs or discontinuations due to Tx-related AEs to date. PVD is now under evaluation in the MM-007 phase 3 trial.
Clinical trial information: NCT01497093.  
Author(s): Paul G. Richardson, Craig Hofmeister, Noopur S. Raje, David Samuel DiCapua Siegel, Sagar Lonial, Jacob Laubach, Yvonne Adeduni Efebera, David H. Vesole, Ajay K. Nooka, Jacalyn Rosenblatt, Mohamed H. Zaki, Ye Hua, Yan Li, Sheetal Shah, Jianming Wang, Kenneth Carl Anderson; Dana-Farber Cancer Institute, Boston, MA; The Ohio State University, Columbus, OH; Massachusetts General Hospital, Boston, MA; John Theurer Cancer Center, Hackensack, NJ; Winship Cancer Institute of Emory University, Atlanta, GA; Harvard Medical School, Boston, MA; Beth Israel Deaconess Medical Center, Boston, MA; Celgene Corporation, Summit, NJ
---
ABOUT PAUL RICHARDSON, MD
Paul Richardson, M.D. is the Clinical Program Leader and Director of Clinical Research at the Jerome Lipper Multiple Myeloma Center at Dana-Farber Cancer Institute in Boston. He is also an Institute Physician and an RJ Corman Professor of Medicine at Harvard Medical School in Cambridge, MA. In addition to multiple myeloma, his key clinical interests are regimen-related toxicity, stem cell transplantation, experimental therapies and cancer pharmacology, and more. Visit Dr. Paul Richardson's full biography.
Previous Post
ASCO 2014: Panorama 1 Phase 3 study of PAN or placebo plus BTZ and Dex in RRMM
Next Post
ASCO 2014: Preliminary safety and efficacy of TH-302