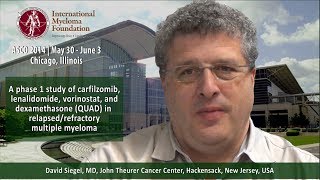 ASCO 2014: A phase I study of carfilzomib, lenalidomide, vorinostat, and dexamethasone in RRMM
David Siegel, MD
John Theurer Cancer Center
Hackensack, New Jersey, USA

A phase I study of carfilzomib, lenalidomide, vorinostat, and dexamethasone (QUAD) in relapsed and/or refractory multiple myeloma (MM)
Abstract No: 8535^
Background: Carfilzomib in combination with an immunomodulatory agent has proven efficacy in NDMM and RRMM. There is also synergistic activity of the combination of a proteasome inhibitor and a histone-deacetylase inhibitor
Methods: To determine the toxicity and activity of the quadruplet using carfilzomib with lenalidomide, vorinostat and dexamethasone. The primary objectives were to determine the maximum tolerated dose (MTD) and the safety/tolerability of QUAD. Secondary objectives included ORR, DOR, TTP and TTNT. All patients had relapsed or RRMM after at least one line of Tx. Tx consisted of 28-d cycles of lenalidomide d 1-21, vorinostat d 1-7 and 15-21, IV carfilzomib d 1, 2, 8, 9, 15 and 16 and IV/po dexamethasone 40 mg q wk. A standard 3+3 dose escalation schema to determine DLTs occurring in Cycle 1. AEs were graded using the NCI-CTCAE v3. Response was assessed by the modified IMWG criteria.
Results: As of January 20, 2014, 21 pts have been enrolled: 1 patient was replaced due to inability to complete Cycle 1 due to AE. Pt characteristics included: median age 61 yrs (range 48-71), 57% male, median # of prior regimens: 3 (range 1-9), median time from Dx: 4 years. All pts had prior autotransplant, 20 bortezomib, 20 lenalidomide and 4 vorinostat. AEs were experienced by 100% of pts including: anemia (16), fatigue (11), thrombocytopenia (14), neutropenia (12), muscle cramping (10) and diarrhea (9). 15 pts experienced ≥ grade 3 AEs: neutropenia (9), anemia (7), thrombocytopenia (9), infection (2), electrolyte imbalances (2), hyperglycemia (3), fatigue (1) constipation (1) and 1 death from progressive disease (PD). No DLTs were observed. The ORR was 53% and the CBR was 82%. 2 patients had PD as best response. 9 pts discontinued due to PD, 1 pt choice and 1 pt due to toxicity. 3 pts have completed 18 cycles.
Conclusions: QUAD is well tolerated in both relapsed and RRMM pts with no DLTs identified. The safety profile is manageable. The ORR of 53% and CBR of 82% are encouraging; the PFS is 12 months and OS not reached.
Clinical trial information: NCT01297764. 
Author(s): David H. Vesole, David Samuel DiCapua Siegel, Joshua Ryan Richter, Ann McNeill, Palka Anand, Urszula Bednarz, Kristin Ivanovski, Laura McBride, Laura Raucci, Veena Batra, Adolfo Aleman, Taliah Sims, Laura Guerrero, Judith Smith, Anthony R. Mato, Elizabeth Bilotti; John Theurer Cancer Center, Hackensack, NJ; Hackensack University Medical Center, Hackensack, NJ; Pharmacyclics, Inc., Sunnyvale, CA
---
ABOUT DAVID S. SIEGEL, MD, PhD
David S. Siegel, MD, PhD, is one of the nation's foremost authorities on multiple myeloma. His research has almost exclusively focused on multiple myeloma, Waldenstrom's macroglobulinemia, and AL amyloidosis, and has been published in many leading medical journals, including Nature, New England Journal of Medicine, Blood, and Journal of Clinical Oncology. Dr. Siegel is the founding Director of the Multiple Myeloma Institute. He has also led John Theurer Cancer Center's development of a program to offer CAR T-cell therapy to patients with multiple myeloma. Visit Dr. David Siegel's full biography.
Previous Post
ASCO 2014: A phase 1 trial of MK-3475 combined with Len and Lo-dose Dex in patients with RRMM
Next Post
ASCO 2014: Phase 1-2 open-label, multiple-dose, dose-escalation study to evaluate SNS01-T