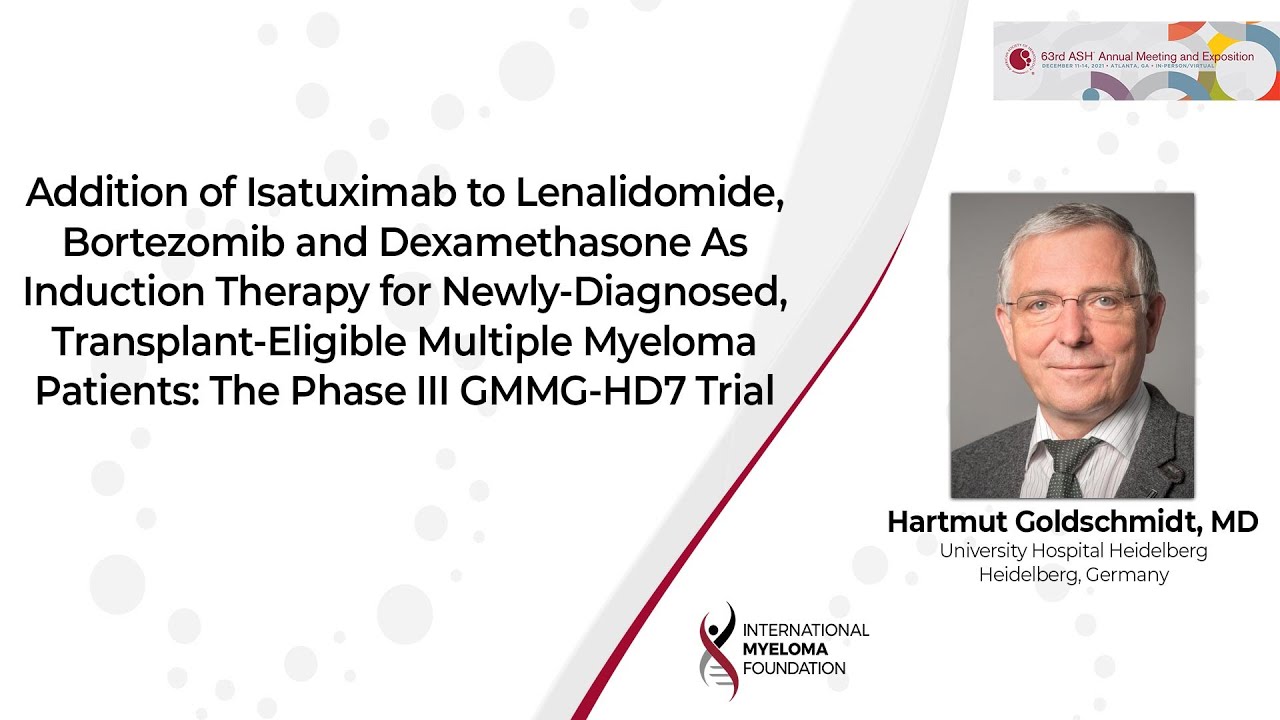 Addition of Isatuximab to RVd As Induction Therapy for Newly-Diagnosed, Transplant-Eligible Multiple Myeloma Patients: The Phase III GMMG-HD7 Trial
In newly-diagnosed multiple myeloma (NDMM), lenalidomide/bortezomib/dexamethasone (RVd) is one of the most widely used combination regimens. Anti-CD38 monoclonal antibodies (CD38-moAb) increase efficacy when added to standard-of-care regimens. Here we present the first primary endpoint of the randomized, open-label, multicenter, phase III GMMG-HD7 trial, comparing RVd without (arm IA) or with the CD38-moAb isatuximab (Isa, arm IB) with regard to the rate of minimal residual disease (MRD) negativity after induction therapy in patients with transplant-eligible NDMM.
Conclusions:
The GMMG-HD7 trial met its primary endpoint. To the best of our knowledge this is the first phase III trial to demonstrate superiority of MRD negativity rates after induction by adding a CD38-moAb to RVd. There were no increased rates of SAE or early discontinuation in patients treated with Isa-RVd compared to RVd. The trial is ongoing, including analyses post autologous transplantation, which is followed by a second randomization to compare the efficacy of the addition of Isa to lenalidomide maintenance.
ASH 2021: Abstract 463
Previous Post
Iberdomide in Combination with Dexamethasone in Pts with Relapsed/Refractory Multiple Myeloma
Next Post
Final Overall Survival Results from BELLINI, a Phase 3 Study of Venetoclax or Placebo in Combination with Bortezomib and Dexamethasone in Relapsed/Refractory Multiple Myeloma