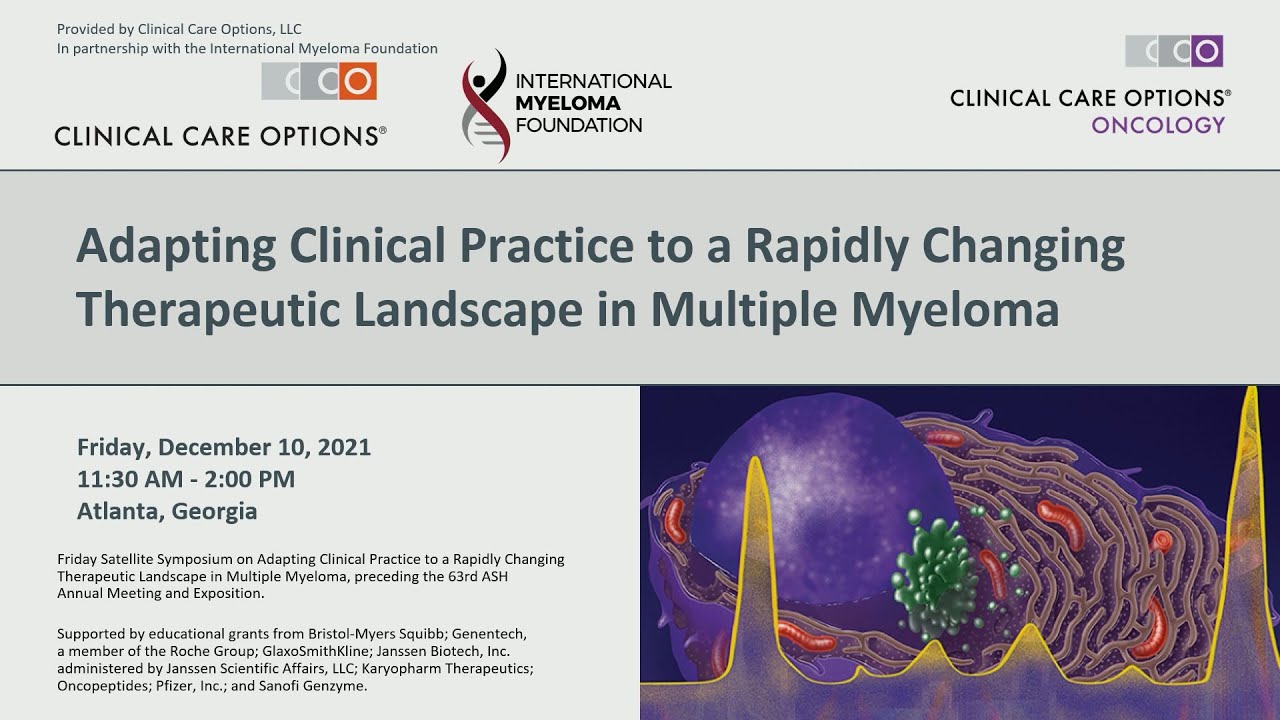 Adapting Clinical Practice to a Rapidly Changing Therapeutic Landscape in Multiple Myeloma
Join us for this live symposium featuring discussion of patient case studies and key clinical trial data by renowned clinical experts providing their perspectives on recent advances in the treatment of multiple myeloma.

Agenda
Welcome and Introduction
Patient Case Studies with short didactic and panel discussions
Case Discussion 1: Evidence for Treating High-Risk Smoldering MM
Case Discussion 2: Current Therapeutic Strategies for Patients With Newly Diagnosed MM Who Are Eligible for ASCT
Case Discussion 3: Current Therapeutic Strategies for Patients With Newly Diagnosed MM Who Are Ineligible for ASCT
Case Discussion 4: Tailoring Management for Patients With MM in First Relapse
Case Discussion 5: Expert Guidance for Managing Triple Class Refractory MM (Excluding BCMA Targeted Therapies)
Case Discussion 6: Evolving Role for BCMA-Targeted Therapies New 2022 Treatment Algorithm for MM
Faculty
Program Director
Brian G.M. Durie, MD
Medical Director, AMyC
Co-Chair Myeloma Committee, SWOG
Chairman, International Myeloma Foundation
Specialist in Multiple Myeloma and Related Disorders
Cedars-Sinai Outpatient Cancer Center
Los Angeles, California

Thomas G. Martin, MD
Clinical Professor of Medicine
Associate Director, Myeloma Program
University of California, San Francisco Medical Center
San Francisco, California

Philippe Moreau, MD
Professor of Clinical Hematology
Head, Hematology Department
University Hospital Hôtel-Dieu
Nantes, France

S. Vincent Rajkumar, MD
Edward W. and Betty Knight Scripps
Professor of Medicine
Mayo Clinic
Rochester, Minnesota

Jesús F. San-Miguel, MD, PhD
Director of Clinical and Translational Medicine
Universidad de Navarra
Pamplona, Spain
RESOURCES FROM THE LIVE EVENT
Slides www.clinicaloptions.com/MyelomaAtlanta2021Slides
Commentary www.clinicaloptions.com/MyelomaAtlanta2021CT
Podcast www.clinicaloptions.com/MyelomaAtlanta2021Podcast
Webcast www.clinicaloptions.com/MyelomaAtlanta2021Webcast
Algorithm www.clinicaloptions.com/MyelomaAtlanta2021Algorithm
ADDITIONAL RESOURCES
Watch for CCO's Conference Coverage as ASH 2021 unfolds, including downloadable slidesets summarizing key trial data and CME-certified online activities featuring expert analysis of clinical implications
Previous Post
How important are the four iStopMM abstracts being presented at ASH for myeloma patients?
Next Post
REGN5458, a BCMA Bispecific Monoclonal Antibody Targeting CD3, in a Phase 1/2 1st-in-Human Study in Relapsed/Refractory Multiple Myeloma Patients