This week, the myeloma community can celebrate with the International Myeloma Foundation as we  appreciate the significance and the hopefulness of a very important wedding. This past weekend, Ally Tuohy, daughter of Robin and Michael Tuohy, was married to Jonathan Fitzpatrick. Robin is the IMF Senior Director of Support Groups, and Michael, her husband, is a myeloma patient who was diagnosed in September 2000.
At that time, Ally was seven years old, and her younger brother, Mikey, was two years old. Eighteen years later, Michael walked Ally down the aisle, a milestone nobody had dreamed possible.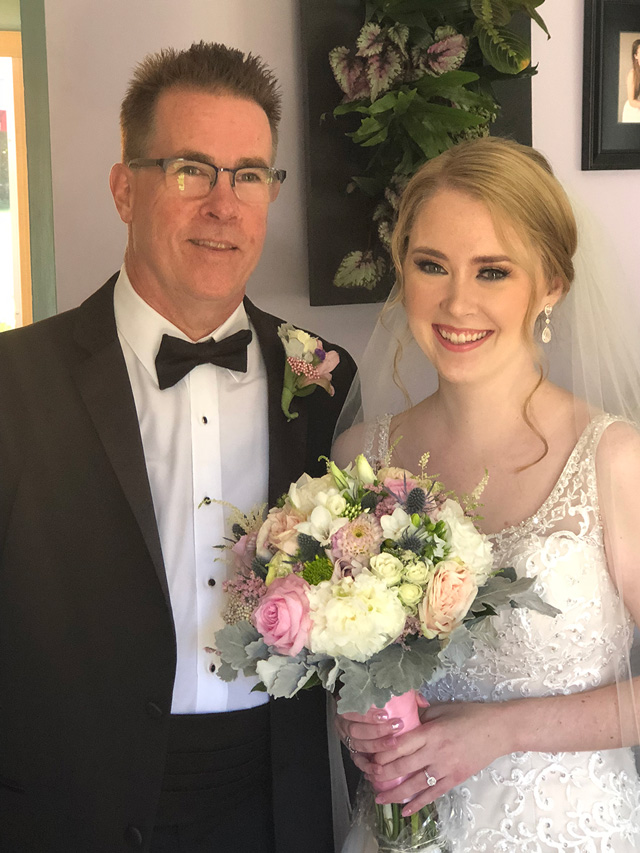 Appreciating life's precious moments
When Michael was diagnosed in 2000, life crashed around the Tuohy family. It has been an arduous journey to get from the early days of diagnosis, confusion, first therapies, and autologous stem cell transplantation to the recent years of stable remission on maintenance therapy. From the beginning, helping and supporting Michael has been a family project.
In 2001, Robin and Michael started a myeloma support group in their home state of Connecticut. In 2005, Robin became an official employee of the IMF. In the summer of 2007, the Tuohy family set off on an amazing cross-country adventure: the "Myeloma Mobile" trip, which offered grassroots awareness and education at stops across the U.S.  It started with Michael throwing out the first pitch at Fenway Park in Boston. The details of this family trip in an RV are a whole separate story (which you can listen to on the IMF's audio archive, "Myeloma Voices.")
It is important to note that Michael continued on treatment and had serious recurring pain issues at the sites of major myeloma damage. Only in the last couple of years, with the help of a pain specialist, has Michael been able to finally get off pain medication and move around with some degree of comfort.
The Tuohys' commitment to the myeloma community is exceptional. The battle with myeloma is the primary challenge for so many patients. This makes the celebration of all life events so magnified in importance. As Ally is getting married, her "little" brother, Mikey, is now 20 years old and an honors student in the biomolecular science program in college. This is a family shaped by Michael's diagnosis, but embracing the implications to lead full lives. 
Message for myeloma patients
Always be hopeful. Embrace the search for best therapies. As needed, participate in new trials, which can lead to breakthroughs. A story in the news this week illustrates this later point. One woman's experience in the relapse setting is especially powerful.
Five years ago, Stacy Erholtz was treated with a massive dose trial led by Dr. Stephen Russell, which I have reported in the past. Diagnosed at age 40 in 2004, she relapsed and desperately needed new therapy. This "onolytic virus therapy" had quite dramatic initial side effects, with high fever and shaking chills. But she responded, and five years later, she is in remission.
Unfortunately, other patients have not benefitted because their bodies have antibodies against the measles vaccines. Dr. Russell is now exploring another virus, called VSV. But in the meantime, Stacy has lived her life, including a wedding, graduations and the like, and is again able to benefit from an extended remission!
Goals of treatment
As we consider percentage chances of remission, possible side effects, costs, and other aspects of care, we must never forget the bigger picture. Good treatment allows patients and families to continue with their lives. Perhaps the family will never be quite the same, but they can enjoy wonderful new ways forward, as new therapies constantly extend life expectancies and expectations.    
---
Dr. Brian G.M. Durie serves as Chairman of the International Myeloma Foundation and serves on its Scientific Advisory Board. Additionally, he is Chairman of the IMF's International Myeloma Working Group, a consortium of nearly 200 myeloma experts from around the world. Dr. Durie also leads the IMF's Black Swan Research Initiative®.