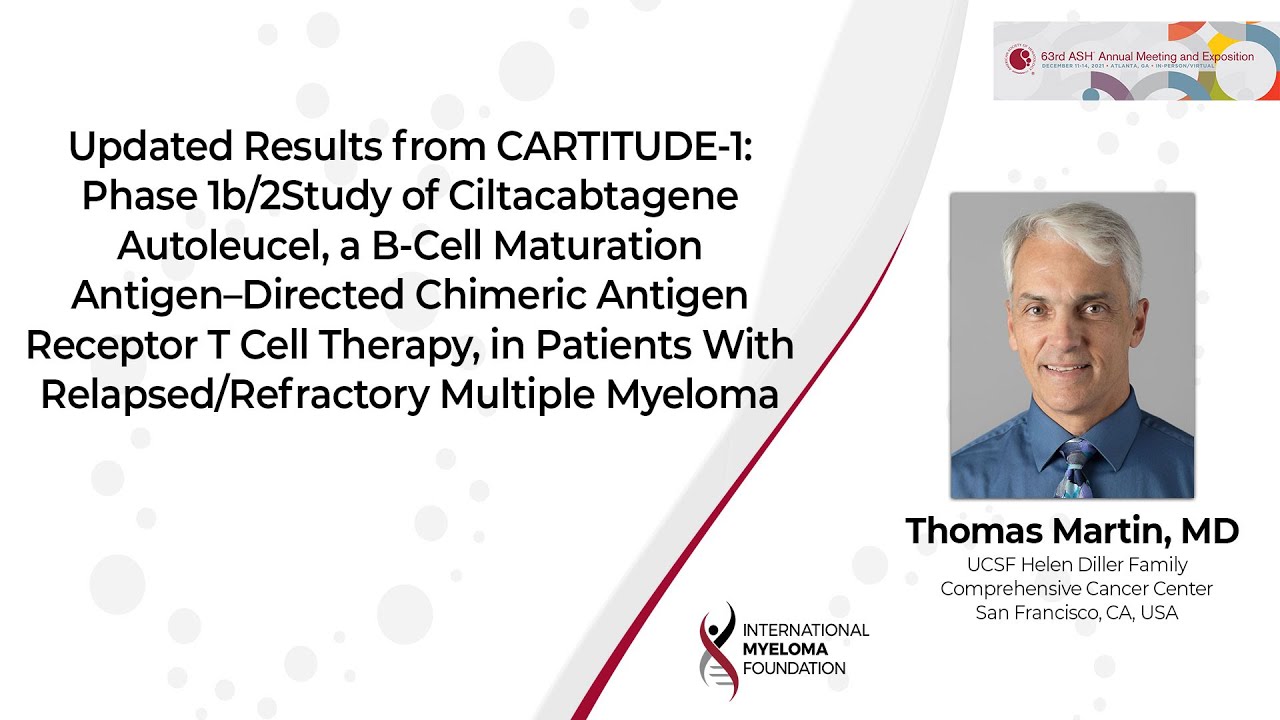 Updated Results from CARTITUDE-1: Phase 1b/2Study of Ciltacabtagene Autoleucel in Patients with Relapsed Refractory Multiple Myeloma
Dr. Thomas Martin Discusses Long Duration Follow-Up of CARTITUDE-1 Presented at ASH 2021.
In this video, Dr. Thomas Martin discusses the CARTITUDE-1 trial and cilta-cel, presented at ASH 2021.
About CARTITUDE-1 and cilta-cel
Ciltacabtagene autoleucel (cilta-cel) is a chimeric antigen receptor T (CAR T) cell therapy with 2 B-cell maturation antigen (BCMA) targeting single-domain antibodies. It has demonstrated early, deep, and durable responses in the phase 1b/2 CARTITUDE-1 study in patients (pts) with relapsed/refractory multiple myeloma (RRMM) who had been heavily pretreated (Berdeja, Lancet, 2021).
After a median follow-up of 12.4 months, the overall response rate (ORR; as assessed by independent review committee) was 97%, with 67% of pts achieving stringent complete response (sCR). The 12-month progression-free survival (PFS) and overall survival (OS) rates were 77% and 89%, respectively.
Here, Dr. Thomas Martin (UCSF Helen Diller Family Comprehensive Cancer Center —San Francisco, CA) reports on updated results from CARTITUDE-1 with longer duration of follow-up (median 18 months).
What is the purpose of this study?
The CARTITUDE-1 trial included adult patients with myeloma who had received three or more prior lines of treatment or who were double-refractory to an immunomodulatory drug and proteasome inhibitor. During the first phase of the trial, investigators looked for any new safety signals and established a phase II dose, then evaluated the therapy's efficacy at this dose.
Conclusions
At a longer median follow-up of 18 months, a single cilta-cel infusion led to early, deep, and durable responses in heavily pre-treated pts with MM. Follow-up is ongoing and updated data will be presented. Cilta-cel demonstrated a manageable safety profile with no new safety signals observed with longer follow-up. Further investigations of cilta-cel are ongoing in earlier lines of therapy (CARTITUDE-2 [NCT04133636], CARTITUDE-4 [NCT04181827], and CARTITUDE-5 [NCT04923893]) and in outpatient settings.
ASH 2021: Abstract 549
Previous Post
Monitoring of Circulating Tumor Plasma Cells (CTPC) in Patients with Precursor Conditions of Multiple Myeloma: Data from the Prospective iStopMM Study