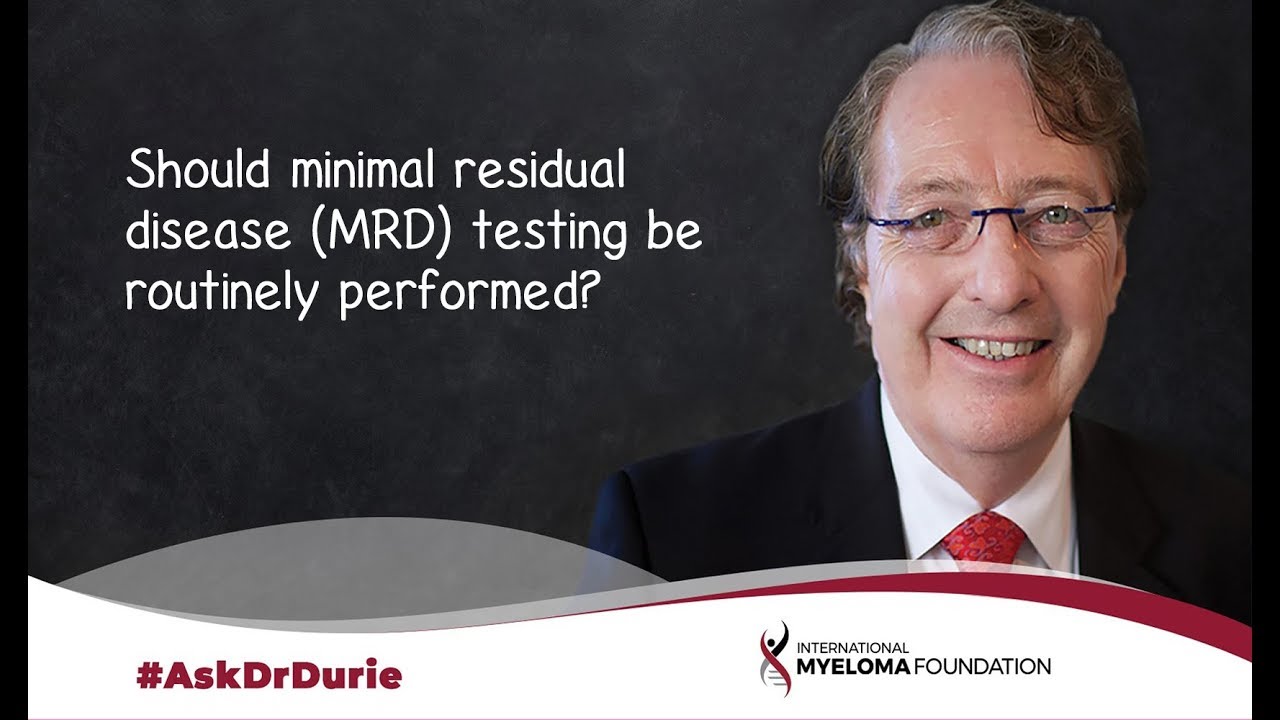 Should minimal residual disease (MRD) testing be routinely performed?
In this week's video, Dr. Durie discusses if minimal residual disease (MRD) testing should be routinely performed, and the potential use for MRD testing in the near future.
BOTTOM LINE:
MRD testing will hopefully be a surrogate marker in clinical trials soon. However, at this time, routine MRD testing is not currently recommended.
If you have a question that you'd like to suggest for a future episode of Ask Dr. Durie, please submit it to [email protected]. 
To reach the IMF InfoLine Coordinators, please call 800.452.2873 or email them at [email protected].  

Transcript:
This week's "Ask Dr. Durie" is actually a frequent question that comes into the IMF directly or through the InfoLine, and is asking, "Should MRD testing be performed routinely?"
 
So, MRD testing is testing for minimal residual disease. At the present time, this requires a bone marrow test to measure at a very low level, a very sensitive level, whether or not any myeloma is remaining in the bone marrow. And we like to see if it's negative at a level of ten to the minus six, which means that checking a million cells, none of them turn out to be myeloma.
 
Now at the present time, there is a major initiative underway called the " i2TEAMM" project for which three people are overseeing that project, myself, Dr. Nikhil Munshi from the Dana-Faber, and Dr. Jesus San-Miguel from the University of Pamplona in Spain. And we are overseeing the submission of clinical trials data incorporating MRD testing, submitting it to the FDA to see if they will agree to approve the use of MRD testing as a surrogate marker for a response. And so, what that means is that is clinical trials are being conducted. A particular treatment produces, let's say fifty percent of the patients achieve MRD-negative. Then another treatment produces results where only twenty percent of the patients achieve MRD-negative, then it would be agreed by the FDA that the one producing the higher percentage of MRD-negative would be a better treatment than the one that produces a lower level.
 
And so, to reach this decision of what's called "surrogate biomarker approval," then the data has to be submitted in great detail, what's called "patient-level data with meta-analysis" to support this notion that MRD, particularly an MRD-negative result is an accurate surrogate marker.
 
Now, we are hopeful that this will be a successful submission to the FDA, and we're looking towards the possibility of approval in the middle part of this next year, 2020.
 
However, this is very different than the question that has been asked, which is, in the clinic, when a patient goes into the clinic, should they get this MRD testing done? And right now, the answer to that is no, not routinely. And the main reason for this is that we don't know how always to interpret this result. Obviously, if you have an MRD-negative result, that's excellent. It means that the treatment is working well. But, can we then tell the patient to stop the treatment? We don't know that yet. We have to wait and see, maybe we need to have maybe two tests to be sure, and to be safe, that treatment could be stopped.  And on the flip side, how about if the MRD test is still positive? Does that mean that we need to switch the treatment right away? Maybe not, maybe with another few months of treatment, the patient will do fine. And so, I hope that you can see that at the moment we don't have enough data from protocols and clinical trials to give an accurate recommendation.
 
And so, for now, at least, the BOTTOM LINE for me is that I do not routinely recommend MRD testing for my patients. Obviously, it's reassuring to have a negative result, and that's fine. But please don't expect to get full, accurate long-term recommendations based on a particular test result. And the other aspect to just be aware of is that MRD testing can be sent by your doctor to different labs for the testing, and not all the labs have the exact same methodology, and so, there is a concern that there could be confusion with one test result versus another. And so, for the time being, the simple answer to this question is that routine MRD testing is just not currently recommended.
 
---
Dr. Brian G.M. Durie serves as Chairman of the International Myeloma Foundation and serves on its Scientific Advisory Board. Additionally, he is Chairman of the IMF's International Myeloma Working Group, a consortium of nearly 200 myeloma experts from around the world. Dr. Durie also leads the IMF's Black Swan Research Initiative®.
Next Post
Can blood testing replace bone marrow testing for multiple myeloma?